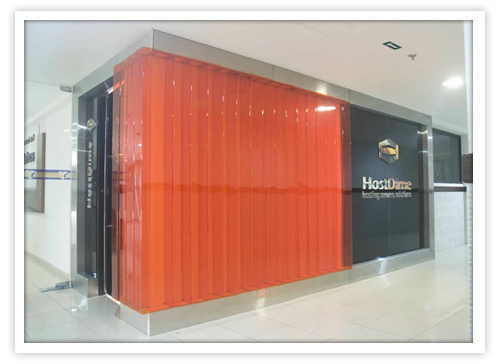 HostDime Brazil, HostDime's first international location outside of the United States, was created in 2006 and has quickly become a top three hosting provider in Brazil. Known for being one of the most populous nations in the world, Brazil has a large and rising technological growth rate. Having a network in Brazil helps individuals searching for hosting in the Southern Hemisphere. Brazil is one of HostDime's strongest markets and continues to be one that is in demand for the foreseeable future.
Services offered at HostDime Brazil include Colocation, Dedicated Servers, VPS Servers, and Business Hosting.
The Brazil Datacenters
Joao Pessoa – Geographically, Joao Pessoa is the most eastern city in the Americas at 34º47'38″W, 7º9'28″S and features warm waters, beautiful culture, great architecture, and best of all, huge technological advances. HostDime chose João Pessoa to host its operations and our first non-United States datacenter due to the city's record as natural-disaster-free, with no hurricanes or earthquakes in its history. A second datacenter in Joao Pessoa is currently being built and will be ready for operations in late 2013.
São Paulo – The largest city in Brazil and the seventh most populated city in the world is Sao Paulo. Last year, HostDime began offering services from Sao Paulo with speeds on par with North America to meet the demand for low latency to South, East and Latin America. Like all HostDime datacenters, Sao Paulo's comes fully equipped with superior technology like powerful generators, UPS systems, high security, and fire suppression systems.
The Brazil network has multiple diverse and redundant connections from GVT, Embratel, and Intelig. These 3 providers compose 85% of the national bandwidth in Brazil. The other 15% is covered by peering with these providers and the remaining other smaller providers in the country.
HostDime CEO Manny Vivar believes it's essential to provide Brazilians with the fastest speed possible:
"Brazil has a population of over 200 million and is one of the fastest growing online countries in the world. While 80% of Brazilian websites are hosted out of the country due to lower costs, our Brazil datacenters are key to converting that 80% into a major source of growth for our Brazilian division. By hosting sites locally, latency can be reduced to under 75ms, compared to the more than 150ms latency for websites hosted on U.S.-based servers."
If you are interested in HostDime Brazil based products and services, please use one of the contact methods below. One of our sales advisors will get back to you shortly.
Follow HostDime for News, Tutorials, Contests, and Specials
This article was written by HostDime's Content Marketer Jared Smith.