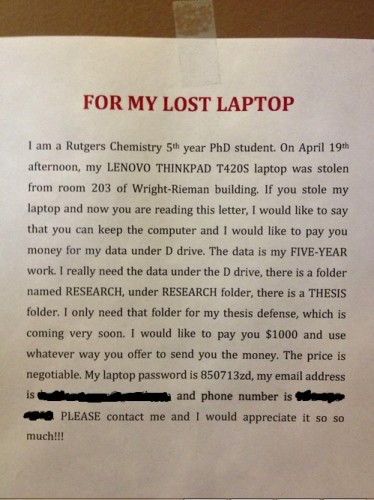 Read the plight of this poor Rutgers University PhD student, whose laptop was stolen and 5 years of work gone with it. The student is letting the thief keep the laptop in exchange for his thesis back, which he will pay $1,000 for. Reason number #853 why DATA BACKUP is so important.
Whether you are a student backing up your computer or a business owner saving your data, BE PROACTIVE instead of reactive. Today is the day to back up your sensitive data to prevent disaster.
Disaster Recovery Hosting
For some businesses, not having a disaster recovery plan can be lethal. One out of every two businesses never return after a data disaster. This again shows how important a data recovery plan is. Businesses that survive and thrive have a response to disaster BEFORE it happens.
HostDime offers disaster recovery for EVERYONE. Whether you are hosting with HostDime or not, feel safe knowing your data is stored in any of our high security data centers located around the world. Have the ability to recover all your files, software, and functionality quickly and hassle-free.
Create a future plan catered to your own specific needs. Maybe you want to have your data in a secure datacenter in case of a natural or man made disaster at your business. Maybe you want HostDime to perform your businesses' data backups every night. Everyone's needs are different, but the goal is the same: being ready when downtime or disaster strikes.
It is essential that your businesses' data is constantly backed up to a secure location in the event of hardware failure, data corruption, or human error. Ensure that data is on a redundant file system at any of HostDime's facilities located in the United States, Brazil, Mexico, United Kingdom, Colombia, and India.
HostDime Remote Storage Service
HostDime also offers in-house remote storage service as an add-on to your hosting account. This will help maximize redundancy and improve overall performance with your current server build. Mount your remote storage service as a drive on your VPS or Dedicated Server to push and pull data from your account. Access and manage your remote storage service including expandable disk quota, FTP, SFTP, SCP, NFS, CIFS, and RSYNC. If you are have more questions, contact us and check out the remote storage prices. 20 GB's start at just $10 a month.
Follow HostDime for News, Tutorials, Contests, and Specials
Jared Smith is HostDime's Content Marketer. Follow him on Twitter.