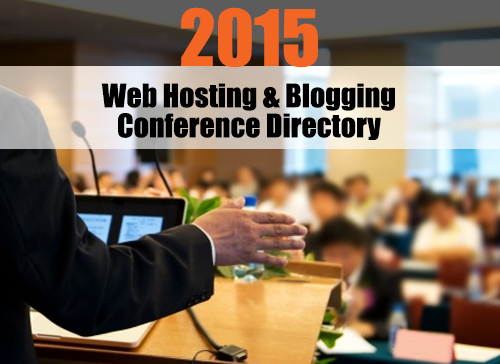 HostDime has compiled a directory of the best 2015 web hosting conferences, trade shows, and other technology events relevant to our industry. If you want your event to be listed, promote and recommend it in the comments over at HostDime's Facebook and it will be added to the list.
This directory is constantly updated so be sure to bookmark and come back often. Let us know what event you're looking forward to and which shows were overlooked.
2015 Cloud & Tech Conferences Worth Attending
Orlando iX – October 2-6 2015 – Orlando FL
Orlando iX is a five day, international digital festival showcasing advancements in interactive media, digital arts, and entertainment technology. Over 50,000 creatives will flock to downtown Orlando for the first but certainly not last Orlando iX festival. HostDime will be on hand so be sure to say hi! I will be looking forward to trying on the Facebook-owned Oculus Rift while I'm there.

HostingCon India – Dec 11-12, 2015 – Mumbai, India
ResellerClub presents HostingCon India in Mumbai, South Asia's largest hosting conference. 2,300 attendees, 40 exhibitors, and 18 sessions fill the two day schedule, and best of all it's free for attendees, with limited VIP passes also available.
WordCamp Events
WordCamps are community-organized events organized by WordPress users, for WordPress uses. Everyone from casual users to core developers participate and share ideas with peers and students. Tickets are cheap, usually under 40$ for 2 days.

WHIR Events
Web Hosting Industry Review (WHIR) has upcoming events planned all around the globe. Now is your chance to do personal business and networking with industry leaders and decision makers in a relaxed environment. RSVP is free and you can bring a guest along. Find which event is closest to you:
Upcoming WHIR Events
London, United Kingdom – September 22, 2015
Amsterdam, Netherlands – September 24, 2015
Washington, DC – October 22, 2015
Dallas, Texas – November 12, 2015

World Hosting Days
Web Hosting Days (WHD) is the world's largest series of events for the hosting and cloud service market. The first event took place 11 years ago in Germany, and has since developed into more than a dozen events around the globe. WHD just make it's first stop to the United States last week.
Upcoming WHD Events
Mumbai – October 06, 2015
Tokyo – November 17, 2015
Beijing – November 12, 2015

Search Marketing Expos
Search Marketing Expo is the world's leading search engine marketing conference, put on by the intelligent men and women of Search Engine Land. Tens of thousands of search marketers have attended this tactic-rich conference for over 10 years. Check out the following dates for this year:
Upcoming Search Marketing Expo Events
New York – Sept 29-Oct 1, 2015
Jerusalem – November 1, 2015
Milan – November 12-13, 2015
Las Vegas – November 18-19, 2015

SES Conference
SES, presented by ClickZ, is a global event series focused on search and social marketing. Hear big picture ideas, stats, and case studies from industry experts and thought leaders. Learn how to develop a successful digital marketing strategy. Check out the following dates for this year:
Upcoming SES Conferences
Denver – October 20, 2015
Shanghai – September 8-10, 2015
Singapore – October 21-22, 2015
Chicago – November 17-19, 2015
Bangkok – November 25-26, 2015

Digital Summit
The Digital Summit conferences are two day digital strategies forums discussing the future of digital commerce including marketing, UX & design, content, mobile, and much more.
Upcoming Digital Summit Conferences
Washington DC – November 18-19, 2015
Dallas – December 8-9, 2015
Phoenix – March 2016
Charlotte – April 2016
Atlanta – May 2016
Have you been to any of these conferences in the past? Which conference(s) are you looking to attend? Let us know below!
Past 2015 Web Hosting and Tech Conferences
Mobile + Web Devcon – Feb 3-5, 2015 – San Francisco, CA
For those wanting to create an app or make their app cooler, check out the Mobile+Web DevCon in the City by the Bay. Become a better developer, make lasting connections, and master the latest tools and trends in design and UX.
The Green Data Center Conference and Exhibition – February 24-26, 2015 – San Diego, CA
Infrastructure optimization is and innovations in green power and cooling will be the discussion at this year's Green Data Center Conference and Exhibition. Data center owners and operators will enjoy interactive workshop sessions and case study presentations from some of the most innovative facilities in the world. While there, check out a tour of the San Diego Supercomputer Center.
WHD.global – March 24-26, 2015 – Europa-Park, Rust
World Hosting Days is the world's largest series of hosting events, featuring 5000 attendees and over 120 partner companies.
Data Center World – April 19-23, 2015 – Las Vegas, NV
Data Center World addresses the needs of seasoned data center and facilities management professionals. Gain crucial insight into industry trends via keynote speakers, workshops, and information sessions.
Searchlove – April 30-May 1, 2015 – Boston, MA
SearchLove is a two day single track conference aimed at online marketers, SEO practitioners, marketing managers, and business owners wanting to hone their expertise. Learn the latest techniques to remain one step ahead of your competition.
DrupalCon – May 11-15, 2015 – Los Angeles, CA
DrupalCon, the largest gathering of the Drupal community comes to Silicon Beach. DrupalCon brings together those who use, develop, design, and support the Drupal open source content management platform.
Uptime Institute Symposium – May 19-21, 2015 – Santa Clara, CA
The brightest minds of the data center industry will gather at the Uptime Institute Symposium to discuss the present and future state of the rapidly changing environment of the digital infrastructure. Topics will include data center management and governance, data center design, data center resource transparencies, and other data center strategies.
Datacloud 2015 – June 3-4, 2015 – Monaco
Over 1800 executives from 50 countries and 150 speaking experts will spend two days in Monaco engaging in panel sessions and hands on labs, bringing the latest in ideas, market developments, and practical solutions.

Cloud Expo – June 9-11, 2015 in New York City, and November 3-5, 2015 in Santa Clara, CA
Celebrating their 15th year, Cloud Expo is dubbed the largest cloud conference on the planet. Learn the latest from the best technologists in the cloud computing, big data, and dev ops fields.

MozCon – July 13-15, 2015 – Seattle, WA
The web's best SEO resource community, Moz, presents MozCon! The three day event features industry leaders diving deep into SEO, social media, analytics, content strategy, data science, and a bunch more. Get your tickets early as the last few conferences have sold out quickly.

Data Center & Computing Conference and Expo – June 15-16, 2015 – New York City
Mission Critical Magazine and the Critical Facilities Roundtable have organized the first Data Center & Computing Conference and Exposition. See the latest data center technologies and gain insights into data center operations.

HostingCon – July 27-29, 2015 – San Diego, CA
Learn the latest news, ideas, and technology affecting your cloud hosting business from the brightest minds in the industry at the 11th annual HostingCon. With over 140 exhibitors and an audience of C-level executives, this is the place to meet with your fellow peers. A giant HostDime squad went last year; check out our Instagram recap. HostingCon Europe is in Amsterdam in late September, and HostingCon India is in Mumbia in mid-December.
HostDime.com, Inc is a global data center infrastructure provider offering an array of cloud products from managed hosting servers to colocation services that cater to a range of clients, from entry-level to enterprise-level operations. HostDime owns and operates infrastructure and networks in seven countries, with its flagship facility in Florida, USA. Currently with a client base of more than 50,000, HostDime is one of the most reputable data center companies in the world.
Jared Smith is HostDime's Content Strategist. Follow him on Twitter.