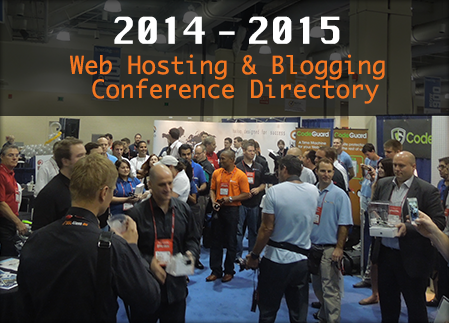 HostDime has compiled a directory of the best 2014 and 2015 web hosting conferences, trade shows, and other technology events relevant to our industry. If you want your event to be listed, promote and recommend it in the comments or at HostDime's Facebook and it will be added it to the list.
This directory is constantly updated so be sure to bookmark and come back often. Let us know what event you're looking forward to and which shows were overlooked.
2014 Web Hosting Conference & Blog Event Directory
Content Marketing World – September 8 to 11, 2014 – Cleveland, Ohio
Learn how to implement a total content marketing strategy for your blog, magazine, company, etc at this year's Content Marketing World in Cleveland. Already confirmed speakers include brands like Kraft Foods, Microsoft, Facebook, Cisco Systems, Coca-Cola and more than 100 content marketing experts from around the globe. Actor, Director, Producer Kevin Spacey will be the closing keynote speaker.
iSummit – September 29 to 30, 2014 – Orlando, Florida
iSummit turns 6 this year, and is bigger than ever. The Orlando conference joins experts from leading brands who present and discuss topics that span all interactive media and Internet business models. Over 700 attendees are expected to be in attendance. HostDime has been to iSummit in the past and highly recommends the whole experience.
cPanel Conference – September 29 to October 1st – Houston, Texas
cPanel is the hosting industry's most used control panel, allowing you full control over your server. Find out about the latest hosting backend technology, attend technical classes, and learn from hosting experts and executives. Register for your tickets now!
Data Center World – October 19 to 22, 2014 – Orlando, Florida
Data Center World addresses the needs of seasoned data center and facilities management professionals. Gain crucial insight into industry trends via keynote speakers, workshops, and information sessions.
Cloud Computing Expo – November 4 to 6, 2014 – Santa Clara, California
Cloud Expo is where delegates and technology venders meet to discuss the current state of the cloud, big data, DevOps, and much more. If you're on the east coast, check out the 2015 Expo in New York from June 9 to 11.
WordCamp Events
WordCamps are community-organized events organized by WordPress users, for WordPress uses. Everyone from casual users to core developers participate and share ideas with peers and students. Tickets are cheap, usually under 40$ for 2 days.
WHIR Events
Web Hosting Industry Review (WHIR) has upcoming events planned all around the globe. Now is your chance to do personal business and networking with industry leaders and decision makers in a relaxed environment. RSVP is free and you can bring a guest along. Find which event is closest to you:
Upcoming WHIR Events
Amsterdam, Netherlands – September 16, 2014
London, United Kingdom – September 18, 2014
Washington, D.C. – October 23, 2014
Dallas, Texas – November 13, 2014
Austin, Texas – February 19, 2015
Phoenix, Arizona – March 12, 2015
Los Angeles, California – April 23, 2015
Denver, Colorado – May 21, 2015
Chicago, Illinois – June 11, 2015
San Diego, California – July 28, 2015
London, United Kingdom – September 22, 2015
Amsterdam, Netherlands – September 24, 2015
Washington, DC – October 22, 2015
Dallas, Texas – November 12, 2015
World Hosting Days
Web Hosting Days (WHD) is the world's largest series of events for the hosting and cloud service market. The first event took place 10 years ago in Germany, and has since developed into more than a dozen events around the globe. It will make it's first stop to the United States in summer 2015.
Upcoming WHD Events
Singapore, Asia – September 2, 2014
Sao Paulo, Brazil – September 11, 2014
Tokyo, Japan – November 18, 2014
Beijing, China – November 21, 2014
USA – Summer 2015
Search Marketing Expos
Search Marketing Expo is the world's leading search engine marketing conference, put on by the intelligent men and women of Search Engine Land. Tens of thousands of search marketers have attended this tactic-rich conference for over 10 years. Check out the following dates for the next year:
Upcoming Search Marketing Expo Events
Sept 30-Oct 2 in New York
Nov 13-14 in Milan
Nov 19-20 in Las Vegas
Dec 10-11 in Beijing
Jan 2015 in Jerusalem
March 2015 in San Jose
SES Conference
SES, presented by ClickZ, is a global event series focused on search and social marketing. Hear big picture ideas, stats, and case studies from industry experts and thought leaders. Learn how to develop a successful digital marketing strategy. Check out the following dates for the next year:
Upcoming SES Conferences
Nov 3-6 in Chicago
Dec 2-4 in Singapore
Feb 2015 in London
Mar 2015 in Jakarta
Mar 2015 in New York
May 2015 in Shanghai
Aug 2015 in Hong Kong
Aug 2015 in San Francisco
HostingCon – July 27 to 29, 2015 – San Diego, California
HostingCon is the premier global web hosting event, featuring the best and brightest of the industry, including yours truly. Check out our recap of HostDime having fun at HostingCon earlier this year.
There's also a HostingCon Europe in Amsterdam on October 14 and 15, 2014, and a HostingCon India in Mumbai on December 12 and 13, 2014, both presented by Reseller Club.
Have you been to any of these conferences in the past? Which conference(s) are you looking to attend? Let us know below!
Jared Smith is HostDime's Content Marketer. Follow him on Twitter.
HostDime.com is one of the top 50 web hosts in the world.