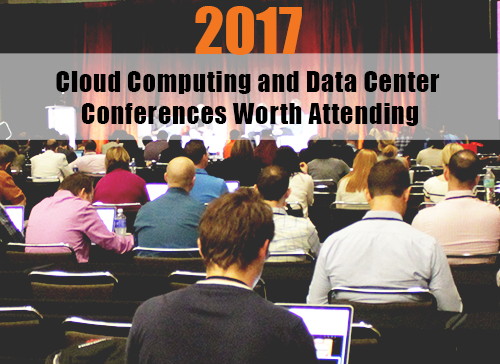 Enjoy HostDime's continued tradition of tracking the best cloud computing and data center conferences, trade shows, and events relevant to this great industry of ours. If you want your event listed, promote and recommend it in the comments below or at our Facebook and it will be added to our list.
2017 Cloud Computing and Data Center Conferences
VMworld 2017
When: September 11-14, 2017
Where: Barcelona, Spain
More Info: https://www.vmworld.com/
Get the latest on virtualization and cloud technology from VMworld US in Las Vegas and VMworld Europe in Barcelona. Join some of the industry's top thought leaders and IT professionals and get the latest in cloud infrastructure and business mobility technology
Linux Security Summit
When: September 14-15, 2017
Where: Los Angeles, California
When: http://events.linuxfoundation.org/events/linux-security-summit
The Linux Security Summit is a technical forum where Linux developers, researchers, and end users interact with each other for 2 days to analyze and solve Linux security challenges.
Cloud Foundry Summit
When: October 11-12, 2017
Where: Basel, Switzerland
More Info: https://cloudfoundry.org/event/europe-2017/
If you love running applications in the cloud, or interested in taking containers to production, head to the 2 day Cloud Foundry event in Basel, Switzerland. (the American event is usually in the Spring). Join over 600 developers, operators, and business leaders to strategize on delivering apps faster than ever before.
7×24 Exchange Conference
When: October 15-18
Where: Phoenix, Arizona
More Info: http://conferences.7x24exchange.org/fall2017/
7×24 conference is for anyone involved with infrastructure that requires maximum uptime. Here you will have the opportunity to network with mission critical facility managers, interact with vendors and consultants, and enjoy knowledgeable speakers.
Open Source Summit
When: October 23-26
Where: Prague, Czech Republic
More Info: http://events.linuxfoundation.org/events/open-source-summit-europe
Open Source Summit is a combination of LinuxCon, ContainerCon, CloudOpen and the new Open Community Conference. 2,000 technologists descend on Prague to collaborate, share ideas, and learn new ones.
KVM Forum
When: October 25-27, 2017
Where: Prague, Czech Republic
More Info: http://events.linuxfoundation.org/events/kvm-forum
KVM Forum gathers developers and users around the world to network and discuss the current state and upcoming challenges of Linux virtualization technology.
Gartner Data Center, Infrastructure & Operations Management Conference
When: December 4-7, 2017
Where: Las Vegas, NV
More Info: http://www.gartner.com/events/na/data-center
Join infrastructure and operations leaders to discuss prominently topics like the virtualization, automation, bimodal, and other software that is replacing outdated infrastructure.
Web Hosting Industry Review (WHIR) has upcoming events planned all across North America. Now is your chance to do personal business and networking with industry leaders and decision makers in a relaxed environment. RSVP is free and you can bring a guest along. Find which event is closest to you:
Upcoming WHIR Events
Denver, Colorado – September 28
Vancouver, Cananda – October 12
Orlando, Florida – October 17
Boston, MA – October 26, 2017
Dallas, Texas – November 16, 2017
Web Hosting Days (WHD) is the world's largest series of events for the hosting and cloud service market. The first event took place 14 years ago in Germany, and has since developed into more than a dozen events around the globe.
Upcoming WHD Events
WHD US – Sept 11 & 12 (Las Vegas)
WHD China – Oct 12 (Shanghai)
WHD Moscow – Nov 9 (Moscow)
HostDime.com, Inc is a global data center infrastructure provider offering an array of cloud products from managed hosting servers to colocation services that cater to a range of clients, from entry-level to enterprise-level operations. HostDime owns and operates infrastructure and networks in seven countries, with its flagship facility in Florida, USA.
Jared Smith is HostDime's Content & SEO Strategist.