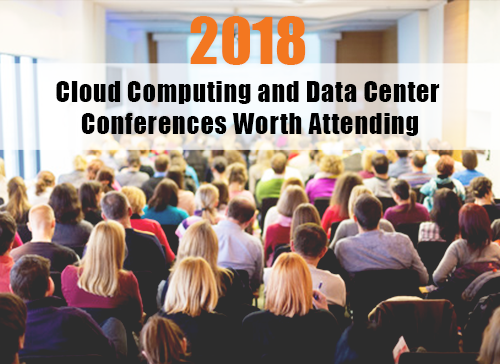 Enjoy HostDime's continued tradition of tracking the best cloud computing and data center conferences, trade shows, and events relevant to this great industry of ours. If you want your event listed, promote and recommend it in the comments below or at our Facebook and it will be added to our list. More conferences are added all the time, so bookmark this page and come back often!
 

2018 Cloud and Data Center Conferences
Datacloud Europe
When: June 12-14, 2018
Where: Monaco
More Info:
http://www.datacloudcongress.com/
Over 1800 executives from 50 countries and 150 speaking experts will spend three days in Monaco engaging in panel sessions and hands on labs, bringing the latest in ideas, market developments, and practical solutions.
Uptime Institute
When: 24 events from June 24 to Dec 6
Where: All over the world
More Info: https://uptimeinstitute.com/events/
 
The Uptime Institute is hosting tons of events across all seven continents throughout the rest of the year, with 24 conferences remaining in 2018. Each event has a different theme; for instance, the upcoming San Francisco meet-up will discuss "strategies for achieving hybrid infrastructure resiliency".
Big Data Innovation Summit
When: July 17-18
Where: Las Vegas, Nevada
Prices start at $995
More Info: https://theinnovationenterprise.com/summits/big-data-innovation-summit-las-vegas-2018
 
This summit boasts some of Big Data's most influential individuals performing presentations, running interactive workshops and offering expert insight. 
Linux Foundation's Open Source Summit
When: August 29-31, 2018
Where: Vancouver, Canada
Prices start at $800
More info: https://events.linuxfoundation.org/events/open-source-summit-north-america-2018/
 
Linux creator Linus Torvalds headlines a packed conference filled with delevopers, architects, and technologists who will collaborate and share new open solution ideas at the end of August 2018 in Vancouver.
451 Research's Hosting & Cloud Transformation Summit
When: September 24-26, 2018
Where: Las Vegas, Nevada
Prices start at $1199
More info: https://www.451research-hcts.com/
One of our favorite website's, 451 Research, will be hosting a summit at the Bellagio in September for service providers, hardware/software vendors, and more. The speakers will help providers reach their full potential by focusing on the economics and pricing side of the hosting and cloud industries.
 

Fusion 18
When: September 30-October 3, 2018
Where: St Louis, Missouri
Prices start at $1395
More info: http://sm-fusion.com
FUSION 18 is where IT experts and solution providers gain new insights in the IT Service Management world. Fusion is put on by itSMF USA, a nonprofit membership organization dedicated to the advancement of service management best practices.
 

Cpanel Conference
When: October 1-3, 2018
Where: Houston, Texas
Prices start at $99
More Info: https://conference.cpanel.com/
Go to the cPanel conference website to subscribe for information regarding the upcoming festival. cPanel conferences provide all attendees with great insight into cPanel operations, access to networking opportunities, and content-driven sessions. All HostDime managed clients receive cPanel license for FREE.
Gartner Symposium/ITxpo
When: October 14-18, 2018
Where: Orlando, Florida
Prices start at $4425
More Info: http://www.gartner.com/events/na/orlando-symposium
Gartner's Symposium/ITxpo taking place right here in beautiful Orlando, Florida, is suited for CIOs and senior IT executives who want to hone their leadership skills, learn from visionaries, analyze new technology, and network with peers.
Cloud Expo
When: November 6-8, 2018
Where: New York, NY and Santa Clara CA
More Info: http://www.cloudcomputingexpo.com/
 
In their 18th year, the longstanding Cloud Expo is dubbed the largest cloud conference on the planet. Learn the latest from the best technologists in the cloud computing, big data, and dev ops fields.
Have you been to any of these conferences in the past? Which conference(s) are you looking to attend? Let us know below!
HostDime.com
, Inc is a global data center infrastructure provider offering an array of cloud products from managed hosting servers to colocation services that cater to a range of clients, from entry-level to enterprise-level operations. HostDime owns and operates infrastructure and networks in seven countries, with its flagship facility in Florida, USA.  
Jared Smith is HostDime's Content & SEO Strategist.