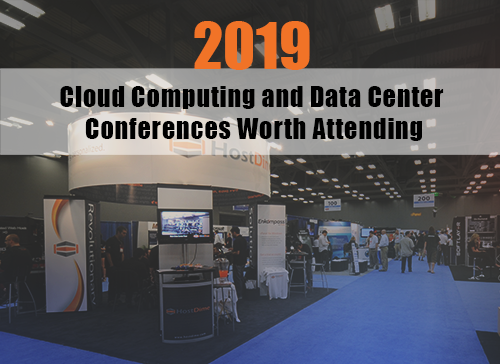 Enjoy HostDime's continued tradition of tracking the best cloud computing and data center conferences, trade shows, and events relevant to this great industry of ours. If you want your event listed, promote and recommend it in the comments below or at our Facebook and it will be added to our list. More conferences are added all the time, so bookmark this page and come back often!
 

2019 Cloud and Data Center Conferences
Edge Europe
When: January 31, 2019
Where: Amsterdam, Netherlands
Prices start at $995 GBP
More info: http://www.edgecongress.com/europe
Internet of Things, AI, 5G and more emerging technologies will change our lives throughout the next decade. Edge computing streamlines all this traffic flow from these devices to provide real time data analysis. The shift to edge is coming; be on the front lines and see how edge will soon connect us all.
Modern Data Management
When: February 26-27, 2019
Where: San Francisco, CA
Tickets are FREE
More Info: https://www.theinnovationenterprise.com/summits/modern-data-management-summit-san-francisco
 
This summit boasts some of Big Data's most influential individuals as they cover all sorts of data science and business analytics topics. There's over 20 summits put on by Innovation Enterprise this year, check the calendar and find the one that suits you best.  https://www.theinnovationenterprise.com/summits/calendar
 

Green Datacenter Conference
When: February 27-March 1, 2019
Where: San Diego, CA
Prices start at: $1,195
More Info: http://www.greendatacenterconference.com/
 
Data center owners and operators will enjoy interactive workshop sessions and case study presentations from some of the most innovative facilities in the world. Data center optimization will be at the forefront of this year's discussion with 4 workshops and 20+ sessions.

 
Data Center World
When: March 19-22, 2019
Where: Phoenix, AZ
Prices start at $1795
More Info: https://tmt.knect365.com/data-center-world/
 
At Data Center World, gain insight into industry trends that address the needs of seasoned data center management professionals. Leave Phoenix with better ideas on how to plan, manage, and optimize your data center.
CloudFest
When: March 23-29, 2019
Where: Europa-Park, Germany
Prices start at 399€
More Info: https://www.cloudfest.com/
Billed as the industry's unmissable conference, over 7000 global professionals from the cloud, hosting, and data center worlds will gather at Cloudfest to network, gain knowledge, make deals, and party hard. CloudFest will focus this year's conference around hyperscale enablement, as recent forecasts have hyperscalers controlling over 70% of the IaaS market by 2021.
Cloud Foundry Summit
When: April 2-4, 2019 and September 11-12, 2019
Where: Philadelphia, PA and The Hague, Netherlands
Prices start at $495
More Info: https://www.cloudfoundry.org/events/
 
Cloud Foundry Summit bills itself as the premier event for developers, providers, and users of the industry's leading open source platform-as-a-service. Join over 1500 attendants to learn more about their cloud application for enterprises.
 

Container World
When: April 17-19, 2019
Where: Santa Clara, CA
Prices start at $799
More Info: https://tmt.knect365.com/container-world/
 
Container World will address the strategic implications of containers in the cloud market. Join DevOPs, IT managers, and engineers to discuss the container revolution happening in enterprise IT. Hear real build and deploy stories to gain best practices and learn some lessons. Here's a highlight video from last year's event:

 
OpenStack Summit
When: April 29-May 1, 2019
Where: Denver, CO
Prices start at $699
More Info: https://www.openstack.org/summit/denver-2019/
 
The OpenStack Summit has evolved over the years to cover more than just OpenStack. Attend over 300 presentations, panels, and workshops covering many open infrastructure tools and their integration.  
 

Datacloud Global Congress
When: June 4-6, 2019
Where: Monaco
Prices start at $895 GBP
More Info: http://www.datacloudcongress.com/
 
Now entering its 16th year, DataCloud Global Congress features engaging panel sessions and hands on labs, bringing the latest in ideas, market developments, and practical solutions.
 

Cloud Expo
When: June 24-26, 2019
Where: Santa Clara CA
Prices start at $50
More Info: http://www.cloudcomputingexpo.com/
 
The longstanding Cloud Expo is dubbed the largest cloud conference on the planet. Learn the latest in the cloud computing, big data, and dev ops fields via 10 tracks, 22 keynotes, and 222 of the world's top speakers.
 

 
Linux Foundation's Open Source Summit
When: August 21-23, 2019
Where: San Diego, CA
Prices start at $800
More info: https://events.linuxfoundation.org/events/open-source-summit-north-america-2019/
 
Linux's Open Source Summit is always packed full of developers, architects, and technologists discussing the latest trends in networking, cloud, edge computing, AI and much more. Here's a playlist of the four keynote speeches from last year's event:

 
VMWorld
When: August 25-29, 2019
Where: San Francisco, CA
Prices start at: TBD
More Info: https://www.vmworld.com/en/us/index.html
 
VMWorld promises five days of learning, innovation, and excitement with 21,000 of your new friends. Learn from experts from all ends of digital technology from data center to cloud to device. One of last year's keynote speakers was the inspiring Malala Yousafzai, the youngest person to ever win the Nobel Peace Prize.
 

 
Have you been to any of these conferences in the past? Which conference(s) are you looking to attend? Let us know below!
 

HostDime.com
, Inc is a global data center infrastructure provider offering an array of cloud products from managed servers to colocation services that cater to a range of clients, from entry-level to enterprise-level operations. HostDime owns and operates infrastructure and networks in seven countries, with its flagship facility in Florida, USA.  
Jared Smith is HostDime's Content & SEO Strategist.