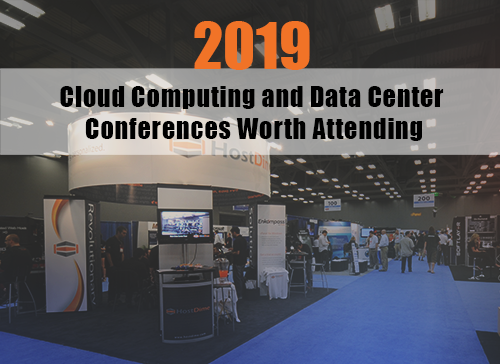 Enjoy HostDime's continued tradition of tracking the best cloud computing and data center conferences, trade shows, and events relevant to this great industry of ours. If you want your event listed, promote and recommend it in the comments below or at our Facebook and it will be added to our list. More conferences are added all the time, so bookmark this page and come back often!
 

2019 Cloud and Data Center Conferences
Datacloud Global Congress
When: June 4-6, 2019
Where: Monaco
Prices start at $895 GBP
More Info: http://www.datacloudcongress.com/
 
Now entering its 16th year, DataCloud Global Congress features engaging panel sessions and hands on labs, bringing the latest in ideas, market developments, and practical solutions.
 

International Telecoms Week
When: June 23-36
Where: Atlanta, GA
Prices start at $575
More Info: https://www.internationaltelecomsweek.com/
Usually in Chicago, ITW (International Telecoms Week) shifts to Atlanta this year for the annual meeting of the global telecoms industry. Over 7000 people from 2000+ companies meet together and network across the 4 day event.
Cloud Expo
When: June 24-26, 2019
Where: Santa Clara CA
Prices start at $50
More Info: http://www.cloudcomputingexpo.com/
 
The longstanding Cloud Expo is dubbed the largest cloud conference on the planet. Learn the latest in the cloud computing, big data, and dev ops fields via 10 tracks, 22 keynotes, and 222 of the world's top speakers.
 

 
Linux Foundation's Open Source Summit
When: August 21-23, 2019
Where: San Diego, CA
Prices start at $800
More info: https://events.linuxfoundation.org/events/open-source-summit-north-america-2019/
 
Linux's Open Source Summit is always packed full of developers, architects, and technologists discussing the latest trends in networking, cloud, edge computing, AI and much more. Here's a playlist of the four keynote speeches from last year's event:

 
VMWorld
When: August 25-29, 2019
Where: San Francisco, CA
Prices start at: TBD
More Info: https://www.vmworld.com/en/us/index.html
 
VMWorld promises five days of learning, innovation, and excitement with 21,000 of your new friends. Learn from experts from all ends of digital technology from data center to cloud to device. One of last year's keynote speakers was the inspiring Malala Yousafzai, the youngest person to ever win the Nobel Peace Prize.
 

451 Research's Hosting & Cloud Transformation Summit
When: September 23-25, 2019
Where: Las Vegas, Nevada
Prices start at $999
More info: https://www.451research-hcts.com/
A favorite website of ours, 451 Research, will be hosting a summit at the Aria in September for service providers, hardware/software vendors, and more. This 451's 15th annual summit will help providers reach their full potential by focusing on the economics and pricing side of the hosting and cloud industries.
Cpanel Conference
When: September 23-25, 2019
Where: Atlanta, Georgia
Prices start at $99
More Info: https://conference.cpanel.com/
Plesk will join cPanel for the first time this year at their annual conference. The 3 day fest in Atlanta attracts dev ops, system admins, and product leaders around the globe. Attendees also have the option to get cPanel certified by taking an exam. cPanel and WHM license is included with HostDime's managed dedicated servers.
CloudNative London
When: September 25-27, 2019
Where: London, England
Prices start at $1195
More Info: https://beta.skillsmatter.com/conferences/11723-cloudnative-london-2019
CloudNative is a 3 day conference focusing on containers, schedulers, Kubernetes, and devops. Learn how to make your operations run faster and more efficient. CloudNative also runs a diversity scholarship plan to provide support for those under represented who otherwise wouldn't have the opportunity to go. Read here for more information.
Data Centre World
When: Multiple times
Where: Multiple locations
Prices start at FREE
More info: https://www.datacentreworldasia.com/
Data Centre World Hong Kong: May 22-23, 2019
Data Cente World Singapore: October 9-10, 2019
Data Centre World Frankfurt: November 13-14, 2019
Data Centre World Paris: November 27-28, 2019
Data Centre World London: March 11-12, 2020
Data center leaders and practitioners dispense knowledge and discuss the trending topics around the infrastructure industry. Best of all, it's free to attend, and why not, with over 500 influentials speaking. Here's video of the 2018 Asia show:
DATAx
When: November 6-7, 2019
Where: New York, NY
Prices start at $1050
More info: https://www.theinnovationenterprise.com/summits/datax-new-york
300 data scientists and leaders will explore the future of AI in related to all types of business industries. Enjoy 2 days full of content, including detailed technical demonstrations of data strategy that you can bring back and implement for your business.
KubeCon + CloudNativeCon
When: November 6-7, 2019
Where: New York, NY
Prices start at $1050
More info: https://www.theinnovationenterprise.com/summits/datax-new-york
The Linux Foundation brings together KubeCon and CloudNativeCon for a 4 day collaboration focusing on open source and cloud native communities. Early adopters will share wisdom on cloud apps and containers and discuss ways to advance the technology. Here's highlights from last year's Seattle conference.

 
Have you been to any of these conferences in the past? Which conference(s) are you looking to attend? Let us know below!
 

HostDime.com
, Inc is a global data center infrastructure provider offering an array of cloud products from managed servers to colocation services that cater to a range of clients, from entry-level to enterprise-level operations. HostDime owns and operates infrastructure and networks in seven countries, with its flagship facility in Florida, USA.  
Jared Smith is HostDime's Content & SEO Strategist.