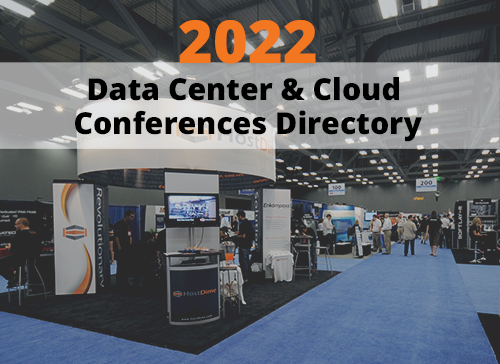 After two years away from in-person conferences, we sure have missed roaming the convention halls, networking with peers, seeing old friends, and making new ones.
Luckily tech conferences are back, bringing us yet another step closer to normalcy. We have put together a list of the upcoming cloud computing and data center conferences, trade shows, and events relevant to this great industry of ours. Best of all, there's plenty of virtual events to choose from!
More conferences are added frequently, so bookmark this page and come back often.
2022 Cloud and Data Center Conferences
KubeCon | CloudNativeCon
When: May 16-20, 2022
Where: Valencia, Spain and Virtual
Prices start at $1500
More Info: https://events.linuxfoundation.org/kubecon-cloudnativecon-europe
The Linux Foundation brings together KubeCon and CloudNativeCon in Spain for four days focused on open source and cloud native communities. Speakers will share wisdom on cloud apps and containers and discuss ways to advance the technology. They have put a staggering 227 presentations from their 2021 conference on their YouTube channel, so there's tons to dive into:
Cloud Summit 22
When: May 17-19, 2022
Where: Miami, Florida
Prices start at $850
More Info: https://www.ingrammicrocloudsummit.com/cloudblue.html
Come and shape the future of XaaS (Anything as a Service) in Miami at Cloud Summit 22! Discover and learn from inspiring speakers and reach out to service providers and IP owners. Use code CS22CB150 and save $150. Check out their video on why you should attend this year:
WorldCamp Europe
When: June 2-4, 2022
Where: Porto, Portugal
Prices start at €50
More Info: https://europe.wordcamp.org/2022/
The 10th edition of WorldCamp Europe takes place in Porto, Portugal. Join the European WordPress Community for three days of learning, sharing, and fun, while getting to know WordPress enthusiasts from around the world.
Linux Foundation's Open Source Summit
When: June 21-24, 2022
Where: Austin, Texas and Virtual
Prices start at $1000 for in-person, $25 for virtual
More info: https://events.linuxfoundation.org/open-source-summit-north-america/
Linux's Open Source Summit is always packed full of developers, architects, and technologists discussing the latest trends in networking, cloud, edge computing, AI and much more. Best of all, if you can't make it to Austin in person, there's a virtual option for just $25.
IEEE International Conference on Cloud Computing (CLOUD)
When: July 11-16, 2022
Where: Barcelona, Spain
Prices start at TBD
More info: https://conferences.computer.org/services/2022/
IEEE International Conference on Cloud Computing (CLOUD) combines CLOUD / EDGE / ICDH (Digital Health) / ICWS (Web Services) / SCC (Services Computing) / QSW (Quantum Software) in a five day international forum for both researchers and industry practitioners to exchange the latest fundamental advances in the state of the art and practice of cloud computing.
VMWorld
When: August 29-September 1, 2022 and November 7-10, 2022
Where: San Francisco, CA and Barcelona, Spain
Prices start at $1895
More Info: https://www.vmware.com/explore.html
Previously VMWorld, Vmware Explore will focus on solving the problems faced in this multi-workload, multi-cloud, and multi-workspace IT environment. Speakers will show you how to accelerate cloud transformation, build and operate a cloud native platform, secure and empower a hybrid workforce, and connect clouds and apps.
Enterprise Connect
When: September 14, 2022 and March 21-24, 2023
Where: Virtual and Orlando
Prices start at TBD
More Info: https://www.enterpriseconnect.com/
Enterprise Connect brings corporate IT decision makers together with the industry's vendors, partners, analysts, and consultants to focus on the issues central to enterprise communications and collaboration. There's a virtual event in September, and an in-person conference every March in Orlando. Here's some highlights from March 2022's conference:
Cyber Security & Cloud Expo
When: September 20-21, 2022, October 5-6 2022, and December 1-2, 2022
Where: Amsterdam, Santa Clara, London
Prices start at TBD
More Info: https://www.cybersecuritycloudexpo.com/
The Cyber Security and Cloud Expo covers cyber security (duh) in the arenas of IoT, 5G, Cloud innovations, Blockchain, AI, and Big Data. In fact, this event is co-located with the IoT Tech Expo, AI & Big Data Expo, and Blockchain Expo so you can explore the convergence of these technologies all in one place. The event in Santa Clara will be a hybrid event for those wanting to connect virtually.
Data Centre World
When: Multiple times
Where: Multiple locations
Prices start at TBD
More info: https://www.datacentreworldasia.com/
Data Centre World Singapore: October 12-13, 2022
Data Centre World Paris: November 16-17, 2022
Data Centre World London: March 8-9, 2023
Data Centre World, which takes place in Singapore, Paris, and London, will show attendees the latest data center innovations and solutions, as they gain first-hand knowledge on ways to increase data center capabilities, efficiencies and readiness for all future demands.
Cloud Expo Europe
When: March 8-9, 2023
Where: London
Prices start at TBD
More Info: https://www.cloudexpoeurope.com/
The longstanding Cloud Expo is dubbed the largest cloud conference on the planet, with 10,000 attendees packing in over two days. Cloud Expo promises 100+ hours of complimentary content in the form of thought-provoking panel discussions, inspirational keynotes and practical insight sessions. This year's event just happened, and you can check out the highlight reel now:
HostDime.com, Inc is a global data center infrastructure provider offering an array of cloud products from managed servers to colocation services that cater to a range of clients, from entry-level to enterprise-level operations. HostDime owns and operates infrastructure and networks in seven countries, with its flagship facility in Florida, USA.