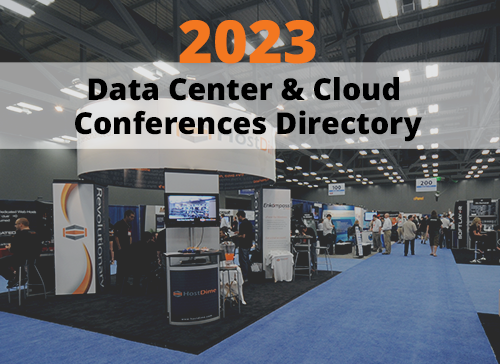 2023 is set to be an eventful year for the data center industry, with a number of conferences throughout the year.
These events offer unique opportunities for those looking to stay ahead of the curve when it comes to understanding evolving technology trends impacting modern day datacenter operations while also connecting with peers, vendors, partners, strategists, and investors.
We have put together a list of the upcoming data center conferences, trade shows, and events relevant to this great industry of ours. Best of all, there's plenty of virtual events to choose from!
Conferences are added frequently, so bookmark this page and come back often.
2023 Cloud and Data Center Conferences
Cloud Expo Europe
When: March 8-9
Where: London
Prices: Start at free
More Info: https://www.cloudexpoeurope.com/
The longstanding Cloud Expo is dubbed the largest cloud conference on the planet, with 10,000 attendees packing in over two days. Cloud Expo promises 100+ hours of complimentary content in the form of thought-provoking panel discussions, inspirational keynotes and practical insight sessions. Check out the highlight reel of last year's event:
Data Centre World
When: March 8-9, 2023 | Oct 11-12, 2023 | Nov 15-16, 2023
Where: London | Singapore | Paris
Prices are TBD
More info: https://www.datacentreworld.com/ | https://www.datacentreworldasia.com/ | https://www.datacentreworld.fr/
Data Centre World, which takes place in London, Singapore, and Paris, will show attendees the latest data center innovations and solutions, as they gain first-hand knowledge on ways to increase data center capabilities, efficiencies and readiness for all future demands. Furthermore, exhibitors from across the globe will showcase their latest products and services for businesses looking for cutting-edge technology solutions.
Datacenter Dynamics Connect
When: March 27-28
Where: New York City, New York
Price is free
More info: https://www.datacenterdynamics.com/en/dcd-connect-live/connect-nyc/2023/
Celebrating its 21st year, DCD Connect features two action-packed days of addressing the challenges facing the digital infrastructure community. This year's topics include supply chain disruption and transformation, sustainability and the carbon reporting challenge, workforce evolution and the talent collapse, and the impact of recession on digital infrastructure investment decisions.
Enterprise Connect
When: March 27-30
Where: Orlando, Florida
Prices: Expo is free, prices start at $1899
More Info: https://www.enterpriseconnect.com/
Enterprise Connect brings corporate IT decision makers together with the industry's vendors, partners, analysts, and consultants to focus on the issues central to enterprise communications and collaboration. Here's some highlights from March 2022's conference:
VMware Explore
When: April 6 | April 11-12 | August 21-24 | November 6-9
Where: Korea | India | Las Vegas | Barcelona
Prices: varied
More Info: https://www.vmware.com/explore.html
Previously VMWorld, VMware Explore will focus on solving the problems faced in this multi-workload, multi-cloud, and multi-workspace IT environment. Speakers will show you how to accelerate cloud transformation, build and operate a cloud native platform, secure and empower a hybrid workforce, and connect clouds and apps.
KubeCon | CloudNativeCon
When: April 18-21, 2023
Where: Amsterdam, The Netherlands
Prices start at $749
More Info: https://events.linuxfoundation.org/kubecon-cloudnativecon-europe
The Linux Foundation brings together KubeCon and CloudNativeCon in The Netherlands for four days focused on open source and cloud native communities. Learn about the latest developments in Kubernetes technology and network with top industry leaders. Attendees can expect a full agenda of presentations, workshops, keynotes, panels, hackathons and more. Here's a highlight reel from last year:
Data Center World
When: May 8-11, 2023
Where: Austin, Texas
Prices start at $2299
More Info: https://datacenterworld.com/
Data Center World, not to confused with Data Centre World, is the perfect event for technology professionals looking to stay up-to-date on the latest industry developments. With more than 100 speakers, 70+ sessions, and 150+ solution providers, attendees can expect four days of panels on edge computing, colocation, hyperscale, predictive analytics, 5G, DCIM, cloud security AI sustainability cooling, and much more. This is your chance to gain invaluable insight into a rapidly changing landscape.
Linux Foundation's Open Source Summit
When: May 10-12, 2023
Where: Vancouver, Canada and Virual
Prices start at $275 for in-person, free for virtual
More info: https://events.linuxfoundation.org/open-source-summit-north-america/
Linux's Open Source Summit is always packed full of developers, architects, and technologists discussing the latest trends in networking, cloud, edge computing, AI and much more. Best of all, if you can't make it to Vancouver in person, there's a free virtual option.
International Telecoms Week 2023
When: May 14-May 17, 2023
Where: National Harbor, Maryland
Prices start at $699
More Info: https://event.internationaltelecomsweek.com/event/106d28e1-c9ae-41ee-a1ed-a6e26e7a50cb/summary
International Telecoms Week bills itself as the only event in the world where you can meet with the entire international connectivity market. Attendees will enjoy access to key decision-makers to grow your business, gain insight into the solutions to overcoming the greatest challenges to our industry, and network with new and old connections.
Ingram Micro's Global Cloud and Innovation Summit
When: May 15-17, 2023
Where: Las Vegas, Nevada
Prices are TBD
More Info: https://www.ingrammicro.com/globalcloudinnovationsummit/
Formerly Cloud Summit, Ingram Micro's Global Cloud and Innovation Summit brings together the world's leading cloud technology providers, industry analysts, thought leaders, and practitioners to discuss the latest trends in cloud computing. There will also be workshops to learn more about the different aspects of cloud technologies such as security, data privacy, artificial intelligence (AI), blockchain, machine learning (ML), analytics, and much more.
infra/STRUCTURE
When: October 4-5, 2023
Where: Toronto, Canada
Prices: TBD (2022 was $299 for general public, FREE for service providers, end users)
More Info: https://www.infrastructuresummit.io/
infra/STRUCTURE is an exclusive industry summit put on by Structure Research that brings together executives from cloud, data center, edge and managed hosting for a discussion about the current and future of the industry. You can expect a packed agenda and high-value networking with peers and strategic partners.
Cyber Security & Cloud Expo
When: May 17-18, 2023 | Sept 26-27, 2023 | Nov 30-Dec 1, 2023
Where: Santa Clara | Amsterdam | London
Prices start at TBD
More Info: https://www.cybersecuritycloudexpo.com/
The Cyber Security and Cloud Expo covers cyber security (duh) in the arenas of IoT, 5G, Cloud innovations, Blockchain, AI, and Big Data. In fact, this event is co-located with the IoT Tech Expo, AI & Big Data Expo, and Blockchain Expo so you can explore the convergence of these technologies all in one place. The event in Santa Clara will be a hybrid event for those wanting to connect virtually.
HostDime is a global native carrier-neutral data center infrastructure company operating purpose-built public data center facilities in Mexico, Brazil, Colombia, and our flagship facility in Florida, USA, and with owned networks in the U.K., India, and Hong Kong. HostDime's near term roadmap includes a continued focus on Latin America with purpose-built facilities coming to Peru, Ecuador, Argentina, and Bolivia.
HostDime's mission is to design, build, and operate purpose-built, next-gen, public data center facilities in emerging markets at the global edge. HostDime offers an array of cloud-native infrastructure products and services including physical bare-metal servers, private cloud servers, colocation (cages and racks), and Hardware-as-a-Service in all our unique global edge data center locations. HostDime also provides professional managed services on all core products globally.