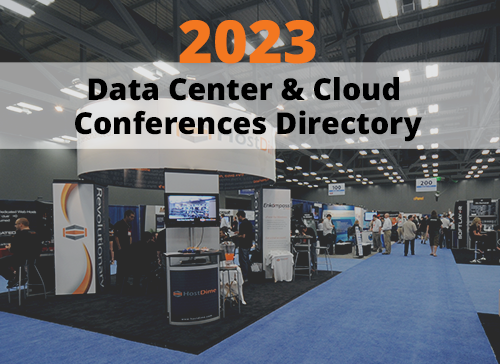 2023 has been a wildly eventful year for the data center industry, and we still have four months to go, with a number of conferences left this year.
These events offer unique opportunities for those looking to stay ahead of the curve when it comes to understanding evolving technology trends impacting modern day datacenter operations while also connecting with peers, vendors, partners, strategists, and investors.
So here's the list of the upcoming data center conferences, trade shows, and events relevant to this great industry of ours. Best of all, there's plenty of virtual events to choose from!
2023 Cloud and Data Center Conferences
Datacloud USA
When: Sept 11-12, 2023
Where: Austin, Texas
Prices start at $1,149
More Info: https://events.broad-group.com/event/f47ff04e-2b5b-411e-b4b3-bf82db205ffd/summary
The 2nd annual Datacloud USA is paramount for US data infrastructure leaders, linking decision makers from data centers, cloud, edge providers, and regional-international enterprises. Anticipate unparalleled networking with key North American players and an innovative 2023 conference schedule showcasing influential industry figures.
Cyber Security & Cloud Expo
When: Sept 26-27, 2023 | Nov 30-Dec 1, 2023
Where: Amsterdam | London
Prices start at TBD
More Info: https://www.cybersecuritycloudexpo.com/
The Cyber Security and Cloud Expo covers cyber security (duh) in the arenas of IoT, 5G, Cloud innovations, Blockchain, AI, and Big Data. In fact, this event is co-located with the IoT Tech Expo, AI & Big Data Expo, and Blockchain Expo so you can explore the convergence of these technologies all in one place. The event in Santa Clara will be a hybrid event for those wanting to connect virtually.
infra/STRUCTURE
When: October 4-5, 2023
Where: Toronto, Canada
Prices: TBD (2022 was $299 for general public, FREE for service providers, end users)
More Info: https://www.infrastructuresummit.io/
infra/STRUCTURE is an exclusive industry summit put on by Structure Research that brings together executives from cloud, data center, edge and managed hosting for a discussion about the current and future of the industry. You can expect a packed agenda and high-value networking with peers and strategic partners.
Advancing Data Center Construction
When: November 6-8, 2023
Where: Kansas City, MO
Prices start at $1799
More Info: https://advancing-data-center-construction.com/
Advancing Data Center Construction brings together 500+ owners, contractors, trade partners, and designers to exchange emerging best practices that reshape the holistic design and construction of the nation's most sustainable and innovative mission-critical facilities.
KubeCon | CloudNativeCon
When: November 6-9, 2023
Where: Chicago, Illnois
Prices start at $899
More Info: https://events.linuxfoundation.org/kubecon-cloudnativecon-north-america
The Linux Foundation brings together KubeCon and CloudNativeCon in Chicago for four days focusing on open source and cloud native communities. Early adopters will share wisdom on cloud apps and containers and discuss ways to advance the technology. Here's the highlight video from last year's event.
VMWare Explore
When: November 6-9, 2023
Where: Barcelona, Spain
Prices start at €1,475
More Info: https://www.vmware.com/explore/eu.html
Previously VMWorld, Vmware Explore will focus on solving the problems faced in this multi-workload, multi-cloud, and multi-workspace IT environment. Speakers will show you how to accelerate cloud transformation, build and operate a cloud native platform, secure and empower a hybrid workforce, and connect clouds and apps.
Edge World Summit
When: November 14-15, 2023
Where: Silicon Valley
Prices start at $275
More Info: https://www.edgecomputingworld.com/
This summit serves as a hub for the Edge-as-a-Service applications community, offering an immersive experience for in-depth discussions on crucial topics. Participants engage in interactive debates encompassing the foundational technology stack necessary for crafting Edge-as-a-Service applications, assessing the ongoing influence and progress of these applications across various industry verticals, and uncovering strategies for the construction and expansion of Edge-as-a-Service enterprises.
Cyber Security & Cloud Expo
When: November 30-December 1, 2023
Where: Olympia, London
Prices start at £649
More Info: https://www.cybersecuritycloudexpo.com/global/
Security is a big issue and plenty of potential customers for cloud services are still wary about letting their data reside outside their office buildings, so cybersecurity is a hot topic in the cloud services industry. Conference events cover a range of topics including IoT, 5G, Cyber Security, Cloud innovations, Blockchain, AI, and Big Data. There are plenty of exhibitors and entertainment events so this is a typical mall-style expo event suitable for consumers as well as industry insiders.
Capacity Asia
When: December 12-13, 2023
Where: Singapore
Prices start at £849
More Info: https://events.capacitymedia.com/event/41b2928c-9afe-4ac0-9788-5b57b01a5e60/summary
Capacity Asia, the premier connectivity conference in Asia Pacific, brings together regional and global decision-makers in the digital infrastructure ecosystem. It offers a prime platform to stay informed about crucial trends spanning subsea and terrestrial networks, data centers, cloud, content, satellite, and investment. The event fosters networking, forging new connections, nurturing partnerships, and shaping the industry's future.
HostDime is a global native carrier-neutral data center infrastructure company operating purpose-built public data center facilities in Mexico, Brazil, Colombia, and our flagship facility in Florida, USA, and with owned networks in the U.K., India, and Hong Kong. HostDime's near term roadmap includes a continued focus on Latin America with purpose-built facilities coming to Peru, Ecuador, Argentina, and Bolivia.
HostDime's mission is to design, build, and operate purpose-built, next-gen, public data center facilities in emerging markets at the global edge. HostDime offers an array of cloud-native infrastructure products and services including physical bare-metal servers, private cloud servers, colocation (cages and racks), and Hardware-as-a-Service in all our unique global edge data center locations. HostDime also provides professional managed services on all core products globally.