The next generation of server and site monitoring is here! HostDime is proud to offer the powerful uptime tracker 360 Monitoring to our clients.
360 Monitoring helps builders, developers, and agencies by regularly performing system scans and notifies when processes affect their sites and servers. Users can monitor any server or website of interest, keeping an eye on key metrics on their personalized dashboard with real time notifications.
Best of all, this service is completely agnostic, meaning it works with any website, any Linux Server, any panel, or no panel.
Who Is 360 Monitoring For?
Hosting, cloud, and/or infrastructure service providers who need to track multiple sites and servers
Self managed customers on leased bare metal and colocation.
Web professionals who need to track uptime, CPU, network, disk usage, and much more
Anyone who wants regular updates on the performance of their sites and servers to minimize downtime and improve user experience.
Here's a comparison chart illustrating how 360 Monitoring blows away competition like Uptime Robot, Pingdom, NewRelic, and Nagios: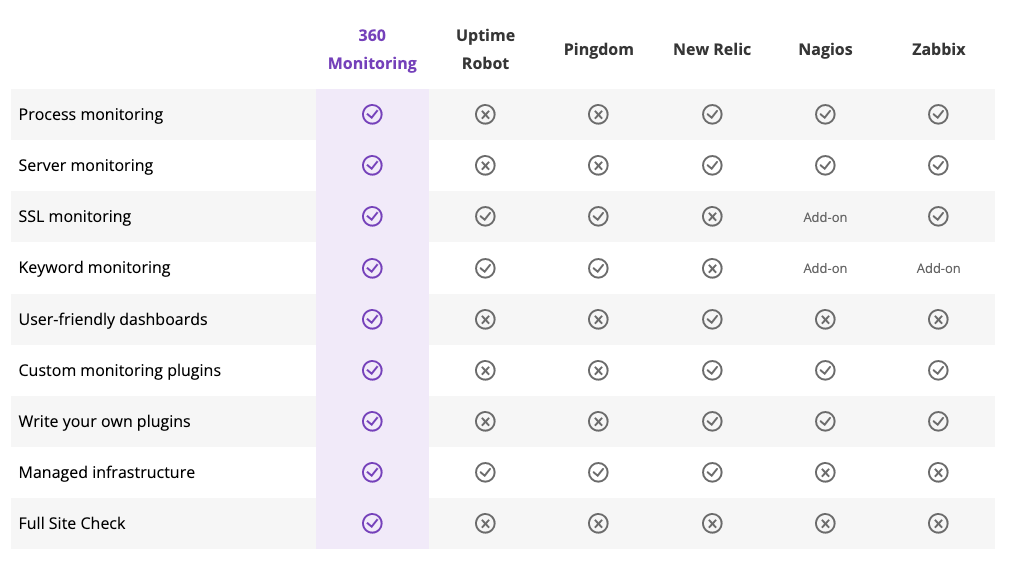 360 Monitoring Key Features:
Easy integration and set-up for multiple sites and servers.
Real-time tracking with scans performed every minute.
Data retention for 30 days with historical reporting up to 2 years.
Alert center synced to email, SMS, Telegram, Discord, Slack, and many more.
Uptime site monitoring from 26 server locations globally.
CPU tracking, load times, network statistics, disk usage, and many more server monitoring features.
DNS time, TTFB, HTTP/S tracking, SSL verification, and many more website monitoring features.
You can add a 360 Monitoring license to your account for just $5 a month! This includes 1 server monitor, 20 site monitors, 60 second intervals, 30 days data retention, multi-channel alerts, unlimited custom metrics, and full site crawls with a depth of 500 URLs.
Monitoring is also available as an add-on to your bare metal server. With setup taking only a few minutes, what are you waiting for? It's time to monitor your digital presence now!