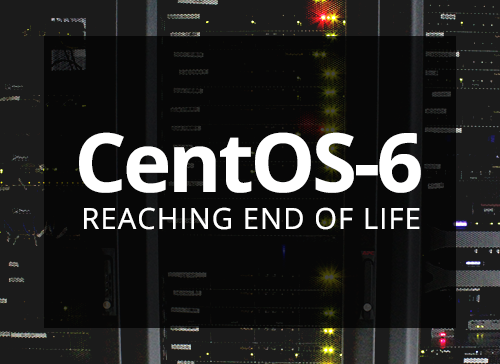 CentOS-6 will reach End of Life on November 30th, 2020. End of Life means a product is no longer supported. CentOS will no longer provide security updates or fix bugs. It is important to upgrade or migrate to newer versions of CentOS before they become EOL.
If you are a HostDime client running CentOS 6, please read on.
HostDime will no longer provide Managed support for CentOS 6 servers after this end date. Both the CentOS and HostDime teams do not recommend using 6 for any purpose. With that being said, we wanted to give you the opportunity to get ahead of the curve and we've provided a few methods for you to choose from.

Option 1: Purchase a new package with a managed control panel (InterWorx, cPanel, Plesk). Then you can migrate your data to the new server. Once this server has been brought online you can then migrate your data to the server yourself or speak with our Support team to assist you with the migration. If you would like assistance with the data migration, a fee will apply. There should be little to no downtime associated with this type of upgrade.
Option 2: Reach out to our Sales team regarding an "Offline OS Upgrade" for your current server to CentOS 7. The upgrade will entail swapping your old drive with a new one, and restoring your accounts onto the new CentOS 7 operating system. There will be downtime involved with this upgrade, and you will need to plan accordingly to minimize the impact on your websites. The amount of downtime for the restore will depend on the amount of data to be restored, and the power of your server's hardware. In most cases we estimate up to 12 hours of downtime.
Option 3: Do not upgrade to CentOS 7. Those still on CentOS 6 after the deadline will become self managed.

Again, if you would like to have your managed service undisturbed, you must schedule your transfer by November 30th, 2020. The transfer does not need to be completed by this date, but it must be scheduled.
Fortunately, CentOS versions have extremely long lifecycles; CentOS-7 won't reach End of Life until June 2024, and CentOS-8 in May 2029.
We wanted to give you an entire year to make this switch so you can schedule it at your convenience. We will send you email reminders over the next year to ensure you are on the latest CentOS installation.
Talk to us on chat and we'll be happy to walk you through the transfer process.
Jared Smith is HostDime's SEO and Content Strategist.