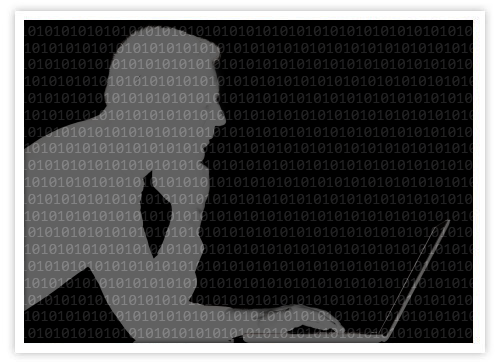 How to Disappear Online and Delete Your Digital Footprint
There's many reasons for wanting to remove your online activity. Maybe you fancy yourself the next Jason Bourne or Edward Snowden. Maybe you don't want future employers, customers, girlfriends, family members to see your sensitive information. Maybe you just want to remain mysterious.
Erasing yourself from the Internet will not be easy. Being an online ghost can be achieved, but it requires a lot of deleting. Follow these steps to digitally disappear.
The first step is to break away from the big social media networks: Facebook, Twitter, Google +, and LinkedIn.
How to Delete Your Facebook
To deactivate Facebook, go to:
Account Settings – Security – Deactivate Your Account
Click the picture below to say bye to Zuckerberg forever. The whole process could take up to two weeks to delete all your likes, pictures, and information about you. There's no getting this information back once you hit this button.

If you want to grab all your Facebook pictures before deleting, go to:
Account Settings – General – Download a Copy of Your Facebook Data – Start My Archive
How to Delete Your Twitter
When you "deactivate" your account on Twitter, the company holds your information on their servers for 30 days if you reconsider your breakup. To deactivate your Twitter, click this picture, enter your password, and that's it!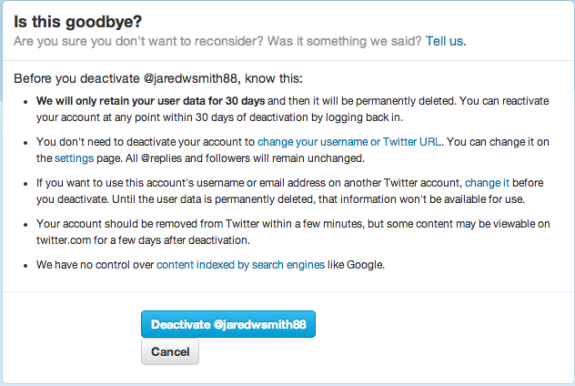 How to Delete Your LinkedIn Account
Deleting your LinkedIn profile is quite simple. Just go to:
Privacy & Settings – Account – Close Your Account
There are recent reports that LinkedIn continues to email you their stupid spam even after you close the account. You may need to contact customer services to fully break away from LinkedIn.
Remove All Photos Online
Before deleting your Facebook account, it may be smart to find which photos you're tagged in, via the Photos tab. If you hover over the picture, a star and a pencil appear in the top right. Select "Report/remove tag" and click "I want to untag myself" from the list.
Remove all photos you've added to sites such as Flickr. Deleting your Google Plus account will remove all your Google Plus pictures.
Search your name in Google Images and see what comes up. Put quotes around your name and add the city you live in to narrow down the results. Go to the websites and see if they will remove the photos. Be prepared for apathy or rejection on their part.
Helpful Deletion Tools
After deleting the big social networks, there may be countless blogs, forums, platforms, and websites with your information on them. These tools help find and delete your data.
JustDelete.me – Many companies use dark pattern techniques to make it tough to delete your account. This helpful directory features URL's directly to the delete page. These URL's are color-coded by how difficult the deletion process is.
Account Killer – This huge database features over 500 websites where your information may be. Check out their list of blacklisted sites, like Skype, that make deleting your profile nearly impossible.
Knowem – Enter your name, common username, brand, or product into knowem, which checks over 550 websites for any trace of your existence. This is perfect for smaller forums you may have forgotten.
Limitations on Deletions
Much like Vegas, what happens on the Internet stays on the Internet. While you can remove most information about you, tools like the Internet Archive exist. The Internet Archive's "Wayback Machine" crawls the web everyday and stores billions of past websites forever. There is no way to remove sites that have been crawled. If it was at one point on the Internet, it can be found on the Wayback Machine. Still, by following the steps taken above, you will regain some of your privacy while preventing amateur sleuths from finding you.
For more information on disappearing online, check out our list of the 15 best encryption programs to protect your online privacy.
Jared Smith is HostDime's Content Marketer.