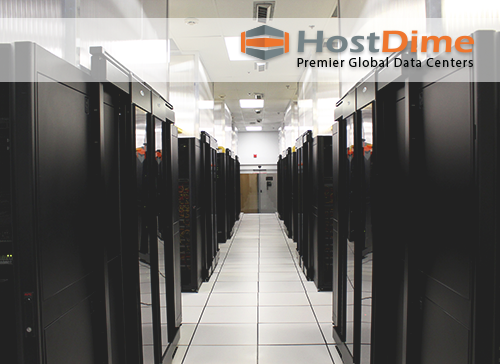 7 months out of the year Orlando experiences high 80°s and 90°s temperatures featuring shockingly high humidity. Orlando weather is hot even when the sun goes down. Where spring, summer, and fall all blend together to make you feel like you are living inside of an oven. 'Tis the downside of living in a humid subtropical climate.
To combat this environment, a data center needs hundreds of tons of air conditioning cooling capacity for its servers. HostDime uses 375 tons, to be exact. The entire server floor, network room and colocation room at the DimeNOC Orlando data center are cooled by 16 high powered Air Conditioning units to keep all hardware running at optimum performance. Units are quarantined in their own rooms to increase efficiency and decrease noise. This provides separate cooling zones at a constant 72 F degrees, and 45% humidity precision control.
Hot Aisle Containment
Air conditioning isn't the only thing needed to keep thousands of servers cool; heat suppression also requires some engineering ingenuity.
DimeNOC deploys a cooling containment zone that routes hot air directly from the unit, increasing cooling capacity and therefore requiring less energy. Containment of hot and cold aisles and funneling hot air from cabinets is intended to prevent the mixing of cool and exhaust air in the server room. Mixing these two air flows would increase energy costs.
Containing the heat energy generated by the equipment provides an easy and clear return path for it to go right back to the remaining CRAC units. After the aisle containment installation, HostDime was able to completely shut down two different 30 ton CRAC units.
208 Volt Input
Most servers shipped to the United States have 110 or 120 volt plugs, but servers can usually accept any type of voltage. Large pedestal and rack mount servers often use 208 volt plus.
The more current that wires and transformers conduct in order to power hardware, the hotter the components get. That additional heat must be cooled by air conditioning, furthering the amount of electricity required to support a server. Likewise, the less heat produced by components, the less cooling is required resulting in less power consumed.
208V requires fewer power whips, ideal in a raised floor data center such as DimeNOC. Less whips means less circuits to manage, resulting in better airflow. This improved airflow increases server life and lowers the cost of cooling the equipment.
Servers draw less current and therefore less heat at 208V than 110V. This is a win-win situation; HostDime's operating costs are lowered, enabling us to offer the most affordably priced fully managed dedicated servers to our end users.
Jared Smith, HostDime's Content Strategist, is currently sweating in Orlando, Florida.