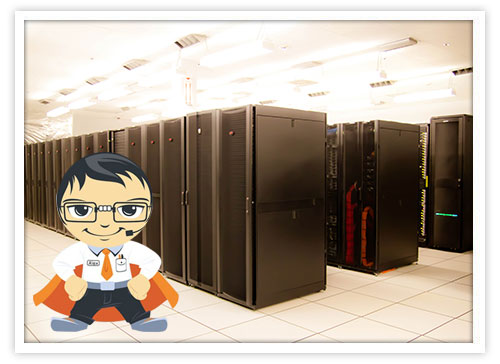 In the web hosting industry, customer satisfaction is the number one priority. This extends not only to the initial purchase, but also to the protection of our customers and their servers, applications, and information. HostDime.com, Inc. fashioned an elite team to handle such challenges. The company's Abuse and Security division is the first line of defense when protecting customers from vicious malware and malicious users.
As a member of that particular division, Jonathan S., an abuse response analyst, said that it can be rather fundamental to have such a defense team — especially when it comes to a web host provider presently ranked among the top 50 web server hosting businesses in the world.
"We are responsible for so many things," said Jonathan, who has been working with HostDime for three years. "When a client contacts us about a potentially compromised site, it is our task to perform the what, where, and how of the incident. After that, we will work with the client to prevent the issue from reoccurring. Other parts include responding to DMCA requests and developing software and policies to keep HostDime operating smoothly."
It isn't just compromised sites and DMCA (Digital Millennium Copyright Act) requests that the team has to be on the lookout for. Unfortunately, there are hackers, scammers and spammers too. Jason J., who joined HostDime eight months ago, said that he deals with this specific problem from time to time.
"Unfortunately in today's age, clients will have to deal with malicious users that want to deface their websites," said Jason, who works with abuse response. "We work proactively to help protect our clients from these malicious users. We also work reactively to assist the customers who do get their websites defaced."
With HostDime offering everything from basic shared hosting to dedicated servers having such a team is really a no brainer. So, what are some of the reactive measures that such a team takes when something has gone wrong with a server?
"When we are contacted, a member of our team will review the information provided by the client and begin their investigation," Jonathan explained. "In cases where scripts and code are exploited, we will isolate the environment by identifying the vulnerability and take steps to reduce downtime for the client's site. Every issue must be addressed with proper care. "
One of the things that Jonathan and the Abuse and Security team also deals with is malware, which is short for malicious software. It can appear in the forms of script and code and includes, but is not limited to, computer viruses, spyware, trojan horses and adware. This, of course, is something that the Abuse and Security team works to eliminate.
However, it isn't the only thing that keeps them on their toes.
"In cases where spam is being exchanged, we may be required to contact Realtime Block Lists about IP reputations, and trace mass mailing scripts to keep the mail queue clean of unwanted messages," Jonathan said. "There are many steps to securing a hosting environment. With every new server deployed, we perform a thorough security audit to ensure that the client is receiving a locked down system to confidently host their web application or media. Keeping the operating system and its components patched, modifying Apache and PHP with strict rule sets, and utilizing fine-tuned firewalls are just a few examples of steps that we take to provide a good piece of mind."
This is something that Jason is proud of. A good piece of mind is something that he believes every HostDime customer should have. Because of this, he takes his job very seriously.
"We keep a close eye on security bulletins and make adjustments on our servers based on those," he said. "If we find that a customer's site has been compromised [then] we work hard to make sure that the way that the account was compromised is no longer accessible. We work with the client to restore the site."
"We do run into the occasional critical security issue where someone may be woken up in the middle of the night," Jonathan adds. "Several years ago, the Linux kernel suffered from a very dangerous privilege escalation vulnerability in which a user can execute root level processes. We thoroughly planned the deployment and patching of our servers to reduce client downtime. I even stayed up all night to make sure that all servers were running the new kernel. We take security very seriously at HostDime and will do what steps are necessary to provide a secure hosting experience to our clients."
Despite the level of seriousness that the job requires, the team does make sure to laugh from time to time. Jonathan said that they do enjoy joking about code and scripts that are hack-able. He also said that they get a real kick out of challenging each other's exploit skills to hack a script and to see who can complete it the fastest. Still, at the end of the day, Jonathan knows what he's been employed to do, and he views his division as vital to the company.
"Like a well-oiled machine, each department is essential to the daily operation of HostDime," he said. "Abuse and Security provide internal policies for our employees with training and documentation. We also provide the groundwork for server hardening by taking the necessary steps to securing our hosting environments and networks. When a potential issue may arise, Abuse and Security can be trusted to handle any situation outside the bounds of other departments with confidence."
Is security of importance to you? Let us know by sharing your comments in the box below, or by sounding off on our Facebook Page or Google+ Page, or by tweeting us at @HostDime.