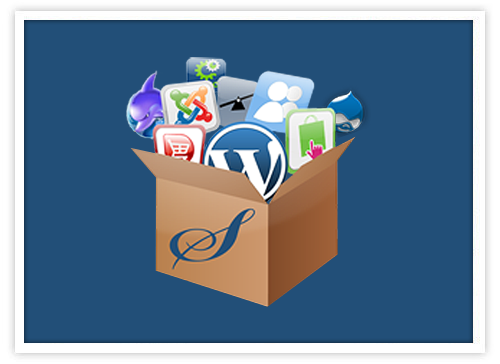 HostDime works hard partnering with highly innovative companies to offer our clients FREE SERVICES. One of those free services available with any hosting account is the auto script installer Softaculous. With over 150 script installs in their inventory, Softaculous can make an infinite amount of unique websites quickly and easily. Here's a few installs that will help you accomplish this.
The Best Softaculous Installs For Your Site
Content Management Systems
WordPress – Let's start with one of the most powerful apps in the online world. WordPress is an easy to use publishing platform for not just experienced developers, but any novice as well. The free service is one of the largest self-hosted blogging tool in the world.
WordPress plugins are capable of turning your site into a powerful machine thanks to plugins that optimize SEO, combat spam, view images, import files, build firewalls, and monetize your website.
Related WordPress Tutorials:
How to Install WordPress Manually in 6 Easy Steps
How to Install a Custom WordPress Theme
How to Change Your WordPress URL
Joomla – Joomla is a free and open-source content management system that allows you to build your website to your liking. Sweet features include page caching, RSS feeds, printable versions of pages, news flashes, blogs, polls, search, and support for many languages. HostDime recently ranked the 10 best Joomla extensions to enhance your website.
Drupal – OK so maybe WordPress and Joomla aren't your cup of teas; you want even MORE functionality and flexibility. Drupal is as developer-friendly as it gets, with a bare bones install for developers to create their own solutions. Drupal should be used for popular, data intensive websites that receive lots of traffic.
Image Galleries
Piwigo – Piwigo is a photo gallery software for the web, built by an active community of users and developers. The app has an enormous amount of features, and the constant updates mean your viewers will rarely see glitches.
Zenphoto – Zenphoto is the ideal CMS for personal websites of illustrators, designers, photographers, filmmakers, musicians, and other artists. Zenphoto works well because of its simplicity, usability, and it's intuitive, simple interface.
Customer Support
Open Web Messenger – This open-source live support application enables real time, one-on-one chat assistance directly from your website. Place a Chat button on your site for your visitors to click when they need something. The help app works in Chrome, Firefox, Safari, and Internet Explorer.
osTicket – osTicket is an attractive alternative to higher-cost and complex customer support systems; simple, lightweight, reliable, open source, easy to setup and use, and best of all, FREE. Though if you want to customize it to your website, you must have some PHP programming knowledge.
E-Commerce
WHMCS – Aside from the aforementioned Cashie Commerce WordPress plugin, there are plenty of Softaculous installs for online shopping carts. WHMCS is a client management, billing and support software that recently teamed up with cPanel to provide a more integrated solution for web hosting providers. WHMCS makes being a hosting reseller easy. With HostDime, pair your VPS or dedicated sever with an WHMCS license for $10 a month.
OpenCart – Another e-commerce solution would be OpenCart, which is quite easy-to-use and search engine friendly. Options like PayPal payment and merchant account integration help your store to get up and running in no time. OpenCart features dozens of customizable themes if you know your CSS.

Forums
Simple Machines Forum – SMF is the next generation of forum software, as the powerful custom templates gives you full control over your message board layout and function so it fits in seamlessly with whatever kind of website you have. Best of all, there's minimal impact on the resources of the server like some other forum software.
phpBB – phpBB is an ideal choice for your bulletin board needs. New users find it easy to setup and run, while coders love the flexibility and customization options.
File Management
ownCloud – ownCloud is your own personal cloud that runs on your server, giving you control over your files. This powerful FTP client has features including accessing, syncing, and sharing your data, encyption, drag and drop uploading, and much more.
ProjectSend – ProjectSend provides easy and secure multi-file uploading and unlimited file size on ANY server, including shared hosting. Unlimited file size uploading is available thanks the ability to upload in "chunks".
Social Networking
Oxwall – Are you in the market of building a social network? Oxwell may be what you are looking for, as it's used for a wide range of projects starting from custom social networks and family sites to collaboration tools and enterprise community solutions. Also if you run into any trouble, Oxwall has a great support team to help you out.
Dolphin – Dolphin is an easily scalable platform that allows users to use exciting features like video chat, groups, events, mailboxes and more. Plugins allow you to customize and grow your network to suit your needs. It does still have some issues with multiple queries and you must be good at coding to unleash Dolphin's true potential.
Frameworks
Bootstrap – Web development has never been faster or easier thanks to Bootstrap, which not only looks good in desktop browsers, but on any tablet due to responsive CSS.
CodeIgniter – Made for PHP coders, CodeIgniter is a powerful framework with a very small footprint, perfect for shared hosters. Like Bootstrap, CodeIgniter is easy for even novices to learn.
Other
SEO Panel – Once your dream site is up and running, you will need to track its performance. Seo Panel is an expanisve SEO tool kit that includes the latest SEO tools to manage and enhance your search engine performance. Tools include Automatic Directory Submission Tool, Keyword Position Checker, Site Auditor, Search Engine Saturation Checker, and much more.
YOURLS – Add a nice touch to your site with custom short URLs. YOURLS lets you run your own URL shortening service, which you can make public or private.
There's over 150 more Softaculous scripts out there, so there's plenty we've missed; tell us your favorites!
Follow HostDime for News, Tutorials, Contests, and Specials
This article was written by HostDime's Content Marketer Jared Smith.