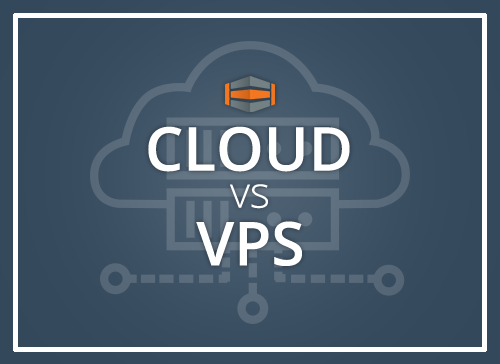 Hello there! You may be reading this right now because you googled "Cloud vs VPS" and you're seeking to learn the differences between the two. Put simply, a traditional Virtual Private Server and a Cloud Server are similar in their set-up, with the main difference being the way each server is deployed and managed. A VPS is hosted on one single physical server, while a cloud server is on a virtual partition consisting of multiple physical servers for maximum scalability and high availability.
Watch this quick, 30 second video for a visual illustration of why the multiple server infrastructure is a difference maker.
The Differences Between Cloud and VPS
SCALABILITY: The biggest knock about Virtual Private Servers is that they don't scale well. Conversely, a cloud's infrastructure allows for scaling up or down depending on demand. Scaling vertically increases the size of your server so you can handle whatever growth comes your way. Provision and augment RAM, bandwidth, and computing resources automatically on the fly, no reboot required.
HIGH AVAILABILITY: For the utmost in availability, cloud is the winner due to its failover protection. In the cloud infrastructure, your virtual server is always online. When a server goes down, Cloud VPS can share the load of one server with other connected servers in the infrastructure. This isn't the case with a VPS, as you just have the virtualization software on a hypervisor, which can cause downtime. Cloud set-ups have multiple servers running with the hypervisor to host and manage the virtual machines. On-demand backup also allows you to deploy multiple backup servers for complete data durability and redundancy.
CUSTOM INFRASTRUCTURE: While any good provider offers at least some sort of customization on their VPS, cloud servers are on a whole 'nother level. Choose from hundreds of OS and app templates or create your own template. Decide exactly how much storage you want, and create tiered storage set-ups with multiple SANs per cloud. Include add-ons like an automatic load balancer and an anti-spoof firewall just to to name a few more customizable tools and frameworks.

Cloud vs VPS
| | | |
| --- | --- | --- |
| | HostDime Cloud | Traditional VPS |
| Choose Specific Resources | ✓ | X |
| Instant Provisioning | ✓ | X |
| Live Scaling | ✓ | X |
| High Availability | ✓ | X |
| Handles Enterprise Traffic | ✓ | X |
| Pay As You Use | ✓ | X |
The cloud server is a more scalable, redundant, and customized version of a VPS without the limitations. HostDime makes building and deploying your own cloud so easy, it can be done in 5 simple steps. Take the leap and see the cloud difference now.
Jared Smith is HostDime's SEO & Content Strategist.