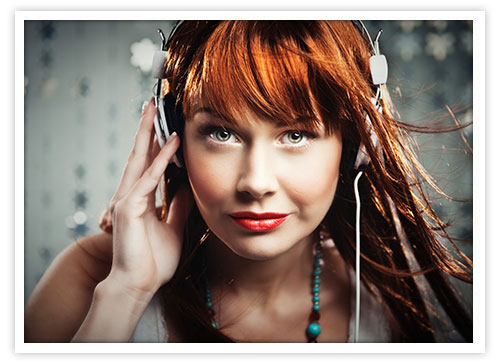 Maybe you're like me and the radio just isn't cutting it anymore. You hear the same songs over and over, and commercials play as frequently as music. Well imagine a world where you controlled the radio station. You pick the songs. You decide whether to have advertising or not, and you profit from it.
Do you have a small business that requires an in-store radio station or phone hold music? Instead of tuning to the local radio or plugging in your smartphone, how about a limitless selection of upbeat songs that your shoppers love, combined with an unlimited amount of customized ads that can be changed as often as you want?
Make this dream a reality with HostDime's streaming Internet audio streaming broadcast. Create your own radio station quickly and cheaply. HostDime with CentovaCast provides an efficient service that offers performance and a connection with excellent speed. Controlling and managing your streaming account is painless thanks to the most comprehensive control panel in the Internet radio industry.
The Benefits of HostDime's Audio Streaming Service
Multiple Playlist Scheduling: Each playlist you create can be infinitely adjusted to control exactly how and when a song, podcast, or show will be played. Create multiple playlists per audio stream and rank songs by popularity. Weigh a song more than others to have it play more often. You have options to play a song on a recurring basis, schedule shows for specific date, and play any song immediately. This last option is perfect for immediate requests.
Server Compatibility: With our streaming implementation, your listeners have the options of the four most popular streaming players available: Windows Media Player, iTunes, Winamp, and Real Player. No listener will be left out. Easily insert a code from the control panel to add your player to any website.
Listener Overview: Find out, in live time, who's listening to your station. View where your listeners are from and what device they are currently using. Track listener trends in graph form daily, weekly, and monthly. View your historical statistics even up to a year old.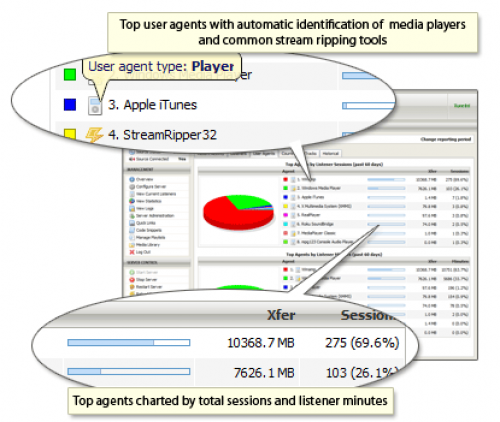 Song Stats: Song popularity is based on the number of tune-ins and tune-outs during a certain song over the past 30 days, and this is used to compile a "least popular" and "most popular" tracks list. This indicator of your listeners' tastes for particular songs. The amount of airtime and number of performances of the top songs over 30 days is also logged.
Mobile Radio: Now your listeners will be able to stream your radio station from anywhere with an Android, iOS, or Blackberry device! This free service uses SHOUTcast MP3 to create a mobile page accessible from most smartphones.
Stream Monitoring: Your steaming service includes a built-in monitoring system to minimize downtime in streaming server accounts. If a server unexpectedly crashes or goes offline for any reason, the server will restart in seconds, and the administrator and client will be notified of an outage.
Pricing: HostDime offers 4 packages to choose from, all featuring CentovaCast and a mobile version of your audio streaming site. Go to our pricing page to check out what data, listener, and bitrate plan fits your agenda. We have plans that will sustain 100 simultaneous listeners! Take a look at other in-store radio competitor prices; no one can beat HostDime's plans!
Did you enjoy this article? Also check out:
Jared S. is HostDime's technology writer and creator of his own 24/7 Internet streaming audio website Too Good For Radio.
HostDime is one of the top 50 web hosts in the world. Follow HostDime on Facebook, Twitter, Google+, Instagram, Pintrest, and the new and improved Flickr.