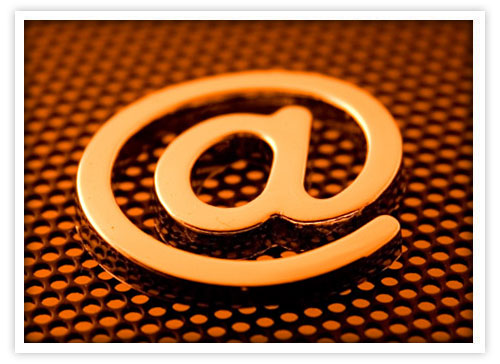 Are you ready to take your email game to the next level? Email search-and-find is a large part of customer outreach and link building. Sending a direct email is always preferred over a contact form, but the process can be boring and time-consuming. Thankfully there are plenty of useful tips, tricks, and tools available to find anyone's e-mail address quickly. Keep in mind that these tools only use publicly available data and should be used only to find your desired contact's business email addresses.
Social Media & Snapbird
First and foremost, always see if you can find your contact via social networks. Facebook and LinkedIn usually display people's public email address. With Twitter, you can only direct message someone who follows you, so @ them to get the conversation rolling towards e-mail acquisition.
Speaking of Twitter, Snapbird is your new best friend. It's essentially a Twitter search engine. Type in the username of the person you wish to contact and you can search through their tweets by keyword. If you want to find Jane Doe's Gmail address, search Jane Doe's Tweets for "Gmail" in the hopes she tweeted out her e-mail in the past.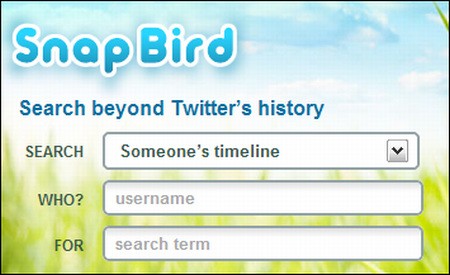 Google Knows All
Google is the ultimate search tool for email discovery. Enter the domain you are looking for into Google with quotations: "@domain.com". The results will contain all references to an e-mail on that domain, probably featuring numerous ones you were not aware of.
Rapportive
Rapportive is a free relationship building and management created right into your email. If you have Gmail, Rapportive can be a very useful tool to find email addresses if you know the contact person's first and last name.
In the "To" compose line of Gmail, guess an email address and Rapportive will instantly check if it's a legitimate, publicly known address. A correct email will then display the contact's picture, residing city, and social networks.
Here are just a few popular email combinations to test out:
first name + last name @ domain.com
first name @ domain.com
last name @ domain.com
first initial + last name @ domain.com
first initial (.) last name @ domain.com
first initial _ last name @ domain.com
If those fail, try these common syntaxes:
info @ domain.com
contact @ domain.com
mail @ domain.com
mail @ contactname.com
Mailtester.com
Mail Tester is a great, bare bones device that finds domains, then checks to see if the email address you entered is on the domain. The tool looks up the SMTP server for the e-mail address, and tries to establish an SMTP connection. Once you have the right domain, plug in numerous syntaxes until you find a match.
Toofr!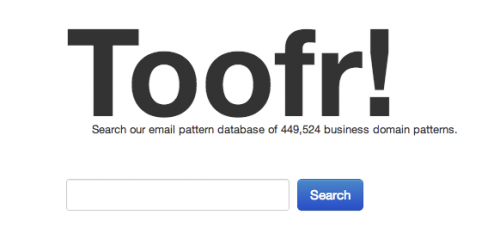 Toofr provides the email pattern for about 500,000 companies, which you can use to easily build email addresses. By understanding the email pattern that the company uses, you can quickly find your desired contact. You get 10 free attempts with Toofr; a year subscription will cost you $95.
Toofr helps you out by displaying the most common patterns for business e-mails:
flast – 42%
first – 24%
first.last – 18%
firstl – 5%
firstlast – 3%
Pipl
Pipl advertises itself as "the most comprehensive people search on the web". Enter any name, username, or phone number (with an optional attached location) and Pipl searches the "deep web" aka the invisible web, to deliver you heaps of relevant information. The deep web content is estimated to be 500 times larger than that of normal search engines.
WhoIS Information
When a new domain name is registered, the name, e-mail address, home address, and phone number is publicly accessible information. Look up small businesses on WhoIS to find an accompanying email address.
If you would like your domain contact info to be hidden, open up a ticket and request the WHOIS privacy feature be activated. HostDime offers this protection to our clients for only $6.99 a year.
Call Them Maybe
When all else fails, it may be time to talk to a real person. Go to the company website and call the public phone number. Ask the receptionist if you may obtain your contact's email address so you can send them an e-mail. The worst that can happen is the receptionist says "No".
Good luck and happy hunting! Let us know your way to find email addresses in the comments.
Did you enjoy this article? Also check out:
HostDime.com is one of the top 50 web hosts in the world. Please follow us on Facebook and Twitter for news, tutorials, and contests.
Jared Smith is HostDime's Technology Writer. Follow him on Twitter.