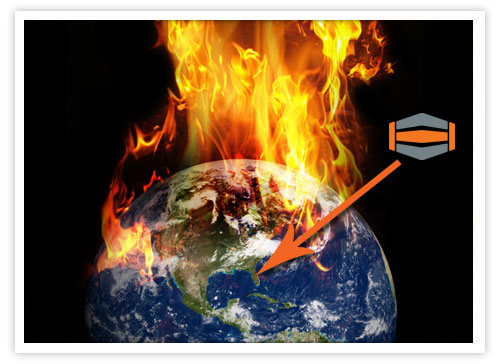 Tomorrow, December 21st, 2012 marks the end-date of a 5200 year cycle in the Mayan "Long Count" calendar. Some feel this will begin a positive physical and spiritual transformation. Others believe this date will mark the end of the world. If tomorrow turns out to be the latter, an apocalypse fiery landscape, stay calm and head to HostDime's datacenter.
HostDime has an advantage that over 95 percent of web hosts do not have, and that's our very own datacenter located in Orlando, Florida. Not just any datacenter, but one that's been consistently ranked as one of the premier colocation facilities in the Southeast United States.
Many companies will hint that they own their datacenter with their servers, but unless they explicitly state this, this is not the case. These competitors will be hiding under their bed if the apocalypse happens, while we'll be enjoying electricity and air conditioning in our 20,000 square foot datacenter.
Always on the Grid:
HostDime customers have peace of mind knowing their server is stored in a secure facility that has redundant power and internet connectivity. Our contracts with local electrical providers ensure that HostDime and your servers are always on the grid.
Two diesel generators, 500KW Caterpillar and 1250KW Katolight, are also on location in the unlikely event of complete power loss. These impressive generators hold up to 2700 gallons of diesel fuel so no need to worry about power outages, natural disasters, or Mayan prophecies.
Security and Protection:
HostDime always has top-notch protection and security, and the datacenter is no exception. The building within a building datacenter design is resistant to any sort of unwanted outside occurrence. There are "man trap doors" at all standard entrances to the facility, positioned at each end of the hallway leading into the datacenter. These trap doors can not be opened simultaneously and visitors must be manually authorized to enter with an escort.
Doors are operated via combination of badge only access points, keycard readers, and biometric hand readers. Additionally, 50 IP cameras provide a watchful eye to make sure your precious hardware and data remain safe and sound.
Stay Cool:
While the world burns outside, the colocation facility inside remains a constant room temperature of 72 degrees F with 45% humidity precision control. Separate cooling areas with 237 tons of total cooling capacity ensure no overheating will ever occur.
Round-The-Clock Access:
Tour HostDime's Florida datacenter in person 24 hours a day, 7 days a week, including all holidays and apocalypses. Call us for an appointment now, time could be of the essence. Virtually check out the colocation facility in the tour video below:

HostDime offers a wide range of Orlando colocation services from single servers to entire rackmount cabinets. Make sure you keep yourself and your data secure, no matter the situation. Good luck out there and we'll see ya at the datacenter!