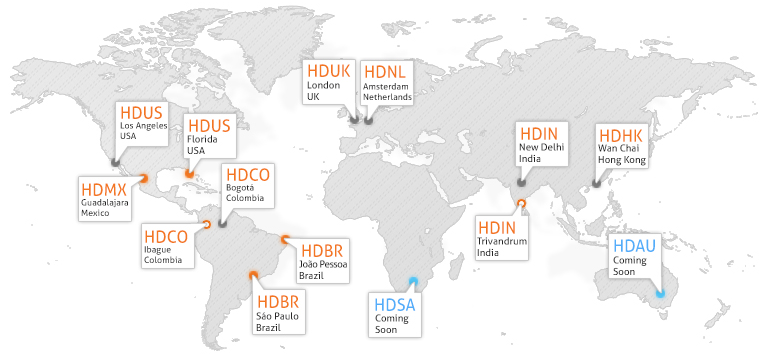 HostDime understands that one of the most critical aspects of being a global data center company is providing the best network possible. We only partner with Tier 1 providers who can deliver the highest quality of bandwidth across the globe.
HostDime owns and operates data centers in Orlando, Mexico, and Brazil, with network facilities in Colombia, Hong Kong, India, the United Kingdom, and the Netherlands. Let's dive deeper into these network facilities, beginning with a visual display of HostDime's network connectivity: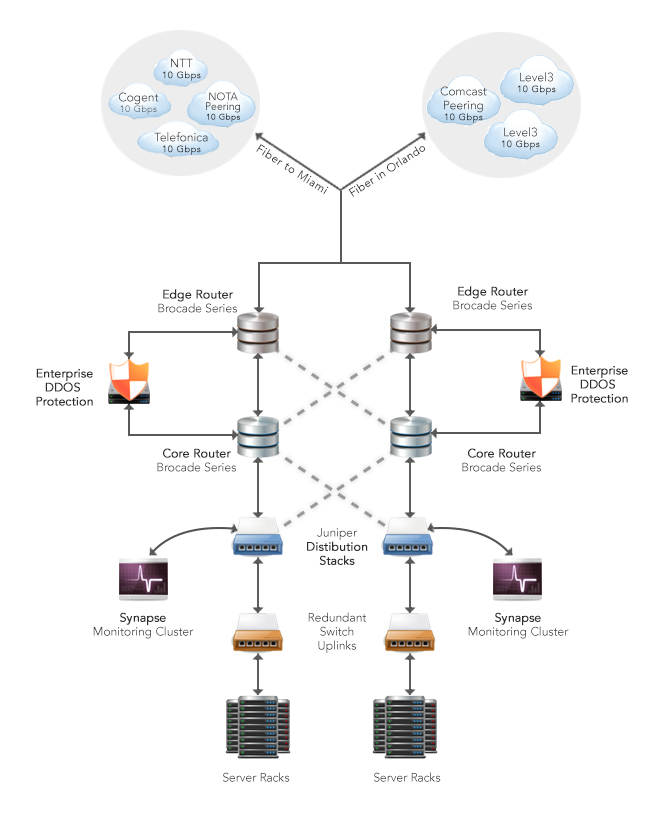 HostDime's Fiber in Orlando
Both HostDime's current DimeNOC facility and upcoming 88,000 square foot data center facility have been designed to be major peering and connection HUBs for networks in the Southeastern United States and for South American companies. More on South America in a minute.
DimeNOC: The DimeNOC facility operates one of Florida's most robust and redundant networks with close to 100 gigabits of redundant fiber capacity thanks to these Tier 1 network providers:
2 x 10GE – Level 3 Communications
10GE – Telefonica
10GE – Global Crossing
10GE – NTT Communications
10GE – Public Peering (NOTA)
20GE – Diverse Dark Fiber to Miami NAP of Americas
Private Network Availability
HostDime's network is 100% powered by Brocade routers, Juniper & Cisco switches. The network utilizes redundant edge and core routers to distribute network connectivity to our Juniper & Cisco 10G access switches to every rack.

New NOC: The new HostDime data center/headquarters will feature space for over 35,000 servers, a dozen or more Tier 1 bandwidth providers connecting in 3 full-sized meet me rooms, full Tier 4 level redundancy, and in-line hardware-based Distributed Denial of Service (DDoS) Attack Protection. These Meet Me rooms will be home to major telecom and fiber providers. This upcoming facility will be one of the most well-connected data centers in Florida.
Both existing and new facilities will be functioning concurrently for the foreseeable future. When the new facility is ready in the summer of 2017, current clients may elect to move there. Once the new facility is up and running, all new clients will be deployed there instead of DimeNOC.
HostDime's Fiber to Miami
The Network Access Point (NAP) of the Americas in Miami, Florida is the major internet transit hub for traffic between the United States and Latin America, Europe, and Africa. The Tier 4 facility was the first ever purpose-built network access point, switching the majority of South America, Central America and the Caribbean's web traffic.
The NAP is very beneficial for HostDime, as we have access to diverse dark fiber in their point-of-presence room. By running 2 x 10GE waves into our gear in Miami, this transmission connects back to our facility in Orlando, allowing us to peer with many providers in South America.
Colocation in South Florida is quite high due to large infrastructure costs. HostDime's connectivity to the NAP of the Americas provides a cost-effective enterprise solution for your business with practically no impact on latency (5ms). This ensures that HostDime customers save on their infrastructure costs while experiencing the premium connectivity options of the NAP.
HostDime Network Tools
Looking Glass: HostDime's looking glass tool allows viewing of backbone routing and network efficiency behavior as it originates from our remote networks. HostDime offers the same transparency that customers on our network receive. To run a test, first, pick the source. After that, select a test type between "host", "ping", "traceroute", or "mtr", which is the combination of traceroute and ping. Then simply enter your destination IP or paste your IP, and click "run test"
Interactive Provider Map: With 10 global locations, HostDime partners with 24 top tier providers. Check out our interactive map showing which providers are in which locations.
HostDime Network Status: Keep an eye on our bandwidth usage to check the current status of HostDime's network 24/7/365. You can also check out the Orlando to and from Miami backhaul.
Speed Test: If you are interested to see how fast our network is, check out the free DimeNOC speed test. Make sure your visitors are receiving the fastest response times to your website possible by hosting it in the target location of your audience.
Jared Smith is HostDime's Content Strategist.