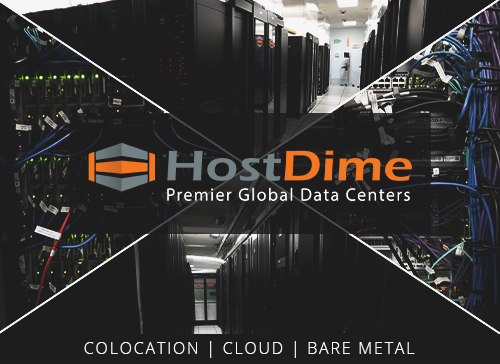 As this global pandemic forces companies both large and small to switch to a remote work force, HostDime is doing its best to help the global business ecosystem and local businesses during this time of crisis.
Our mission critical data centers around the world run 24/7/365. We remain operational to service our products and maintain the uptime and support you have come to expect. We are also still available to accommodate moving equipment to our data centers.
If you have any request whatsoever, please reach out to us and we will gladly unburden you and help with your operations. Let us provide you with some onboard credit with a free first month of service to help out during these trying times.
For instance, do you have servers stuck on prem (your office) while your team is remote? The time is now to save yourself not just the headache of server operations but a significant amount of capital as well. Simply sign up, then contact us about this offer and we will issue your account the credit equivalent of one month of service.
We help many enterprises craft a custom, hybrid solution of cloud and colocation to meet their needs affordably. HostDime will also match your initial cloud deposit for the foreseeable future.
The Benefits of Colocation over On-Premises
A recent report by INAP showed 9 in 10 organizations will move workloads off premises by 2022. Why is this? Aside from cost, the benefits are enormous:
Improved network performance
Higher availability
Increased application scalability
Eliminating compliance issues
Expanded infrastructure security
Don't Want to Deal with Your Hardware Anymore? Ready to Manage Your Server Remotely?
Our bare metal servers offer you the ability to ditch the hardware you own and move to a Hardware-as-a-Service model where we manage the hardware while still delivering you the full hardware usage, but without the contract.
More importantly, HostDime deploys Intelligent Platform Management Interface (IPMI) so your server can be managed REMOTELY from anywhere in the world. We offer many OS flavors including Windows and almost all Linux distributions. With remote access you can install any workload you need to on any of the server offerings. IPMI is included at no additional charge on our servers.
IPMI provides better server management via hardware applied directly into the server's motherboard and accessible through your CORE client portal. Unlike most vendors that require a hardware key or software, all HostDime's motherboards include dedicated KVM-over-IP functionality.

What Else is HostDime Doing to Help?
Lastly, we want to highlight those who are currently working at our global data centers. While our sales staff is operating normally from home right now, we are considered a critical infrastructure industry, as defined by the Department of Homeland Security. This means that data center operators, including system admins, security, IT managers, data transfer specialists, software and hardware engineers, and database administrators are on-site and ready to help. We applaud our staff and all other IT workers who are playing an essential role in helping businesses staying online and keeping the public connected.
Cleaning is being doubled up and we are providing an environment that our staff can be confident is safe for them to work in. For colocation clients coming to the data center, there are precautions taken to ensure the safety of our clients and data center staff.
These are uncertain times, but we are confident we will navigate this together and come out the other end stronger. We're here to help; please don't hesitate to message us with any special requests you might have!
Contact us about this offer and we will issue your account the credit equivalent of one month of service.
Jared Smith is HostDime's SEO and Content Strategist.