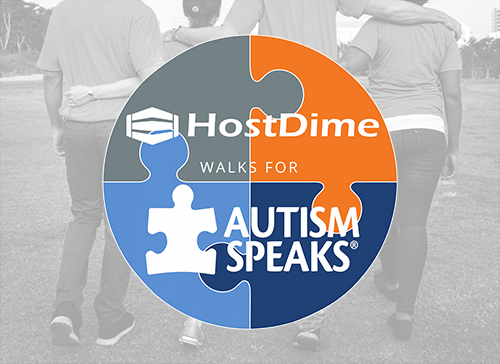 This past weekend, 27 members of the HostDime team participated in the "Walk for Autism" fundraiser in Altamonte Springs, Florida, to help raise money for Autismspeaks.org! The organization helps fund local services and autism awareness nationwide. Our generous team of staff, family, and friends ended up raising $1086.75!
Autism Speaks is powered by a grassroots movement filled with the love of parents, grandparents, siblings, friends, relatives, and support providers for people with autism. This walk is the world's largest event dedicated to raising money for the autism community. Walkers advocate and bring about action for the diverse needs of individuals with autism. These funds help drive innovative research for causes and better interventions for autism spectrum disorder and related conditions. Autism Speaks' main goals are to:
Seek the causes and types of autism
Lower the average age of diagnosis to under 2 years
Expand services across the lifespan
Enhance medical treatment of autism's associated health conditions.
If you would like to get involved in the future, there is likely an Autism Speaks branch in your community. Go here to check out the local chapters, and participate in their next event! To donate and support Autism Speaks' mission, go here.
Jared Smith is HostDime's SEO & Content Strategist.