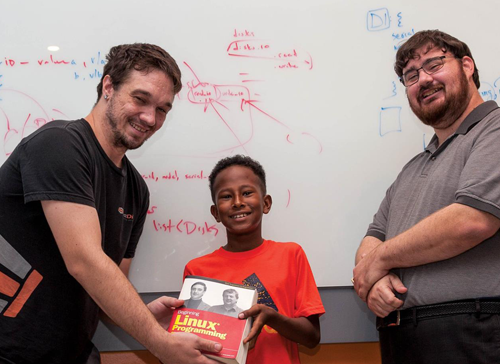 HostDime's data center in Orlando, Florida got a glimpse into our industry's future when 11 year old Keegan came to visit. That's because Keegan wants to be a software engineer when he grows up, so he got to tour our data center and meet our DevOps and Integrations crew.
HostDime techs met Keegan and answered his questions and gave him a list of subjects to focus on in school and websites he should be following. Keegan got a front row seat to what our techs do day in and day out. He got to see what skills were needed and asked plenty of questions about what we do.
Keegan left the data center with a goody bag including a HostDime tumbler, sunglasses, a lanyard and a HostDime Alex, but best of all, a Linux book to help him become a software engineer sooner rather than later.
We're very excited to meet young technology minded people in the community, and promised to save Keegan a desk for when he's old enough to come to work for HostDime.
HostDime & Eatonville's Future
A picture of Keegan and HostDime tech Matt H. will be on the January page of a 2017 calendar featuring students and their mentors. The calendar will be called "Today's Champions and Future Champions of Eatonville."
Keegan and his family are residents of Eatonville, home of HostDime's upcoming headquarters and data center. The 90,000 square-foot structure will be an iconic beacon of growth in the Florida business community. There will be an area in our new data center dedicated to young minds interested in how data centers work for future generations.
We are excited to have a symbiotic relationship with Eatonville for many years to come. The town is rich with underground fiber, and is going to have a huge economic impact for us and the Town of Eatonville.
Tour HostDime's Data Center
If you are a teacher and interested in going on a tour with your students, please reach out to us and we'll be happy to accomodate!
TOUR ONLINE: The next best thing to touring in person is doing it virtually. Watch this three minute video featuring HostDime's highly secure infrastructure, complete with a reception area for networking, a client colocation lounge for working on your server, and a state-of-the-art conference room for business meetings.
Jared Smith is HostDime's Director of Marketing.