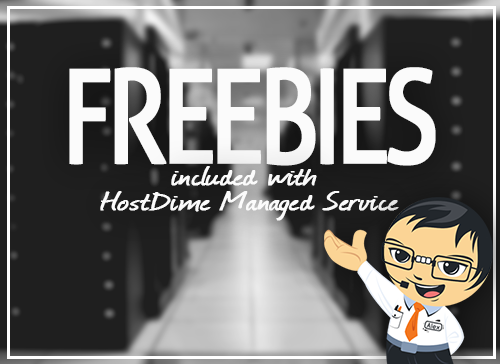 Who doesn't like free stuff? I know I do. Luckily when you purchase a managed HostDime account, you get access to tons of free licenses, services, and add-ons that will compliment your server and enhance your user's experience.
HostDime Freebies
cPanel: HostDime is an authorized license distributor, providing instant cPanel licenses to our clients; HostDime offers one cPanel license to all managed clients. cPanel allows you full control over your servers' numerous features and aspects in a user-friendly manner. Provide a professional interface for yourself and your clients to manage both yours and their servers. Create and manage accounts, passwords, e-mail accounts, FTP accounts, domains, sub domains, error pages, MySQL databases, redirects, parking, and a lot more.
WHMCS: HostDime includes one free WHMCS license to reseller, VPS, & dedicated clients; shared clients can purchase a license for $10 a month. A client with a dedicated server or VPS can have the free WHMCS license setup for ANY domain on the server as long as that domain is pointed to our network. WHMCS is a client management, billing and support software for online web hosts that makes reselling simple. For resellers, your clients sign up for various packages and register unlimited domains without any work on your part. WHMCS will instantly supply those new accounts on your server and you can view each client in-depth. WHMCS has you covered with automated client signups, terminations, domain management, welcome e-mails, billing, and remainders performed instantly.
Enterprise DDOS: HostDime offers premium hardware-based DDoS monitoring and mitigation to our entire client base. This is no gimmick or simple firewall; HostDime's secure network is among the most DDoS protected in the hosting industry. If any other client on your server is attacked, your site will stay up and running.
Softaculous: The Softaculous auto script installer is free for every managed client. Free for every managed client. Softaculous has over 400 scripts in it's inventory featuring WordPress, Drupal, Joomla, OpenCart, Dolphin, PrestaShop, and everything else you could possibly need.
RVSkin: RVSkin is a multilingual theme for cPanel. This is provided free to our managed clients upon request. With this add-on, you will be able to brand your cPanel interface specifically for your company.
WHMxtra: WHMxtra is a unique add-on module for cPanel servers that is free for VPS and dedicated clients only. Xtra adds over 160+ features to your WHM and cPanel account. Everything in Xtra is designed to save you time and money when it comes to securing, repairing, and managing your server.
Jared Smith is HostDime's Content Strategist.