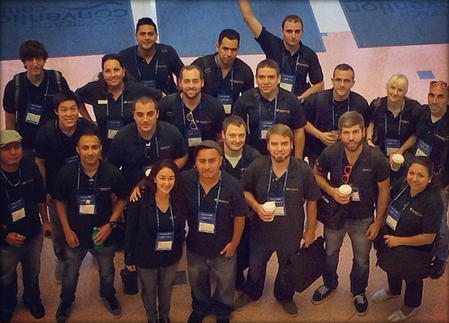 Twenty-one HostDime crew members made the trip from Orlando to Miami Beach for the 10th annual HostingCon, the premier event for the hosting community.
Industry professionals from around the world gather to hear vital hosting issues, share expertise, network, and party, all while surviving the humid Miami weather.
The best part of HostingCon is the giant exhibit hall, featuring over 150 exhibitors from 30 plus countries. This is the place to strength partnerships and create new relationships.
A few companies definitely brought their A game with their exhibits. Here's some HostDimers riding the Sitelock virtual reality roller coaster.
System admin Matt tried his luck at the Softlayer and Supermicro server challenge. He finished in under 2 minutes.
You could even take out your aggression with the Whac a Mole: DDoS Edition game.
You can work up an appetite after all those sessions and exhibits. Luckily the food was much better than typical conference fare. Here's some of the crew eating a delicious South Beach inspired lunch.
There were also many free giveaways at the very end of the conference, and HostDime was lucky enough to win a few of them.
System admin Rafi beat the GM of Reseller Club in a game of FIFA 2014 to win an iPad Air.
Even yours truly won a Galaxy Note Pro giveaway from EdgeTeam.
Overall, HostDime had a blast mingling with industry leaders, fellow hosting services, and media outlets. HostingCon will return to San Diego in June 2015. Until next time!
Jared Smith is HostDime's Content Strategist. Follow him on Twitter.
HostDime.com is one of the top 50 web hosts in the world. Check out our giant product line of web hosting services.