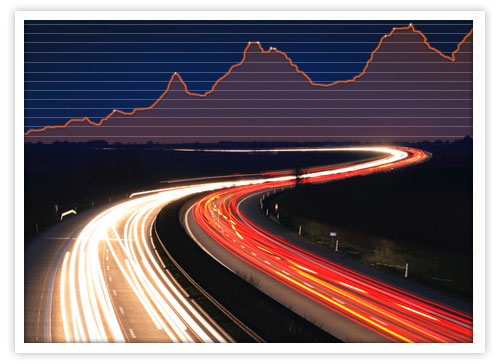 When no one visits your website, that's a traffic problem. When thousands of people visit your site at once, that's a whole new kind of traffic problem, the expensive kind. This is a good problem to have, unless you find yourself ill-prepared for the surge. Most business websites can NOT withstand a 200 percent increase in traffic. Will your website be included in that deadly statistic? Here's how to prepare your website for a boost in traffic.
Check Your Analytics
First of all, you need a point of reference before you embark on an SEO campaign, advertising expenditure, or your website hits the front page of Reddit. Religiously check Google Analytics to notice patterns in your daily, weekly, monthly, and yearly traffic statistics. Determine exactly how much traffic you are getting, where the traffic is coming from, and which keywords work and don't work to figure out how to receive more steady numbers.
Optimize Your Website
Most websites go offline because there's a strain on the server, due to high memory, CPU usage, exorbitant database queries, or increased bandwidth usage. Optimizing your website can reduce all of these culprits.
Create a static HTML page for your website. This will replace PHP and database queries, as they add to the load time of a site because there's a constant back-and-forth between the server and client. Create a mobile or lightweight version of your site, or at least your homepage as this is likely your most viewed page. Remove all unnecessary plug-ins and flashy elements to reduce load problems.
If you are using WordPress, download two very helpful plug-ins: WP Super Cache and WP Smush.it. WP Super Cache generates static HTML files from your site. This will not load the PHP script, rather serve as that HTML file, so the blog loads faster while decreasing stress on the server. These files will be served to 99 percent of your users.
WP Smush.it is an amazing plug-in for optimizing images by stripping meta data and compressing images. The plug-in eliminates extra useless bytes, without compromising the quality of the image. There are no plug-in options and nothing to set up.
Check out plenty of more tips and tricks to speed up and optimize your WordPress website.
Upgrade Your Hosting Package
Lastly, the most foolproof way for battling traffic surges is to upgrade your hosting package. Shared web hosting packages are fine for normal occasions, but not ideal for a mass visitor arrival. It's worth a few extra dollars a month to get web hosting that suits your high traffic needs. The last thing you want on your big traffic days is the dreaded "This Website is Unavailable" greeting.
Having a Virtual Private Server or fully managed dedicated server will guarantee faster website performance in each and every way. No need to worry about rowdy neighbors on your shared server who may slow down or help disrupt your website. It's also time to upgrade if your front end loads fine, but you are having problems with WordPress' back-end.
HostDime is here to help if you want more tips or pointers on what you should be doing with the traffic you're receiving. We can help you move to a different server, increase memory, or even upgrade you to your own server. We pride ourselves on having the best web hosting customer support, so please contact our sales team today via a ticket in CORE or live chat.
Jared S. is HostDime's Technology Writer. Follow him on Twitter and Instagram. Follow HostDime on Facebook and Twitter.
DID YOU KNOW? HostDime has a forum where you can check the status of your server, general support issues, testimonials, dedicated server talk, and so much more!