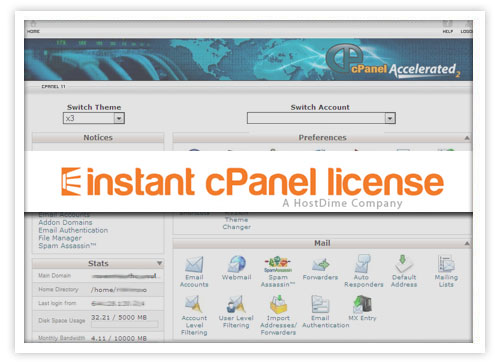 cPanel is the world's easiest and most user friendly web hosting control panel. cPanel loves HostDime and the feeling is mutual. HostDime is the only company offering instant cPanel licenses for all your favorite web hosting software. Your cPanel License will be activated upon completion of your order. As if it can't get better, HostDime offers free installation.
Prices and Discounts
HostDime is offering exclusive discounts on EXTERNAL cPanel/WHM Dedicated Server and VPS licenses. HostDime will match any external cPanel license price you find. This offer is valid until March 31st.
$30.95/month External Dedicated Server cPanel License – Coupon Code: icp3095
$14.00/month External VPS cPanel License – Coupon Code: icp14
If you buy or have a server with us, here is your INTERNAL license price; contact us to get this deal NOW!
$25.00/month INTERNAL Dedicated Server cPanel License
$10.00/month INTERNAL VPS cPanel License
If you have servers elsewhere, contact us today to move them to our data center so you can benefit from the INTERNAL pricing.
Looking for multiple licenses? Get a bigger discount when buying in bulk.
cPanel License Transfers
If you plan to transfer a license to HostDime, you will need to first purchase a license from us. Plan on buying the license at least five days before your other license expires. This way no invoices will be left open at your other provider and everything will be clear to transfer before it is set to expire. Once you purchase the license from us and make payment we will submit a transfer request to cPanel, who will approve the transfer and move it to our account.
HostDime offers plenty of other licenses; check out our entire product line.
Follow HostDime on Facebook and Twitter.
Jared S. is HostDime's Technology Writer. Add him on Instagram and Twitter.