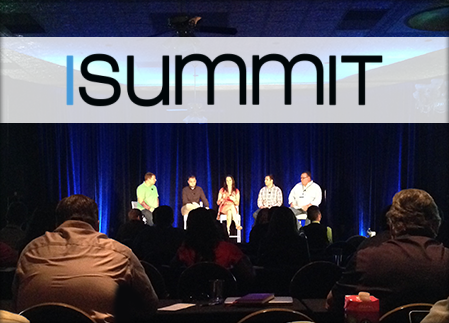 Members of HostDime's customer relations and marketing teams were fortunate enough to attend iSummit 2014, which took place this Monday and Tuesday in downtown Orlando.
40 technology panels on the topics of social media, big data, venture capital, brand engagement and everything in between were crammed into two highly informative days. Unlike usual conventions, most panels were a brisk 30 minutes, providing a fast-paced atmosphere that was all meat and no fat.
Orlando Mayor Buddy Dyer, Mashable CTO Robyn Peterson, and IZEA founder Ted Murphy were among the keynote speakers addressing the more than 700 eager listeners. The highlight of the conference was Jeff Hoffman, founder of Priceline.com and seasoned speaker, who gave an inspiring talk on entrepreneurship. If you are curating a tech convention, you better hire this man; he will leave the audience feeling inspired.
So unless you have a time machine, you blew it and missed out on iSummit 2014. But here's the next best thing as nine speakers uploaded their presentations to SlideShare. Go through these slides for free nuggets of wisdom and make sure you don't miss the next iSummit!
The Business of (Tech) Startups by Paul Singh
Emerging Technology, Shiny Objects & The Future of Media by Fred Steube
10 Ways to Use Social Media to Build Community by Bess Auer
iSummit 2014 Segmentation: The Data is in the Details by Matt McGee
40 Social & Content Tactics In 20 Minutes by Justice Mitchell
The Evolution of Content by Dino Dogan
A Date with Data: How Smart Marketers are Evolving from Vanity Metrics to Value Metrics by Nick Cicero
The Top 5 PPC Hacks of All Time by Larry Kim
Goal-Driven Design: A Bauhaus Approach to Digital Strategy by Purple, Rock, Scissors
HostDime.com, Inc is a global data center infrastructure provider offering an array of cloud products from managed hosting servers to colocation services that cater to a range of clients, from entry-level to enterprise-level operations. HostDime owns and operates infrastructure and networks in seven countries, with its flagship facility in Florida, USA. Currently with a client base of more than 50,000 clients globally across 6 globally dispersed networks, HostDime is one of the most reputable data center companies in the world.
Jared Smith is HostDime's Content Strategist.