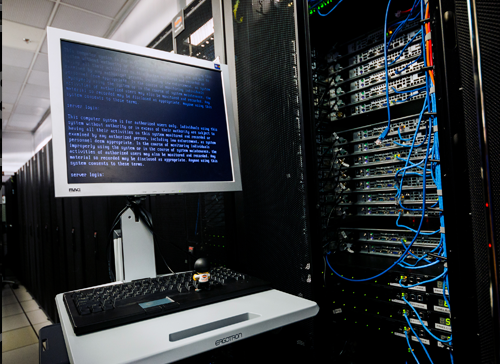 HostDime's product line continues to evolve as we end new orders of shared and reseller hosting accounts and incorporate newer products such as Managed VPS/Virtual Machines based around Virtualization technology known as KVM (Kernel-based Virtual Machine).
Our KVM VPS product will allow us to still offer shared and reseller hosting, but in a more private, customizable, and secure environment for the client. These Enterprise SSDs are hosted in our state-of-the-art data center and have been upgraded with a fiber 10 Gbps backbone for speedy results. All Linux, Windows, and custom OS options are supported with these virtual machines.
With this transition, we look forward to continue to support your NEW and/or additional shared hosting and reseller hosting needs on this new VPS product line. The KVM VPS is a massive improvement over shared and reseller hosting; here's a few reasons why.
HostDime's KVM VPS Benefits
1. Dedicated Resources & Virtual Environment: Unlike shared servers and other types of virtualization, such as OpenVZ, where all users on the server share resources, KVM virtualization totally isolates each individual virtual machine on the host node. Your KVM VPS will have its own dedicated CPU and RAM resources in addition to a totally isolated kernel, operating system, and control panel installs. KVM VPS offers you the ability to fully customize your web server, mysql server, php, mail server, and other installations on the server to totally fit you and your client's needs. If you have a client who requires a custom php module loaded onto the server, for example, you now have the ability to do so easily.
2. No More Noisy Neighbors: When using a KVM VPS, other users on the same server will no longer affect you or your accounts. If other users decide to run scripts that overpower their account and take their server offline, your service will remain fully intact and unaffected. If another user chooses to run outdated software that poses a security risk to their server, you will not be affected and your accounts will not share that level of risk.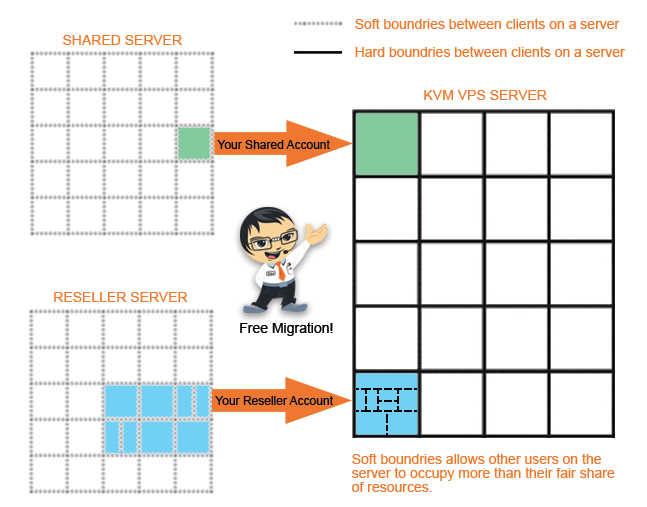 3. Private Mail Server & Mailing IPs: As we stay on the topic of offering a fully isolated environment and dedicated service installs (web server, mail server, etc), your KVM VPS account also has its own dedicated IPs. This is important because you will be in total control of your own mail server's mailing reputation. We have gone into greater detail before on how important it is to have a dedicated IP address. With shared and reseller hosting, all accounts on the server utilize the same IP to send and receive email. Due to this, if another user on the server is sending or receiving too much SPAM, major ISPs and mail providers (yahoo, gmail, Hotmail, etc) may list the shared server IP as malicious which would affect your mail deliverability. With the KVM VPS accounts, you will be the only one sending and receiving mail through your IP meaning you control your own mailing reputation. This ensures a higher level of email deliverability and uptime for your business, especially in businesses where mail is key.
4. Latest Xeon Family CPUs: All of our KVM VPS nodes utilize the latest Xeon E5-26xx V3 CPUs in order to provide the highest level of processing capacity and efficiency.
5. Lightning Fast Disk System: Our KVM VPS accounts run a very unique configuration that we've mastered here at HostDime. Unlike many other providers whose host nodes are single machines with CPU, RAM, and disks in the same chassis, HostDime runs SAN-based configurations; this means that our host nodes only run CPU and RAM and the disk system is exported, over a 10Gbps fiber secure private network, to an SSD SAN running enterprise SSD drives in hardware RAID10 with multiple cache cards for increased performance.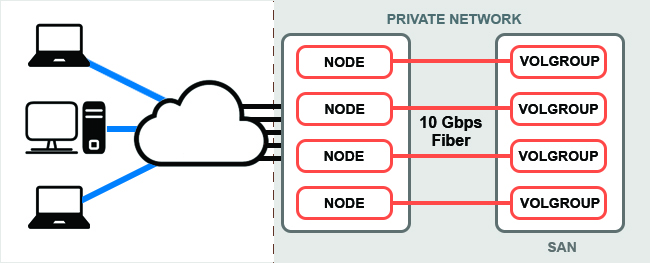 While you will notice no difference in the front end, the back end of this configuration results in some of the best disk and I/O performance in the industry. With HostDime's KVM VPS product, you're able to quickly and efficiently deliver your content to your clients and users.
6. Fully Managed Services & Same cPanel/WHM Interface: We know that moving to a VPS is a big commitment but we don't want you to feel overwhelmed. HostDime's KVM VPS products offer the same feature rich and user-friendly cPanel/WHM interface that you're already used to free of cost. Coupled with HostDime's industry leading fully managed support, you have all the same tools that you're used in addition to some new features that are only available to the server administrator so you can maximize what you get from your server environment.
7. Quickest Operating System & Control Panel Update Path: Since you will have full control over your VPS, you can also choose to run your cPanel/WHM control panel on the "Release" path, which means that you will be among the first users to receive cPanel's latest features. For instance, cPanel just this week set their newest control panel version, 11.56, to "Release" which adds user-friendly features such as a simple web site builder and much more!
8. FREE Migration & Account Consolidation: As part of HostDime's fully managed services, we will migrate all of your current shared and/or reseller hosting packages from their respective shared servers to your new KVM VPS account. Have shared or reseller hosting packages at other providers? HostDime's team will migrate those too! Our migration services are absolutely free with your account upgrade if it is a cPanel to cPanel or Plesk to Plesk migration. The only thing that you'll have to take care of is the DNS nameserver updates for your hosted domains at the registrar level. If your domains are registered with us here at HostDime, we'll help with those too. If they are not registered with HostDime, let us make you an offer so that you can migrate your domains to us in order to enjoy a fully managed operations service!
In closing, if you currently have multiple active shared or reseller hosting packages, we can migrate and consolidate billing of those packages to the KVM VPS product at the limited time discounted rate. If you have any more questions, please allow our Sales team to discuss these options with you in greater detail. Here's how you can get in touch with our sales and/or support team now.
This article was written by HostDime's Sales Manager Marcos Font and Content Strategist Jared Smith.