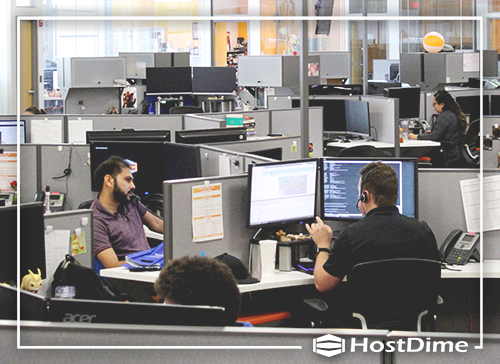 Server management is the maintenance and overseeing of a web server to keep it running in optimal condition.
Enterprises are understandably skeptical about turning over their server management to an external provider, but it's becoming quite popular. More than ever, both SMBs and large enterprises are outsourcing their infrastructure to keep their operation running at its best, and staying ahead in their industry.
If you are thinking about freeing yourself from server hassles, let's look at some of the benefits of server management outsourcing.
Benefits of Outsourcing Server Management
HostDime's managed services include setting up your server, security, data transfers, management of preinstalled software, operating system, and any troubleshooting along the way.

1. IT Staff Expense: First let's discuss how staffing is a big part of IT operating expenses. Having an in-house IT team can get costly in a hurry. Aside from the employees' base salary, you must also include benefits like vacation days and medical, knowledge gap, unproductive rate, and turnover rate. With IT outsourcing, you receive 24/7/365 support from highly specialized server professionals, and the cost is always simple and predictable.

2. Server Security: Before your customizable servers get deployed, HostDime's abuse and security team performs a 10 point server security audit.  Everything from checking kernel versions and PHP settings, to installing security focused tools and configurations. Read on for more detail in our unique process.

3. Server Monitoring: All of our servers are constantly monitored to provide you the utmost in uptime. HostDime developed two in-house monitoring systems, Synapse for remote, and Axon for local.
Synapse is an enterprise class application capable of performing tens of thousands of transactions per second. The algorithm checks every 30 seconds to see whether a server is unresponsive, overloaded, or filtering incoming connection attempts. This program also performs proactive monitoring; it makes educated guesses as to when a server is suffering from load related issues, which alerts a technician who will prevent the problem from escalation.
Axon is a service that helps diagnose services and makes sure no configuration changes leave your server vulnerable to security problems. Axon can instantly detect any array degradation, drive failures, and filesystem problems. It also monitors disk space usage, so you are made aware when drives are reaching capacity.

4. Power Redundancy for Uptime: Maybe the most important aspect of a data center is keeping your business up and running. What are your redundancy plans? Do you care if your servers go down for an hour, a day, a week? If so, removing single points of failure is the key. A uninterruptible power supply fed by a generator for short-term power is needed if the other power source fails. Battery backups on everything from routers to switches must also be set up for redundancy, which isn't always the case on-location at enterprises.

5. Focus on Your Business: Lastly, think of all the added time you get back when you no longer have to spend time on installation, maintenance, and hiring IT staff. With a highly trained professional staff with years of experience, you can rest assured that you're in good hands. Those who utilize HostDime's managed services find that IT outsourcing saves time and money while allowing you and your team to laser focus on the core elements and business initiatives that are most important to your workflow.

This article just scratches the surface on managed services. If you have any further questions or concerns, please let us know. Our knowledgable and friendly staff are always happy to assist you!
Jared Smith is HostDIme's Content & SEO Strategist.