With technology constantly changing, it can be hard for some to keep up with the latest gizmos and gadgets. However, even the most technologically challenged can tell that tablets and laptops seem to be the in thing right about now. It is a fact that more and more individuals, businesspersons and casual consumers, are relying on such devices in order to get the job done.
It seems that these items are hot…literally.
Overheating is something that no one wants to deal with when it comes to laptops and tablets, but the fact of the matter is that it can happen. For instance, Apple's latest tablet caused quite an uproar earlier this year when consumers started complaining about it burning their laps. The device's surface can reach 116 degrees Fahrenheit whenever it is plugged in and running graphics-intensive games. This is a 12-degree increase from the iPad 2.
It should be noted that 116 degrees isn't scorching. Still, that is pretty warm. However, tablets aren't the only electronic devices prone to getting hot. Some laptop computers can have the same exact problem. Recently, 535,000 of Sony's Vaio F and C series laptops were prone to overheating thanks to a software bug.
Sony isn't the only one with the issue. Other brands are even prone to frying video cards. A recent report in the Los Angeles Times revealed that overheating laptops may also affect male fertility. Yikes.
The good news is that there are some ways to keep laptops from getting too hot. For starters, it would be wise to keep a laptop on a flat surface to increase airflow. Also, shutting down the laptop before placing it in a carrying bag may also be ideal. Experts also suggest unplugging the charger as soon as the battery is full. The constant source of electricity will heat the battery, and, in turn, overheat the computer. Individuals can also try sticking their computers in the freezer… although that's not something that HostDime is endorsing.
Lastly, there are a few cooling products you could get for as low as $10. Here's a few that are well-reviewed. Write in the comments which methods and/or products have helped out your laptop overheating problem.
AUKEY Laptop Cooling Pad 15.6″-17″ Laptop Cooler with 2 USB Ports 3 Fans
Air Vacuum USB for Immediate Cooling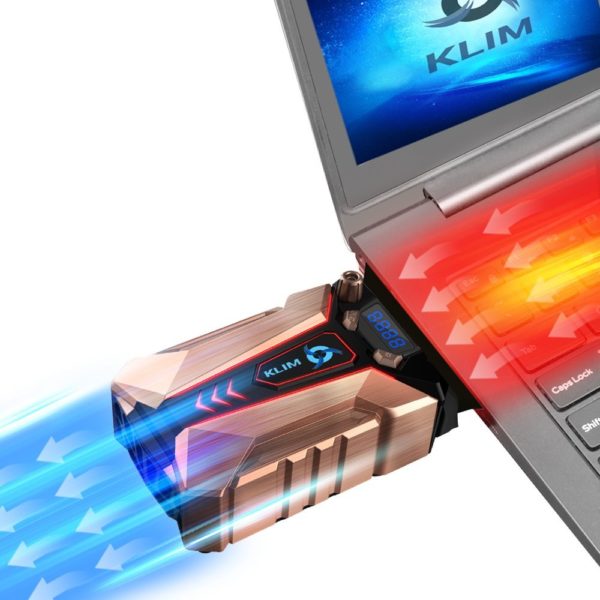 Opolar Laptop Fan with Temperature Display and Cooling Pads