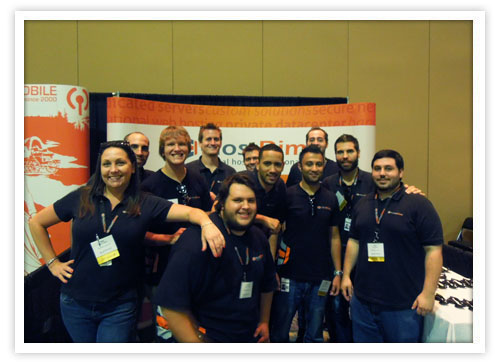 The HostDime crew was out in spades this week at iSummit 2012 in beautiful Orlando, Florida. iSummit brings together digital leaders to discuss emerging trends and intriguing strategies for interactive technologies. The goal is to find new business and make lasting contacts. HostDime was a fortunate sponsor who enjoyed the company of hundreds of entrepreneurs, marketers, developers, investors, executives, and strategists from all corners of the technological world. Be sure to check out over 60 photos from the iSummit event at our Facebook.
Much of the convention's focus was on consumer driven social business. Panels included internet business, content strategies, marketing and development, online brand engagement, user experience, and other helping social media specific topics. It was certainly a wonderful opportunity to network with hungry in the booming digital economy.
Seeing as this was a social media event, let's have a look at some of the online chatter from the event courtesy of Twitter. Kudos to the following 10 creative and engaging Tweeters for live-blogging panels, dropping valuable tidbits, providing helpful links, and getting their own brand out there. Hopefully this will give you a good idea of iSummit 2012 and multiple reasons to not miss iSummit 2013.
in beautiful Orlando, Florida. iSummit brings together digital leaders to discuss emerging trends and intriguing strategies for interactive technologies. The goal is to find new business and make lasting contacts. HostDime was a fortunate sponsor who enjoyed the company of hundreds of entrepreneurs, marketers, developers, investors, executives, and strategists from all corners of the technological world. Be sure to
. Much of the convention's focus was on consumer driven social business. Panels included internet business, content strategies, marketing and development, online brand engagement, user experience, and other helping social media specific topics. It was certainly a wonderful opportunity to network with hungry in the booming digital economy. Seeing as this was a social media event, let's have a look at some of the online chatter from the event courtesy of Twitter. Kudos to the following 10 creative and engaging Tweeters for live-blogging panels, dropping valuable tidbits, providing helpful links, and getting their own brand out there. Hopefully this will give you a good idea of iSummit 2012 and multiple reasons to not miss iSummit 2013.">