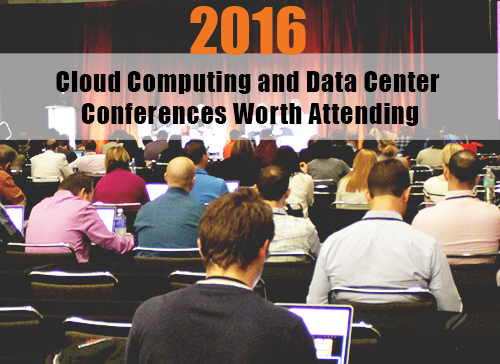 Enjoy HostDime's continued tradition of tracking the best 2016 cloud computing and data center conferences, trade shows, and events relevant to this great industry of ours. If you want your event listed, promote and recommend it in the comments below or at our Facebook and it will be added to our list.
2016 Cloud Computing and Data Center Conferences
Datacloud Europe
When: June 8-9, 2016
Where: Monaco
More Info: http://www.datacloudcongress.com/
Over 1800 executives from 50 countries and 150 speaking experts will spend two days in Monaco engaging in panel sessions and hands on labs, bringing the latest in ideas, market developments, and practical solutions.
Cloud Expo
When: June 7-9, 2016, November 1-3, 2016
Where: New York, Santa Clara CA
More Info: http://www.cloudcomputingexpo.com/
Now in their 16th year, Cloud Expo is dubbed the largest cloud conference on the planet. Learn the latest from the best technologists in the cloud computing, big data, and dev ops fields.
ContainerCon
When: August 22-24, 2016
Where: Toronto, Canada
More Info: http://events.linuxfoundation.org/events/containercon
ContainerCon is being held alongside LinuxCon North America in 2016. One registration fee covers both events, which includes a whooping 200+ combined sessions. One of my favorite Twitter follows, Cory Doctorow, is one of the featured speakers.
KVM Forum
When: August 24-26, 2016
Where: Toronto, Canada
More Info: http://events.linuxfoundation.org/events/kvm-forum
KVM Forum gathers developers and users around the world to network and discuss the current state and upcoming challenges of Linux virtualization technology.
VMworld 2016
When: August 28- September 1, October 17-20
Where: Las Vegas, Barcelona
More Info: https://www.vmworld.com/
Get the latest on virtualization and cloud technology from VMworld US in Las Vegas and VMworld Europe in Barcelona. To give you an idea of this conference, Watch the general session from last year's Europe conference:
Data Center World
When: September 12-15, 2016
Where: New Orleans, LA
More Info: http://fall.datacenterworld.com/dcf16/Public/Enter.aspx
Data Center World is a sprawling 4 day conference that includes over 17 hours of sessions, 60 educational sessions, 40 different topics, 20 networking hours, and 10 hours of main exhibit hall speakers.
Cloud Foundry Summit
When: September 26-28, 2016
Where: Frankfurt, Germany
More Info: https://www.cloudfoundry.org/community/summits/program/about/?summitId=11993
If you love running applications in the cloud, or interested in taking containers to production, head to the 3 day Cloud Foundry event in Frankfurt, Germany (the American event is usually in the Spring). Join over 600 developers, operators, and business leaders to strategize on delivering apps faster than ever before.
Gartner Data Center, Infrastructure & Operations Management Conference
When: December 5-8, 2016
Where: Las Vegas, NV
More Info: http://www.gartner.com/events/na/data-center
Join infrastructure and operations leaders to discuss prominently topics like the virtualization, automation, bimodal, and other software that is replacing outdated infrastructure. Here are the highlights from last year's conference.
HostingCon Events
ResellerClub's HostingCon is the premier industry conference and trade show for the cloud hosting community. Meet with your existing business partners and network with potential partners. If you are still not convinced, read HostDime's review of their 2014's event.
Upcoming HostingCon Events
May 28 – Shenzhen, China
July 24-27 – New Orleans
October 11-12 – Amsterdam
December 2016 – Mumbai
WHIR Events
Web Hosting Industry Review (WHIR) has upcoming events planned all around the globe. Now is your chance to do personal business and networking with industry leaders and decision makers in a relaxed environment. RSVP is free and you can bring a guest along. Find which event is closest to you:
Upcoming WHIR Events
Chicago, Illinois – June 23, 2016
New Orleans, Louisiana – July 26, 2016
Washington, D.C. – September 22, 2016
Sao Paulo, Brazil – October 6, 2016
Amsterdam, Netherlands – October 12, 2016
London, United Kingdom – October 13, 2016
Dallas, Texas – November 10, 2016
World Hosting Days
Web Hosting Days (WHD) is the world's largest series of events for the hosting and cloud service market. The first event took place 12 years ago in Germany, and has since developed into more than a dozen events around the globe.
Upcoming WHD Events
WHD Racing (Austria) – June 15-16, 2016
WHD China – July 20th (Shanghai), Sept 9th (Xiamen), Nov 18 (Beijing)
WHD Sailing (Germany) – September 8-9, 2016
WHD Singapore – September 23, 2016
WHD India – New Delhi – End of September 2016
Have you been to any of these conferences in the past? Which conference(s) are you looking to attend? Let us know below!
HostDime.com, Inc is a global data center infrastructure provider offering an array of cloud products from managed hosting servers to colocation services that cater to a range of clients, from entry-level to enterprise-level operations. HostDime owns and operates infrastructure and networks in seven countries, with its flagship facility in Florida, USA. Currently with a client base of more than 50,000, HostDime is one of the most reputable data center companies in the world.
Jared Smith is HostDime's Content Strategist. Follow him on Twitter.