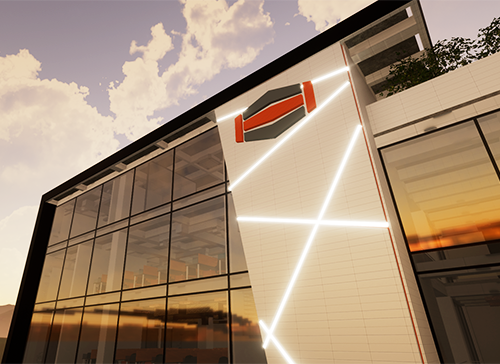 So what's the purpose of purpose-built data centers? A purpose-built data center is designed and developed from the ground up for specific mission critical data center usage. Many data centers are retrofitted facilities, meaning they are large warehouses, old factories, or ancient buildings that have later been converted into a data center facility.
Most data centers in existence today were built in the 1990's telecom era where they were designed for a different use. Let's be honest: these have not aged well. The design use, power density, power efficiency, diverse redundant infrastructure, and amenities are lacking. Sadly they were not designed nor built for the modern day data center needs of the rapidly growing public cloud.
These makeshift data centers make compromises when it comes to crucial data center infrastructure that could put customers' businesses and data at risk. They essentially build infrastructure around what is already there rather than building where it should. When a data center is built from scratch, they are specifically designed and engineered to provide maximum uptime, security, and usability.
This article highlights specific differences between built-from-scratch data centers and converted facilities, and provides examples on how HostDime is building these purpose-built data centers for the needs of the next generation of technology usage.
Purpose-Built Data Centers vs Retrofitted Facilities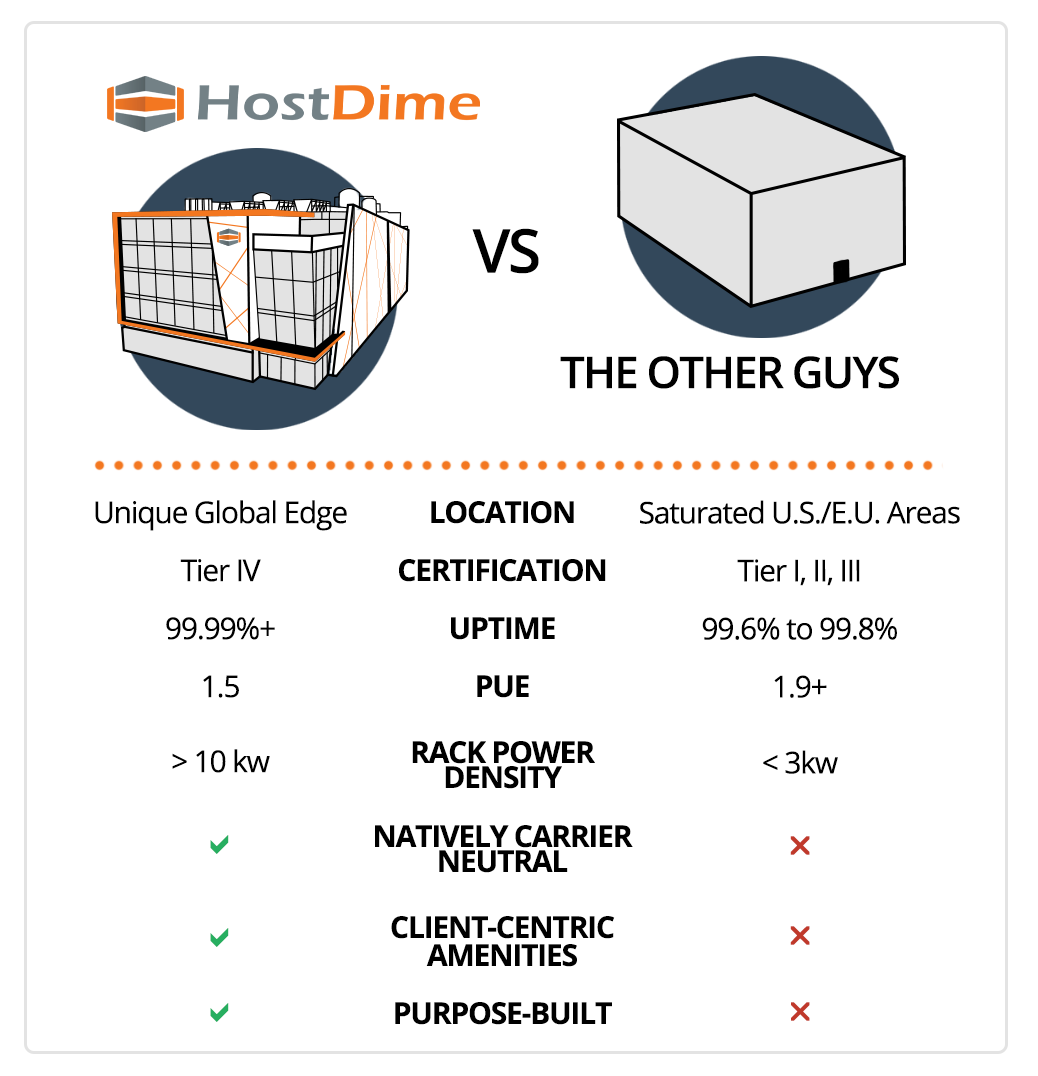 Location – Just like buying a house, one of the most important considerations for data center construction is location. Retrofits often reside in common, saturated areas in large metropolitan areas in the US and Europe. Purpose-built data centers can be more strategic about where they are constructed, usually in areas with high connectivity to be able to handle large data demands and provide high-speed services with minimal latency.
Preferably, you also want a data center in an area where the chance of natural disaster is low. One of HostDime's Brazil data centers is in the city of João Pessoa; a main benefit for this location is the city's perfect natural-disaster free record with no hurricanes, tornadoes, or earthquakes in their recorded history.
Equally, data has continued to be in demand in "edge" locations, to get it as close to the end user as possible. HostDime has been a pioneer in building these world class next-gen purpose-built facilities in markets around the world where infrastructure has lacked. With the ever-evolving need of localized data, HostDime is positioned to serve world class infrastructure in edge country locations. It is just a matter of time until most data is localized in their respective countries to decrease latency and increase performance to its nationals.

Certification and Uptime – The Uptime Institute groups data centers into four basic certification categories: Tier I, II, III, and IV. Each tier must have a certain amount of uptime and redundancy.
Tier IV is the highest possible certification; they are as secure, reliable, and redundant as can be. Sometimes referred to as the four 9's, Tier IV data centers have 99.99% availability, which equates to less than an hour of downtime a year.
In terms of redundancy, a Tier IV facility typically features 2(N+1) Redundancy. This means that the facility has double what is required to operate, plus a backup. This is another reason why these types of data centers rarely have downtime because of failover redundancy to alternative systems within the infrastructure.
Most of the data centers today are Tier II and Tier III. Less than 20% of data centers in the world are Tier IV and HostDime builds only Tier IV as a standard. We don't compromise on our investment to delivery trustworthy mission critical data center infrastructure. HostDime's newest data center in Bogota, Colombia, which will be commissioned for production in Q4 of 2021, will be the largest Tier IV data center in LATAM at nearly 70,0000 sq. feet.

PUE – PUE stands for Power Usage Effectiveness and it describes the efficiency of how a data center uses energy. The PUE is specifically the ratio of total energy delivered to computing equipment. A quick example is if a facility uses 100,000 kW of total power of which 80,000 kW is used to power your IT equipment, this would equal a PUE of 1.25. The lower the PUE, the better. HostDime's purposeful use of the latest power efficient components, modular POD foot prints, hot aisle containment, highest efficiency chillers, and renewable energy use all correspond to a large reduction in annualized PUE. HostDime achieves a 1.5 PUE in our constructed data centers, while our competitors often have PUE in the 1.9 or higher range.

Rack Power Density and Redundancy – In the aforementioned 90's telecom days, 2 to 4 kW per rack power density was considered high density because compute available in the market packed into equipment was relatively low. Nowadays, the average power consumption for a rack is around 6 kW depending on data application use. HostDime's purpose-built data centers all feature dual distribution paths that provide power feeds to all racks and white space via A/B power sources by default, allowing high-density racks up to 10 KW per rack on demand. Aisle containment is preinstalled on all data halls with racks, and available for setup to all other white space to properly and efficiently deliver the cooling necessary to support the power density designed for the space.

Natively Carrier Neutral – Since our inception, HostDime has been a carrier neutral facility operator, meaning we welcome anyone and everyone to make a network presence in our facilities. Most older generation data centers are owned by telecom companies, where they have higher interest in offering their own network services. The market has continued and will continue to move to interconnection and peering. With the ever growing needs of applications and cloud providers connecting with others, this removes layers and hops to each other, increasing performance and minimizes latency. Everyone wins with this model because you can connect with whomever. HostDime designed these facilities to be the home of interconnection; it's like the party everyone will want to be at!

Client-Centric Amenities – One last critical advantage of our vision in next-gen, purpose-built data centers is a focus on client amenities. Some amenities that are sometimes ignored in retrofits include client reception areas, colocation lounges, IT equipment staging areas, collaboration conference rooms, multiple loading docks for IT equipment delivery, and on-site workstations. These are just some of the amenities that were not thought about just 20 years ago.
If all that wasn't enough, HostDime has taken client amenities to the next level with our upcoming Orlando data center. Clients can take full advantage of on-site executive suites, including full bathrooms, showers, and a full-sized gym, which we believe to be an industry first. The ability to do more within the data center and not just work is something we are excited about. HostDime's flagship facility will also have a 350 person indoor-outdoor event space on the top floor of the facility to host technology related conventions and seminars in Central Florida.

HostDime developed and created next-gen, purpose-built, and privately owned and operated data centers in Florida, USA as well as Mexico, Colombia and Brazil, and operates data centers in partner facilities in Hong Kong, India, the United Kingdom, and the Netherlands.
We help enterprises create a customizable solution to meet their specific needs. Whether it's a hybrid solution of cloud and colocation, or a tailor-made, dense core bare metal server in your target market, we solve your data needs.