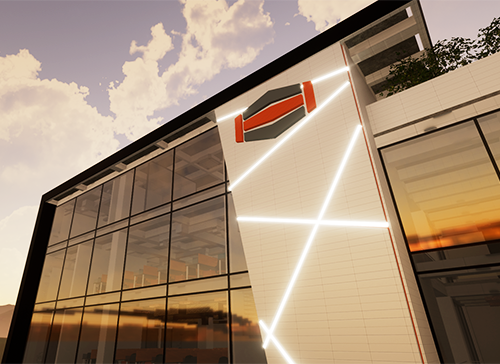 So what's the purpose of purpose-built data centers? A purpose-built data center is designed from the ground up for specific data center usage. Many data centers are retrofitted facilities, meaning they are large warehouses or factories that have later been converted into a data center.
These makeshift data centers make compromises when it comes to crucial data center elements that could put customers' businesses and data at risk. When a data center is built from scratch, they are specifically engineered to provide maximum uptime, optimal security, and flexibility for growing businesses.
This article highlights specific differences between built-from-scratch data centers and converted facilities, and provides examples on how HostDime is building these purpose-built data centers for the needs of the next generation.
Purpose-Built Data Centers vs Retrofitted Facilities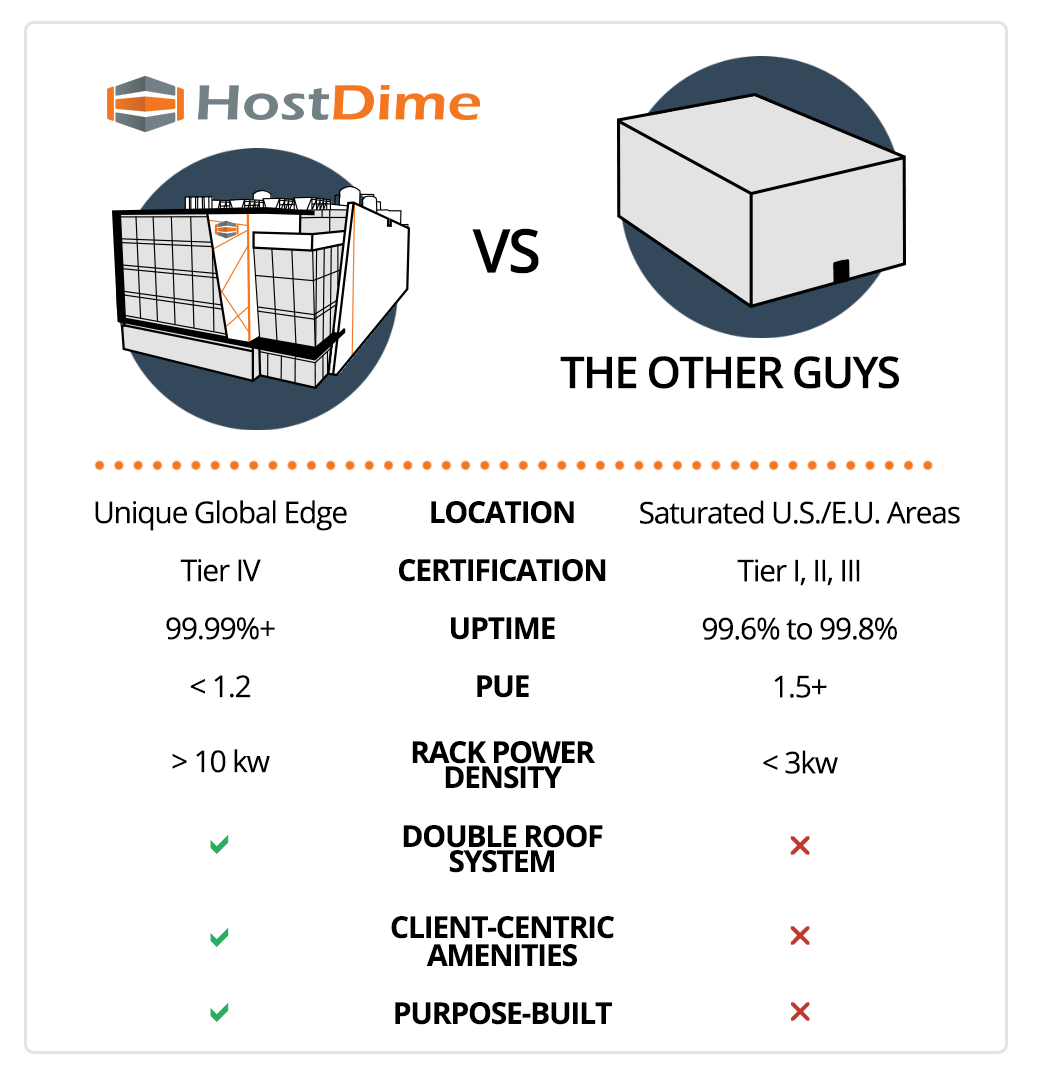 Location – Just like buying a house, one of the most important considerations for data center construction is location. Retrofits often reside in common, saturated areas in large metropolitan areas in the US and Europe. Purpose-built data centers can be more strategic about where they are constructed, usually in areas with high connectivity to be able to handle large data demands and provide high-speed services with no latency.
Preferably, you also want a data center in an area where the chance of severe weather is low. One of HostDime's Brazil data centers is in the city of João Pessoa; a main benefit for this location is the city's perfect natural-disaster free record with no hurricanes, tornadoes, or earthquakes in their history.

Certification and Uptime – The Uptime Institute groups data centers into four basic certification categories: Tier I, II, III, and IV. Each tier must have a certain amount of uptime and redundancy.
Tier IV is the highest possible certification; they are as secure, reliable, and redundant as can be. Sometimes referred to as the four 9's, Tier IV data centers have 99.99% availability, which equates to less than an hour of downtime a year.
In terms of redundancy, a Tier IV facility typically features 2(N+1) Redundancy. This means that the facility has double what is required to operate, plus a backup. This is another reason why these types of data centers rarely have downtime because of failover switches to alternative systems.
HostDime's data center in Bogota, Colombia, which will be commissioned for production in early 2021, will be one of the only Tier IV data center facilities in Colombia ready to service mission critical loads. Ten 800KW Uninterruptible Power Supplies will allow for any fault in the system and/or path to occur without affecting critical loads, thereby achieving Tier IV standards of 99.99% uptime.

PUE – PUE stands for Power Usage Effectiveness and it describes the efficiency of how a data center uses energy. The PUE is specifically the ratio of total energy delivered to computing equipment. A quick example is if a facility uses 100,000 kW of total power of which 80,000 kW is used to power your IT equipment, this would equal a PUE of 1.25. The lower the PUE, the better. HostDime's use of organizing cables, blanking panels, and hot aisle containment all correspond to a large reduction in annualized PUE. HostDime achieves a 1.2 PUE in our constructed data centers, while our competitors often have PUE in the 1.5 or higher range.

Rack Power Density – In the early days, 2 to 4 kW per rack power density was considered high density because there was not enough demand on resources. Nowadays, the average power consumption for a rack is around 7 kW depending on the data center. HostDime's purpose-built data centers feature dual distribution paths that provide power feeds to all racks and white space via A/B power sources by default, allowing high-density racks up to 10 KW per rack on demand. The aforementioned aisle containment is preinstalled on all data halls with racks, and available for setup to all other white space to properly and efficiently deliver the cooling necessary to support the power density designed for the space.

Client-Centric Amenities – One last critical advantage of purpose-built data centers is their focus on client amenities. Some perks that are sometimes ignored in retrofits include client reception areas, colocation lounges, and workstations.
If all that wasn't enough, HostDime has taken client amenities to the next level with our upcoming Orlando data center. Clients can take advantage of on-site executive suites for overnight visits, including full bathrooms, showers, and full-sized beds, which we believe to be an industry first. The ability to stay within the data center will allow clients to save the time and expense of finding lodging in town, as well as immediate access to their equipment during their stay.
Clients will also have access to private client cage space, private mini data center room, on-demand client offices, and a mix of amenities that includes ultra-fast 10G internet access. The facility will also feature a 36-foot-high warehouse storage area that clients can use at no charge for temporary storage of their equipment.

HostDime designed purpose-built and privately-owned data centers in Florida, USA as well as Mexico, Colombia and Brazil, and operates data centers in partner facilities in Hong Kong, India, the United Kingdom, and the Netherlands.
We help enterprises create a customizable solution to meet their specific needs. Whether it's a hybrid solution of cloud and colocation, or a tailor-made, dense core bare metal server in your target market, we will be by your side as you continue to grow.