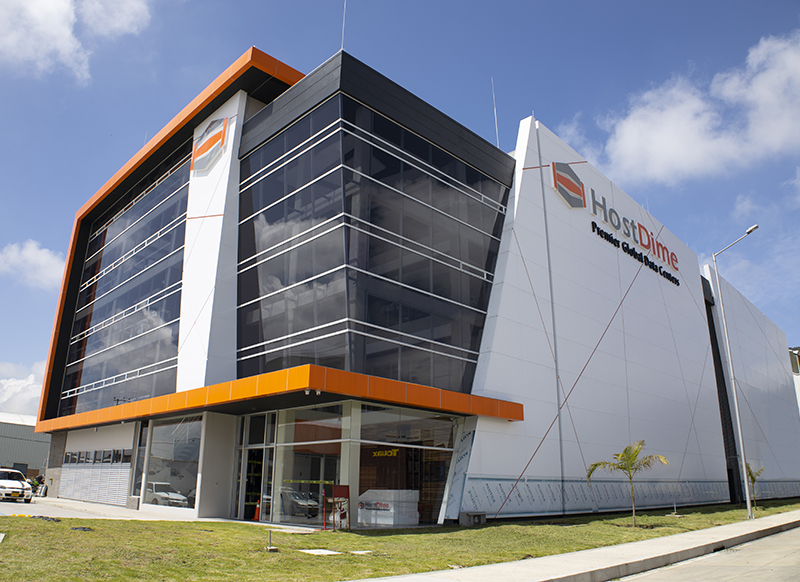 What's the purpose of purpose-built data centers? A purpose-built data center is designed and developed from the ground up for specific mission-critical data center operations.
Most data centers today are retrofitted buildings, meaning they were large warehouses, factories, or commercial buildings that have been converted into a data center. They were built in the 1990's telecom era where they were designed for a completely different era and use; those designs did not take into account multi-cloud, hybrid-cloud, public cloud, or private cloud architecture, nor the evolution of interconnection, peering, and Internet Exchanges (IX's) that powers todays internet growth.
These makeshift data centers compromise on crucial infrastructure that puts customers' businesses and their data at risk; they build infrastructure around what is already there, rather than where it should be. Conversely, when a data center is built from scratch, it is specifically designed and engineered to provide maximum uptime, security, and usability. This is where we see a need and have embarked on designing, building, and operating these world class facilities in what we call "global edge" locations.
This article highlights specific differences between next-gen, purpose-built data centers and typical retrofitted facilities, and provides examples on how we're building these data centers for the needs of modern day consumption and the evolving technology landscape.
Purpose-Built Data Centers vs Retrofitted Facilities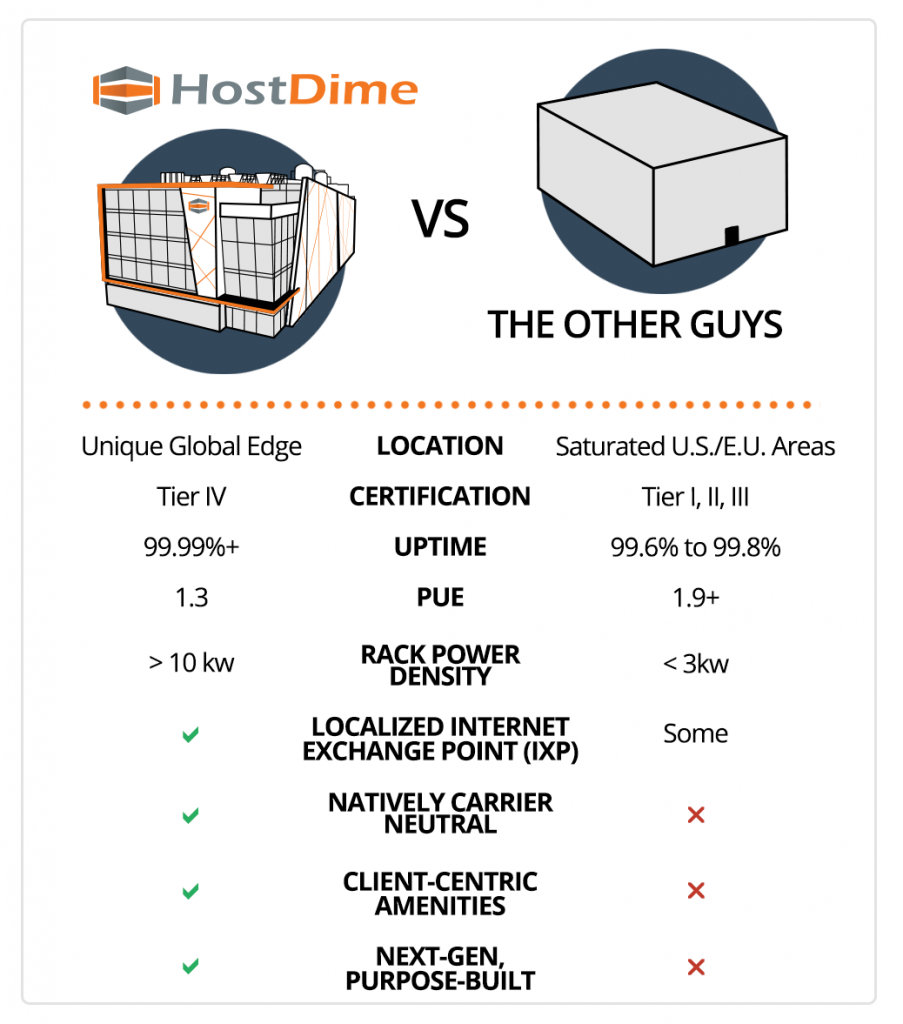 Location Matters – One of the most important considerations for our selection of data center construction is location. Most current data centers reside in large common metropolitan areas in the US and Europe. Our strategic approach is to select emerging markets that lack the necessary data center infrastructure in the country. Usually network traffic in these areas "boomerang" back to the US or Europe to serve content, adding significant latency.
Equally, data has continued to be in demand in edge locations, to get as close to the end user as possible. We carefully do site selection in areas with high fiber connectivity to be able to handle large data throughput demands in the country and connect to the subsea cables that go directly to the global network backbone carriers. It is just a matter of time until most data will need to be localized in their respective countries to decrease latency and increase performance to its nationals.
We have been a pioneer in building these data center facilities in global edge locations. Going into these emerging markets isn't easy, but we have feet on the ground, key relationships with local governments, and market intel collected over many years. With the ever-evolving need of localized data, HostDime is positioned to serve mission-critical infrastructure in these locations for decades to come. Our goal is to continue to build out our global footprint with a current focus on Latin America.
Design Standards – The Uptime Institute groups data centers into four basic certification categories: Tier I, II, III, and IV. Each tier must have a certain amount of uptime and redundancy.
Tier IV is the highest possible certification; they are as secure, reliable, and redundant as can be. Sometimes referred to as the four 9's, Tier IV data centers have 99.99% availability, which equates to less than an hour of downtime a year.
In terms of redundancy, a Tier IV facility typically features 2(N+1) Redundancy. This means that the facility has double what is required to operate, plus backup infrastructure. This is another reason why these types of data centers rarely have downtime because of failover redundancy to alternative systems within the infrastructure.
Most of the data centers today are Tier II and Tier III. Less than 20% of data centers in the world are Tier IV and we only build Tier IV as a standard and aim to achieve 100% uptime year after year. We don't compromise on our investment, nor see any value in designing anything other than Tier IV to delivery trustworthy mission-critical infrastructure.
HostDime's newest data center in Bogota, Colombia is the largest Tier IV data center in LATAM at nearly 70,0000 sq. feet.

PUE – PUE stands for Power Usage Effectiveness and it describes the efficiency of how a data center uses energy. The PUE is specifically the ratio of total energy delivered to computing equipment. A quick example is if a facility uses 100,000 kW of total power of which 80,000 kW is used to power your IT equipment, this would equal a PUE of 1.25. The lower the PUE, the better. Our purposeful use of the latest power efficient electrical components, modular POD foot prints, hot aisle containment, highest efficiency chillers, and renewable energy use all correspond to a large reduction in annualized PUE. We achieve a 1.5 PUE in our constructed data centers, while our competitors often have PUE in the 1.9 or higher range.

Rack Power Density and Redundancy – In the aforementioned 90's telecom days, 2 to 4 kW per rack power density was considered high density because compute available in the market packed into equipment was relatively low. Nowadays, the average power consumption for a rack is around 6 kW depending on data application use. All of our purpose-built data centers feature dual distribution paths that provide power feeds to all racks and white space via A/B power sources by default, while allowing high-density racks up to 20 KW per rack on demand. Aisle containment is preinstalled on all data halls with racks, and available for setup to all other white space to properly and efficiently deliver the cooling necessary to support the power density designed for the space. High performance computing (HPC) continues to push the boundaries in compute and power consumption, which is something we keep in mind during the design process.

Localized Internet Exchange Points (IXPs) – In a perfect world, Internet traffic would flow in the most direct route, point A to point B. Unfortunately, data usually leaves the country or second tier market cities, and sometimes even the continent, before it reaches its final destination. This Internet network behavior is very common in emerging markets where data center infrastructure is lacking. There is no local "ecosystem" to interconnect and peer, thus traffic must go long haul for interconnection. This "boomerang" effect unfortunately leaves end users with poor network performance and increased latency. At HostDime, with our vision to build the next-gen purpose-built Tier IV data centers platform, we play a major role in helping network traffic go more direct and stay within the country, instead of backhauling from faraway destinations. As we build this data center platform globally, we foster localized in-country interconnection and Internet Exchanges Points to ensure local Internet traffic is kept within the local country network; this yields better latency, stability, efficiency, and quality, all at a lower cost. IXPs and interconnection also make it easier for major global networks, cloud providers, and content providers to peer with each other within the country where they may not have otherwise been a presence. Ultimately, this all contributes to a more powerful and prosperous local economy. We are very driven by the impact and purpose our data centers will have, one country at a time.

Natively Carrier Neutral – Since our inception, HostDime has been a carrier neutral facility operator, meaning we don't cater to a specific fiber/telecom company and welcome everyone to make a network presence in our facilities. Most older generation data centers are owned by telecom companies, where they have higher interest in offering their own network services. The market has continued and will continue to move to interconnection and peering. With the ever growing needs of applications and cloud providers connecting with others, this removes layers and hops to each other, increasing performance and minimizes latency. Everyone wins with this model because you can connect with whomever. We designed these facilities to be the home of interconnection; it's like the party everyone will want to be at! We also make sure to design 4-6 manhole entries into our facilities to ensure enough redundancy and capacity to provide entry to over 50+ carriers.
HostDime is currently building a second carrier neutral facility in Guadalajara, Mexico data center; our current 20,000 square feet facility is at 80% capacity, so a new purpose built facility is being constructed, slated to open in 2024. Read here for more information on this upcoming Tier IV data center.

Client-Centric Amenities – One last critical advantage of our vision in next-gen, purpose-built data centers is a focus on client amenities. Some amenities that are sometimes ignored in retrofits include client reception areas, on-site office areas for business continuity, IT equipment staging areas, collaboration conference rooms, multiple loading docks for IT equipment delivery, and on-site workstations. These are just some of the amenities that were not thought about just 20 years ago that help enable a modern day multi-cloud adoption.
If all that wasn't enough, we have taken client amenities to the next level with our upcoming headquarters and flagship Orlando data center. Clients can take full advantage of on-site executive co-working offices, including full bathrooms, showers, and a full-sized gym, which we believe to be an industry first. The ability to do more within the data center and not just "work" is something we are excited about. HostDime's flagship facility will also have a 350 person indoor-outdoor event space on the top floor of the facility to host technology related conventions and seminars in Central Florida.

What's Next? – HostDime's near term roadmap includes a continued focus on Latin America with purpose-built facilities coming to the following:
Lima, Peru
Guayaquil, Ecuador
Buenos Aires, Argentina
La Paz, Bolivia
Bangalore, India
HostDime is looking at various land lots in Peru and Argentina presently, and hope to secure those lots later this year.
About HostDime
HostDime is a hyper edge global data center company operating our owned purpose-built public data center facilities in Mexico, Brazil, Colombia, and our flagship facility in Florida, USA, and with owned networks in the U.K., India, and Hong Kong. Our mission is to design, build, and operate purpose-built, next-gen data center facilities at the global edge.
We offer an array of core digital infrastructure products and services including colocation (private data center suites, cages, racks), interconnection (cross-connects, peering, transit), Hardware-as-a-Service (bare metal servers, lease-to-own servers, hardware procurement), cloud infrastructure (private, hybrid, multi-cloud), and managed services (server management, remote hands, smart hands).