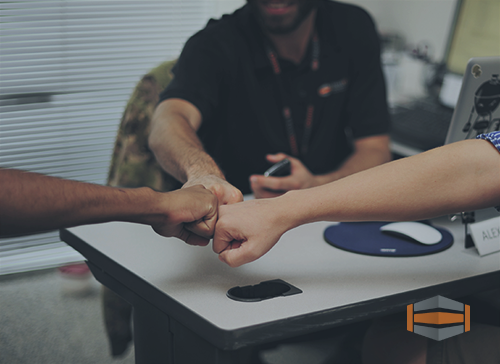 It's happened to us all. You're dialing the phone to speak with your cable or satellite provider and you know what's coming. The automated lady robot voice greets you and gives you a list of options, none of which apply to your specific problem. After jumping through numerous hoops and obstacles, you finally get a real live human being! Now begins the poor customer service.
That's just the norm in today's society. Useless scripts, tough metrics, and cheap outsourcing are to blame for the frayed customer/techie relationship. Customer service does not have to be this way, and no one agrees more than HostDime. We don't view customers as numbers, rather partners who mutually benefit from our interaction. Now let's examine how HostDime is changing the customer service industry, one satisfied partner at a time.
UGH, scripts!
Scripts are a near-universal part of all help desk techs, often angering both the customer and the service rep themselves as they have to go down an inane checklist. If the technician deviates from the script at some companies, their job may be at risk. Got a problem with your server? Well, have you tried restarting your computer?
The last few decades have taught customers to expect canned, generic responses and techs not listening to what you're saying. Stick to the script and get them off the phone as soon as possible. HostDime changes all that, with customer service focused on quality, rather than quantity. Our expert techs will explain the situation clearly and the troubleshooting steps that were taken to solve your issue. Customers feel happy knowing they were kept in the loop and will have a better understanding in the future if a similar problem arises.
UGH, metrics!
Combine unhelpful scripts with unfair metrics and you have a recipe for customer service disaster. These metrics include how many calls were taken hourly, number of tickets opened or closed hourly, and other work over time statistics. How can you expect great customer service when the department is racing against the clock to get rid of you?
Valuing ticket closure rate over customer appreciation is an inhumane way of treating your technicians as it encourages them not to help others correctly. HostDime techs see themselves as teachers, making the world smarter one person at a time. Solving the problem is the goal, rather than just placating the customer.
HostDime customers have the chance to rate and comment every technician they chat with. We value this feedback which allows us to make the necessary adjustments to give you the best customer service experience possible. We also examine these chat ratings, as well as time spent waiting that will help us increase productivity.
UGH, outsourcing!
Receiving and dispensing support often gets lost in translation, literally. Outsourcing has created impersonality on a grand scale. Language, cultural barriers, and different time zones add to the complexity of the interaction. Often there is inadequate quality assurance in place when using an outsourced company. Is a bit of cost reduction worth having your customers frustrated with contracted techs who aren't familiar with the product?
HostDime has its own in-house support team; your requests will always be handled in an expedited manner as we understand the urgency in getting your inquiries resolved as soon as possible.
You can visit HostDime's Orlando datacenter any day and any time thanks to on-site expert engineers and support technicians. Their knowledge and concern for your needs are second to none. On a simple reboot request, they will explain every part of why the server went down. They will give a detailed explanation and resolution on any other issue you may have. Unlike most companies, you know you are speaking to our own Orlando staff supporting our systems and services.
HostDime is NOT Most Companies
There are hundreds of website providers in existence today, with almost all offering similar packages and resources. The main difference between them and us is our continued focus on customer service and our treatment of customers as partners. Every day, we attempt to further reshape the definition of customer service and remove the stigma associated with it.
Contact us through live chat even when you are away from your desktop computer as the system is supported in mobile browsers. Choose which department to speak to before you start your chat to speed up the process of fixing your specific problem. This should limit the amount of techs to go through to get your question answered.
Customers also have the ability to log in to their account through live chat and receive full authorized technical support. You can even view complete logs of your live chats. Supervisors can view live chats as they occur, as well as past chats that technicians have answered. This past information is highly useful for dealing with possible problems down the road.
Jared Smith is HostDime's Director of Marketing.