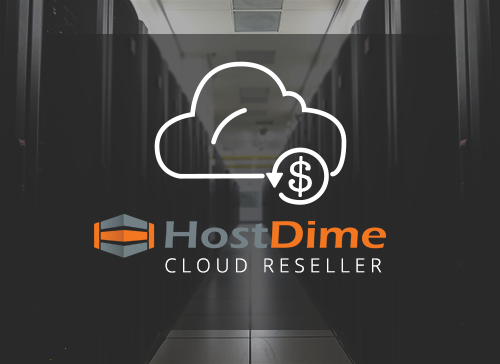 HostDime is here to help you drive more sales to your clients with our Cloud Reseller service! Our secure infrastructure, managed services, and cutting edge tools will help your clients take the next level with their business.
HostDime cloud servers are virtual machines on an infrastructure spread across multiple physical servers for maximum scalability and high availability. Resellers will enjoy full control of user access to cloud resources, and billing for cloud resources, all in one convenient place. Set your own prices, resources, and limits for any number of users.
How Does It Work?
To become a cloud reseller, contact us and you will get set up with a bucket where you can set resource limits and prices for the new users you create.
Resellers have admin permissions within their specific part of the cloud. To add a client, simply create a new user group. Head to User Groups > Create Group and you're off and running.
After creating a new user, you can customize the cloud UI for each user's portal. Simply go to Settings > Look & Feel > Create Theme. You can edit the theme to your clients' specific liking by adding a high quality logo and changing the color scheme.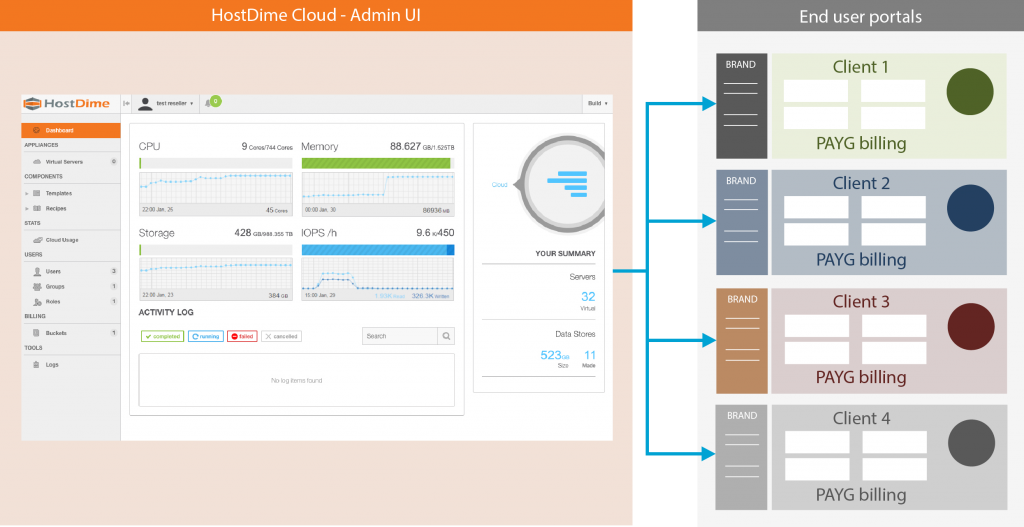 The Perks of Being a HostDime Cloud Reseller
Earn recurring monthly income from your clients.
Enterprise/datacenter class CPU and SSDs
Create your instant infrastructure in mere seconds.
NO HIDDEN FEES! Only pay for the server resources you choose.
Managed clients receive 24/7/365 expert localized support.
We'll Match Your Credit Deposit!
The HostDime Cloud is billed hourly and deducts from a credit system. To begin, make a deposit. You may add as little, or as much, credit to your account as you would like (min deposit is $20.00).

For a limited time only, HostDime will match your initial credit deposit! For example, if you put in $1,000, you will receive $2,000 total! There is no maximum to the amount we'll match!

Cloud servers start at just $34 a month! To take advantage of the deposit match, please open a ticket in CORE and we will add your funds; you have 30 days from purchase date to request a credit match from our sales team.
For more information, read the HostDime Cloud FAQ and dive into our extensive Cloud Knowledge Base.
Jared Smith is HostDime's SEO & Content Strategist.
HostDime.com, Inc., a Global Data Center Company offers an array of cloud products which include managed services for dedicated servers and colocation. HostDime.com owns and operates data centers in Orlando, Florida as well as India, Mexico and Brazil, with facilities in Colombia, Hong Kong, Netherlands, and the United Kingdom.