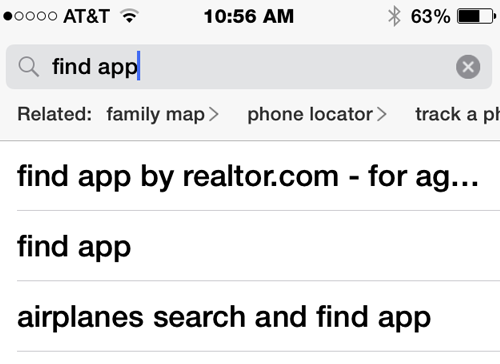 Apple sold roughly 75 million iPhones in the last three months of 2014. That's 818,329 iPhones a day, 34,097 an hour, 568 a minute, 9 a second. Each of those iPhones sold for an average of $687. Mind-boggling numbers. I-can't-even-comprehend numbers.
Apple has $160 billion in cash available, more than triple what the US Treasury has on hand to keep the government "working".
Where is all this money going? I'll tell you one place it isn't going and that's Apple's App Store, which has forever been a broken mess.
Let's dive into the history of the App Store and discuss the problems of search discovery, potential solutions, and why this is so important to app developers and consumers.
Apple App Store History
Apple's App Store hasn't done much in the way of evolution since it opened its doors on 7/10/2008 via iTunes, on the iPhone 3G.
The App Store launched with just 500 apps. 10 million were downloaded that first weekend. Downloads reached over a billion a few months later.
Now almost 7 years have passed, and though the store has it's fair share of problems, Apple has a bonafide hit on their hands, with growth higher than ever. The App Store grew 60% in 2014, from 890,000 apps on 1/1/2014 to over 1.4 million apps on 12/31/2014. Unfortunately though, most of these apps will be never seen.
Infiltrated with Zombie Apps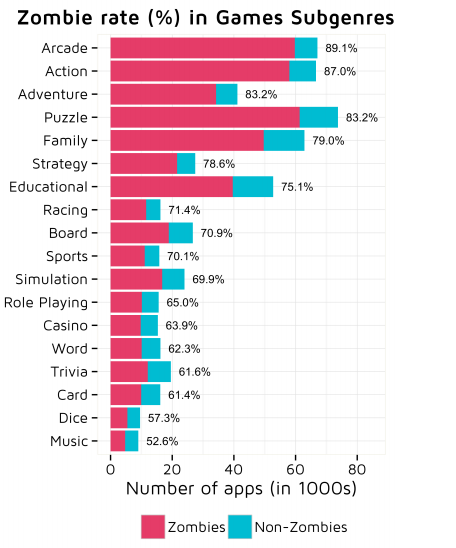 Mobile discovery firm Adjust did a troubling discovery study that showed 83 percent of apps in the App Store are "zombies". An app is classified a "zombie" if it does not spend at least two days in any of the top 300 lists in the App Store. When an app is a zombie, it can only be discovered by searching for a type of app, or the app's name itself. As anyone who has used the App Store knows, this isn't that simple.
App Store Search Discovery Sucks
Here's an example of how goofed the App Store's discovery process is. Do a search for "Twitter" like Ged Maheux of Iconfactory did in November 2014. Here's the top results, with Twitter-related apps in bold, and somewhat Twitter-related apps in italics.
1. Twitter
2. Instagram
3. Framatic
4. Tweegrow
5. Pick Jointer
6. Happy Park
7. Crop Pic
8. Wayze Social GPS
9. Flipboard
10. InstaCollage Pro
11. Symbol Keyboard
12. Find Unfollowers
13. Cool Fonts
14. Symbolizer
15. Big Emoji
16. Get Followers
17. Framatic Mess
18. Alarm Clock HD
19. Textgram
20. Hootsuite
21. Emoticon Art
22. Textizer Fonts
23. 4 For Follow
24. Pixable
25. Just Unfollow
26. Unfollow for Twitter
27. ColorEffects
28. Photobooth
29. G-Whizz
30. New Cool Text
31. Google+
32. Step
33. Tweetcaster for Twitter
34. Vine
35. Camera Awesome
36. InstaEffect Effects
37. Emoticons and Emoji
38. TwitBoost Pro
39. PickGram
40. Insta Scrapbook
41. SpaceEffect
42. Orbs
43. MB2:YouTube
44. Facetouch HD Light
45. Paper Toss Friends
46. Vodio
47. Frame UR Life
48. HayWire Text Free
49. Nimble Quest
50. InstaCollage Pro
51. TweetBoost Pro
52. Right Behind
53. Emoji>
54. Follow Tool for Twitter
55. Color Cap
56. Emoji for iOS 8
57. Camera+
58. Emoji Emoticons
59. Text2Pic
60. Emoji 2 Emoticons
61. Fonts-Cool Font Maker
62. Echofon Pro
63. LiPix Pro
64. Alarm Clock HD
65. Smilebox Moments
66. Everypost for Social Media
67. Google Apps Browser Plus
68. Clipchat
69. VPN Express
70. ÜberSocial for Twitter
72. TweetBot 2 (iOS 6)
81. TweetBot 3
90. Twittelator Pro (iOS 6)
100. Twitterriffic 5
114. TwitBird Free for Twitter
128. Tweetlogix for Twitter
148. Echofon for Twitter
167. TweetList
Only 13 of the top 167 results are relevant. Quite problematic to developers and consumers. This is not just because the search algorithm is broken, but other manipulation as well. Yesterday, this picture was uploaded to Chinese social media site Weibo with the caption "Hardworking App Store ranking manipulation employee":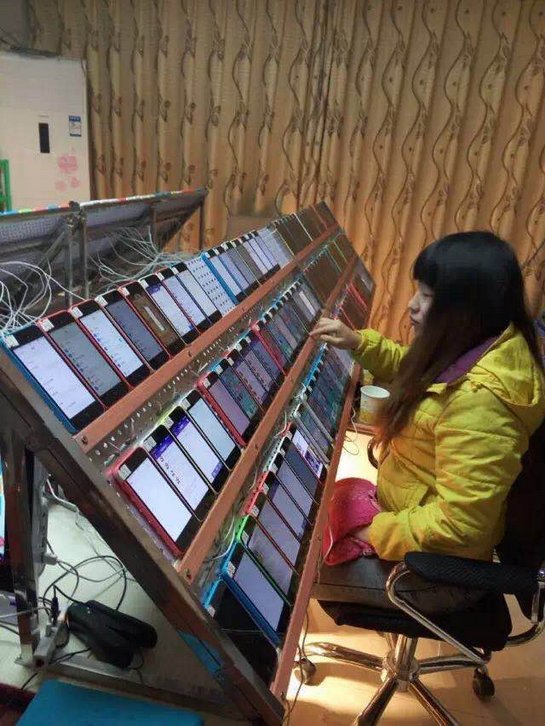 If the caption is to be believed, the woman is likely increasing an app's download rank by uninstalling and then re-installing the app on all of those phones. The more downloads an app has, the higher the ranking.
A second picture was uploaded to Weibo, purporting to show a payout scale to get to the top of an App Store list.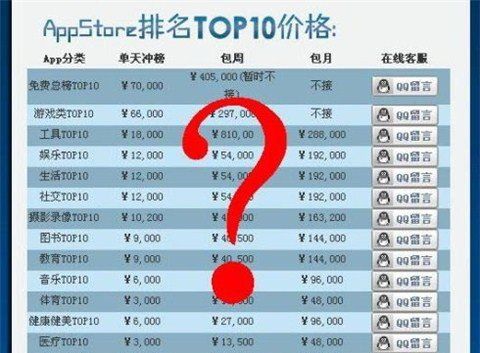 Pay $11,200 to this service and your app gets into the top 10. Then pay $65,000 a week to stay there.
Acquisitions and Shut Downs
This manipulation wouldn't be as easy and the zombie apps wouldn't be as large if Apple had a better search engine. With all of Apple's money, can't they just buy themselves a search engine?
In 2012, Apple did just that, acquiring Chomp, an app search engine which allowed searching for apps based on function and use instead of simply by name. This would help with sloppy search that Google does so well. Soon after, Apple acquired data analytics firm Topsy. This seemed like the beginning of the end for weak search functionality.
Alas, no. Chomp and Topsy did not bring any new user features for iOS 6 or iOS 7.
One thing Apple doesn't want to happen with search is opening it up to the public. i0S app discovery service AppGratis helped independent developers get their app found thanks to revenue sharing deals. After 5 years and 12 million current users, the app was removed from the store, thanks to a new guideline (2.25) added in their iOS terms of service:
Apps that display Apps other than your own for purchase or promotion in a manner similar to or confusing with the App Store will be rejected.
Other popular apps like AppShopper and Appsfire have also been removed by Apple under similar explanations, forcing both apps to change their business model.
Recent Improvements
It's not all doom and gloom for the App Store lately, as we have seen several improvements in the last year.
Related search suggestions is a good start. Tapping on a suggestion will give you a fresh set of results.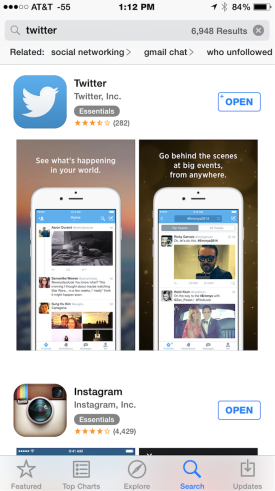 Trending searches now appear before you search for anything.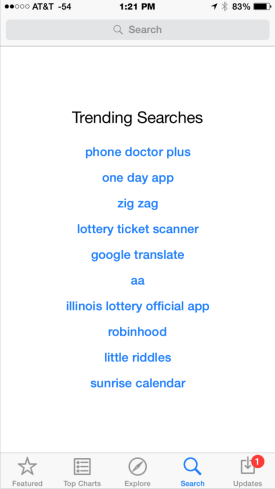 But this isn't truly trending searches now is it? Most of the trending searches are exact matches to apps rather than a generic search. Are these searches being picked by Apple? More likely, those companies that get paid thousands to get their clients high in the rankings are to blame for this.
Suggestions to Fix App Store
Cracking down on manipulation will be a hard fix. But as far as features go, there's plenty of low hanging fruit that Apple hasn't picked yet. Let's highlight four needed improvements:
ADVANCED SEARCH! Why are there no search filters? No semantic search? No search by country?
CUT DOWN ON CLUTTER! Another suggestion is to get rid of old apps. Apps that have gone years without an update need to be jettisoned. Or at least the very least, give the user the option to hide an app they have don't want to see anymore.
ADVERTISING! 5 years ago, Apple paid $275 million for Quattro Wireless, a mobile advertising company. This was supposed to help developers make money on free apps, but Apple never fully committed to it. As it stands, there isn't much incentive to make free apps as an independent developer.
TEST DRIVE! Speaking of paid apps, how about allowing demos, trials, discounts? I would be much more inclined to give a developer money if I had assurance that I could return the app if it turned out to be junk. Instead we have to choose between paying full price or not paying at all.
Why Does This Matter?
In seven years, Apple has paid out over $25 billion to developers. It paid out $10 billion in 2014 alone, so it's only getting better. While this is commendable, we need to see who is making this money. For that, let's turn to Thorsten Rauser, creator of Please Fix the App Store:
Of course, there are still success stories, but the number of iOS-exclusive, innovative titles submitted is drying out rapidly. At the moment, if you make money on the App Store, you probably:

a) create free games that succeed by manipulating users into as many in-app purchases as possible. If you walk this road, you can also afford massive marketing budgets. Sadly, we even see this now with Disney apps targeted at small children.

b) manage to create a highly innovative niche products that are ideally subscription based. Not many niches are unoccupied, though.

c) already managed to occupy a niche before the changes occurred. In this case, you can lean back and sip on your Piná Colada – even far superior competitors are most likely to remain invisible to App Store users.
This amounts to a game of luck for both the developer to be seen, and for the consumer to find what they're looking for. When the consumer can't find you, you can't survive.
Apple likely knows all this, and how to fix this to appease app creators and users. What are they waiting for?
Jared Smith is HostDime.com's Content and SEO Strategist. His app can sometimes be found in the App Store.
HostDime.com, Inc is a global data center infrastructure provider offering an array of cloud products from managed hosting servers to colocation services that cater to a range of clients, from entry-level to enterprise-level operations. HostDime owns and operates infrastructure and networks in seven countries, with its flagship facility in Florida, USA. Currently with a client base of more than 50,000, HostDime is one of the most reputable data center companies in the world.