ORLANDO, Fla. (May 19, 2021) State and local leaders gathered today with representatives of HostDime, Fifth Third Bank, Baker Barrios, Robins & Morton, BBIF, and Mid-City CDE, an affiliate of Urban Atlantic, to celebrate the official groundbreaking event of the long awaited and anticipated development of HostDime's iconic $35 million dollar, 95,000 square foot new data center facility and global corporate headquarters along the I-4 corridor just north of downtown Orlando. Construction began early 2021 and is slated to be completed in summer 2022.
This marks the first step in the redevelopment of nearly 100 vacant acres in the Historic Town of Eatonville; the Wymore Road/Hungerford site has not seen any new development in over 50 years. HostDime's five acre complex will serve as the only enterprise Tier IV public data center in Central Florida, functioning as a major interconnection hub for fiber networks and public cloud networks in the Southeastern United States and South America. The need for networks to interconnect will become more adopted, especially with the onset of 5G and with public cloud providers commanding high speed edge connectivity in growing major markets like Central Florida.
And with that, @hostdime and the Eatonville town council breaks ground on a data center they say will forever change the town's future. @MyNews13 pic.twitter.com/FVpmwuKaEU

— Eric Mock (@EricMockTV) May 19, 2021
The data center operations will occupy a three-floor wing of the building, while corporate offices and client-focused spaces will fill seven floors of the building's office portion. The 10,000 square foot top floor will feature a large conference room and training center with a hybrid indoor/outdoor floor plan to be used as an event space with approximately 3,500 square feet of outside terrace. It is designed to host national and global tech conferences for up to 350 people.
"From the client-centric amenities to the highest availability of power design, we ensured this next-gen purpose-built data center facility had everything needed to support the current massive cloud adoption. We look forward to this facility being the new home for all enterprise needs in the Central Florida area for data center infrastructure. Whether it is moving all your on-prem IT operations to our facility, or moving away from the public cloud providers to a more cost-effective hybrid-cloud approach with colocation, this facility is designed for it all," said Manny Vivar, CEO and founder of HostDime.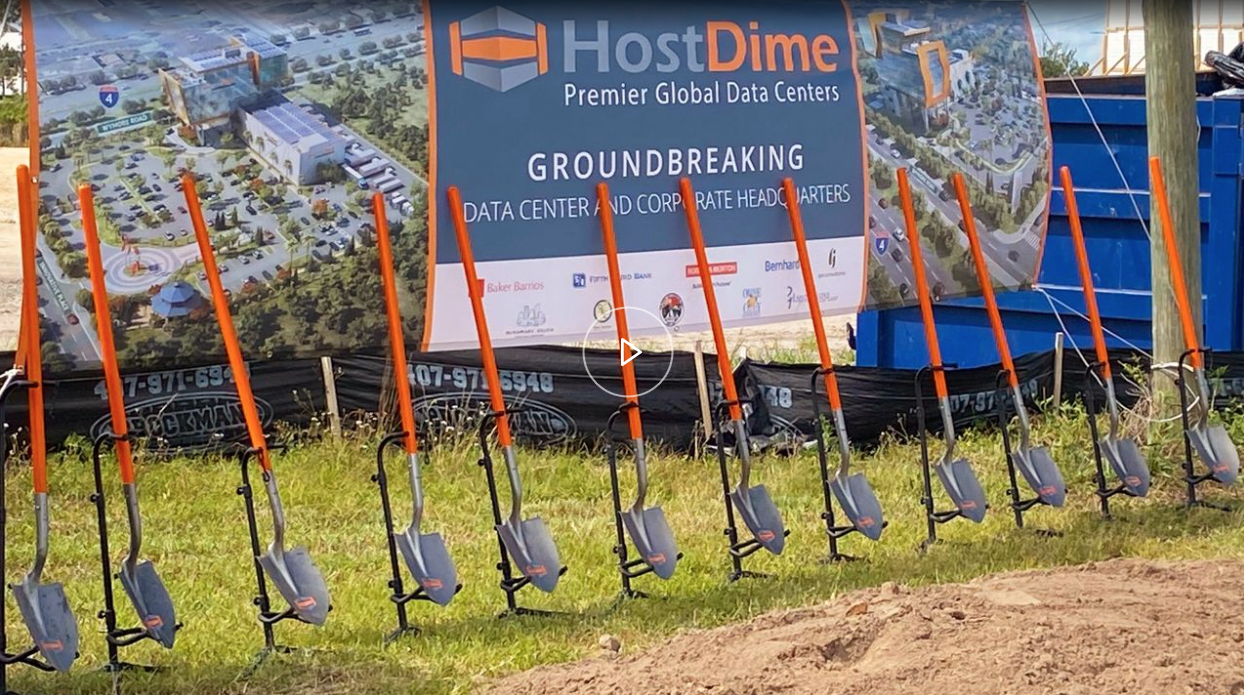 "We are honored to be a part of this momentous occasion and celebrate the continued growth of HostDime and the positive impact they are making to our Orlando region," said Greg Dryden, Fifth Third Bank's Orlando city president. "To be able to support our client's expansion efforts with financing for this state-of-the-art facility is something Fifth Third Bank is extremely proud of."
HostDime chose Birmingham, Alabama-based Robins & Morton as construction manager, working with the company's Orlando office. "We selected Robins & Morton because of their extensive experience in building mission-critical facilities, technology use in construction, and their specialized team approach," said Manny Vivar.
Tech company Host Dime breaks ground on headquarters at historic Eatonville site https://t.co/iWSk0vR2Mq pic.twitter.com/7qfZZBcavc

— Orlando Sentinel (@orlandosentinel) May 19, 2021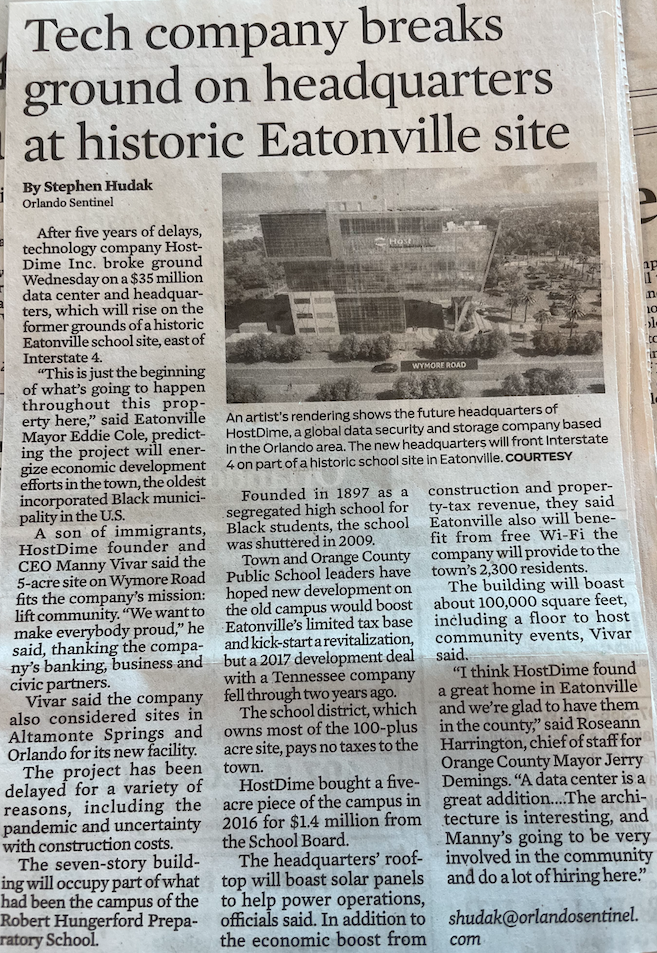 "We share everyone's enthusiasm in seeing this project take shape," said Robins & Morton Vice President Derek Gregg. "The entire project team is excited to be building a combination world-class data center and corporate headquarters here in Central Florida, and to the positive impact this will have on our community."
Designed by Orlando-based architectural firm Baker Barrios, the iconic seven-story building structure represents one of the largest owner-occupied, build-to-suit projects in the Orlando metro area in recent decades. At completion, it will be one of the tallest buildings in Central Florida at a height of 120 feet. HostDime is the sole owner, developer, and operator of the building.
A new office means space for new hires at an #Orlando #tech company. Is your business expanding this year? #jobs #localbusiness #businessnews @hostdime​ https://t.co/6kDiTVQPmF

— OrlandoBizJournal (@OBJUpdate) May 20, 2021
There will also be a STEM lab on the first floor of the facility which will display a behind-the-scenes museum setup of how the internet started and has evolved into the modern day technology ecosystem that exists today. It will be a hands on one-day field trip open to all local schools down to the grade level. Students will get a firsthand experience about how everything works and where the cloud lives.
"We are very excited and proud to bring such an impactful development to the Historic Town of Eatonville," said Manny Vivar. "The Town has been an instrumental partner in our efforts and we kept the local community impact in mind as we designed this facility. Equally, we have a strong initiative to help and inspire our youth, while creating more jobs. We are very proud that all our financial partners (Fifth Third Bank, BBIF, Mid-City CDE) saw our vision and we are grateful for everyone who made this a reality. Thank you!"
For more technical information on the new facility, please visit https://www.hostdime.com/blog/orlando-data-center/