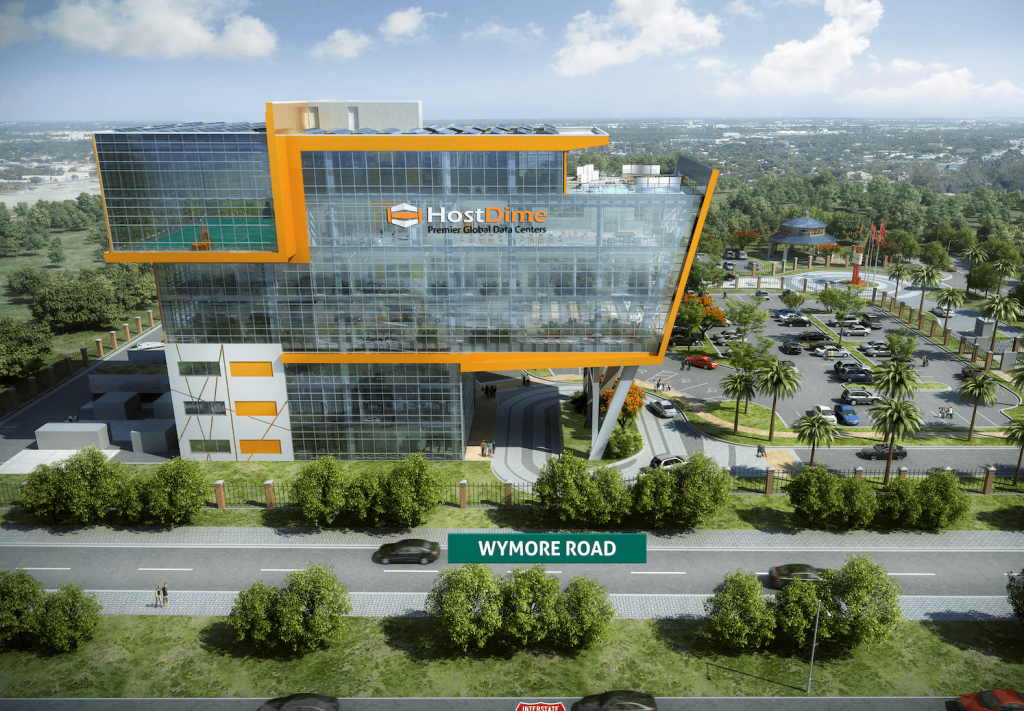 HostDime.com, Inc., a global leader in data center infrastructure, has broken ground on a new $45 million dollar, 100,000 square foot Orlando data center facility on a five acre parcel. The building will rise 120 feet high and be visible from Interstate 4, one of Central Florida's main roadways that connects Orlando to Tampa on the West, and to Daytona Beach on the East.
HostDime has chosen construction manager Robins & Morton to construct the state-of-the-art facility. The contemporary and iconic structure was designed by highly acclaimed Baker Barrios, the lead architect. Innovations Design Group is the landscape architect, GAI Consultants Inc. is the civil engineer, OCI Associates, Inc. are the MEP (Mechanical, Electrical, Plumbing) engineers, and McNamara • Salvia are the structural engineers on the project.
Client Amenities
The seven-story facility includes space for all of HostDime's 80 U.S.-based employees and three floors of world-class data center space. In addition, the space will focus on amenities for HostDime's client base. Clients have access to private client cage space, private micro data center PODS, on-demand business continuity client offices, and a mix of amenities that includes ultra-fast fiber-based 10G internet access throughout all seven floors. The facility will also feature a 36-foot-high warehouse storage area that clients can use at no charge for temporary storage of their equipment or rent warehouse space long term.
Community
Guests will be greeted by a three-story-high atrium at the front of the building with a grand roundabout entrance. This atrium will also house an impressive mosaic video display spanning 36 feet tall and 10 feet wide, which is going to be one of the largest mosaic video walls in the world. The top floor will feature a large conference room and training center with a hybrid indoor/outdoor floor plan to be used as an event space with approximately 3,500 square feet of outside terrace. It is designed to host national and global tech conferences for up to 300 people. Staff amenities include 180 degree gaming chairs, break room, cafeteria, quiet room, small fitness gym, and the entrance to the 2-story sports court that literally floats on the 6th and 7th floor. HostDime intends to hold friendly competitive quarterly corporate tournaments of basketball, futsal, and volleyball. Registration fees of these events will be awarded to local charities with the winning team naming the charity of choice. HostDime's initiative with this is to create a networking business community that benefits everyone.
There will also be a STEM lab on the first floor of the facility which will display a behind-the-scenes museum setup of how the internet started and has evolved into the modern day technology ecosystem that exists today. It will be a hands on one-day field trip open to all local schools down to the grade level. They will get to see firsthand how everything works and where the cloud lives. Our vision is to inspire and expose our younger generation to the endless opportunities that technology can bring and how these data center facilities play a major role in the evolution of emerging and innovative technology globally. This is the main reason we elected and were awarded to create our own road in Orange County and have our official address be "1 Innovative Place"!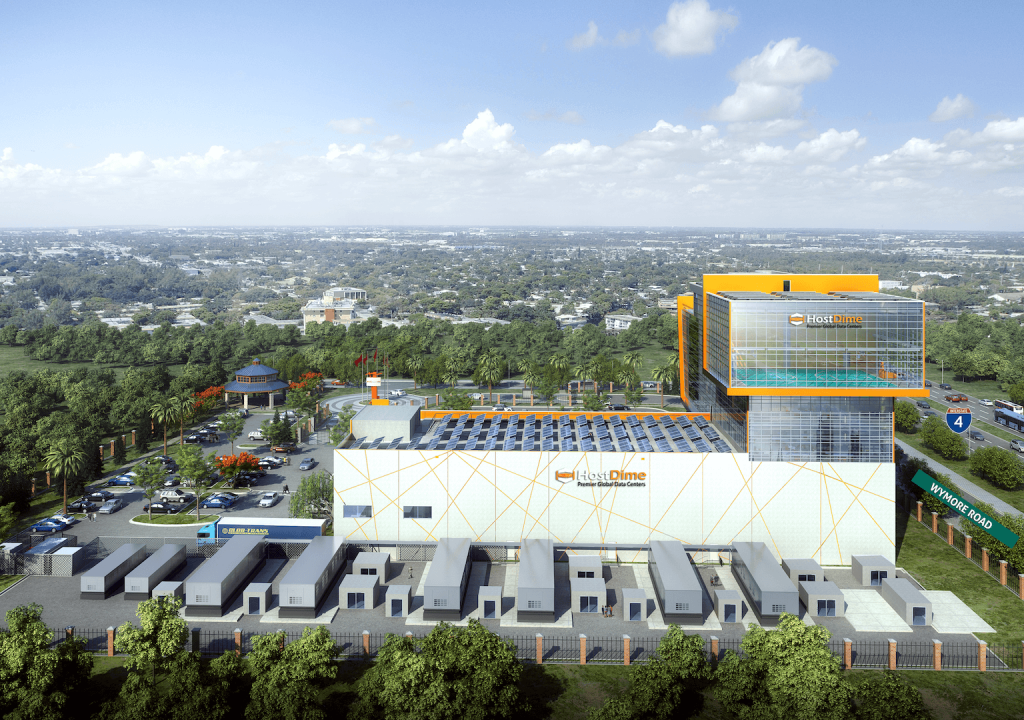 Network
HostDime's current flagship Orlando data center is nearing capacity. Their vision with the new facility is to expand its existing products and offerings to service its global client base and be able to house government data. This modern age data center facility is designed to be a major peering/connection HUB for networks in the Southeastern United States and for Latin American companies. The facility is being engineered to meet and exceed requirements for some of the most widely known certifications such as HIPAA/HITECH, FedRAMP, GDPR, PCI, SOC 2, and FISMA. The network is being designed to support over 1Tbps (10 x 100GbE) of connectivity. There will be six manhole entry points into the site for dark fiber. Additionally, 100GbE waves down to Miami will be connecting this facility, so HostDime's new data center will be a great business continuity and disaster recovery site for many South Florida businesses. HostDime's current network is globally recognized as one of the fastest networks in the United States that routes to all of South America and abroad, and this new facility will adopt this same performance.
The new category 5 hurricane-rated facility will feature space for over 1,100 racks, plenty of conduits for interconnecting between clients and carriers in three full-sized meet-me rooms and in-line hardware-based Distributed Denial of Service (DDoS) Attack Protection. The meet me rooms will be home to major telecom and fiber providers such as AT&T, Cogent, Zayo, Uniti Fiber, Summit Broadband, T-Mobile, Spectrum (formerly BrightHouse), Lumen (formerly Level 3/TW Telecom/CenturyLink), Crown Castle, Smart City, Megaport, Hurricane Electric (HE.net), WOW! Fiber, and Verizon. HostDime's new facility will be one of the most densely-connected data centers in Florida and the most connected facility in Orlando Metro area. As the Internet continues to evolve and penetrate globally, the need for networks to interconnect will become more adopted, especially with the onset of 5G. Content providers like Netflix, Youtube, and public cloud providers demand high capacity connectivity and will want to connect to major hubs in areas like Central Florida. This facility will be the meeting point for such needs.
Our new Orlando Data Center is proud to be home to the Central Florida Internet Exchange (CFL-IX). The primary role of this Central Florida Internet Exchange Point (IX/IXP) will be to keep Internet traffic local in Orlando and to reduce costs associated with the exchange of traffic between network carriers, content providers and Internet Service Providers. Everyone will be able to interconnect to peer with one another in Orlando's only Tier IV public data center. This will yield better latency, stability, efficiency, and quality, all at a lower cost.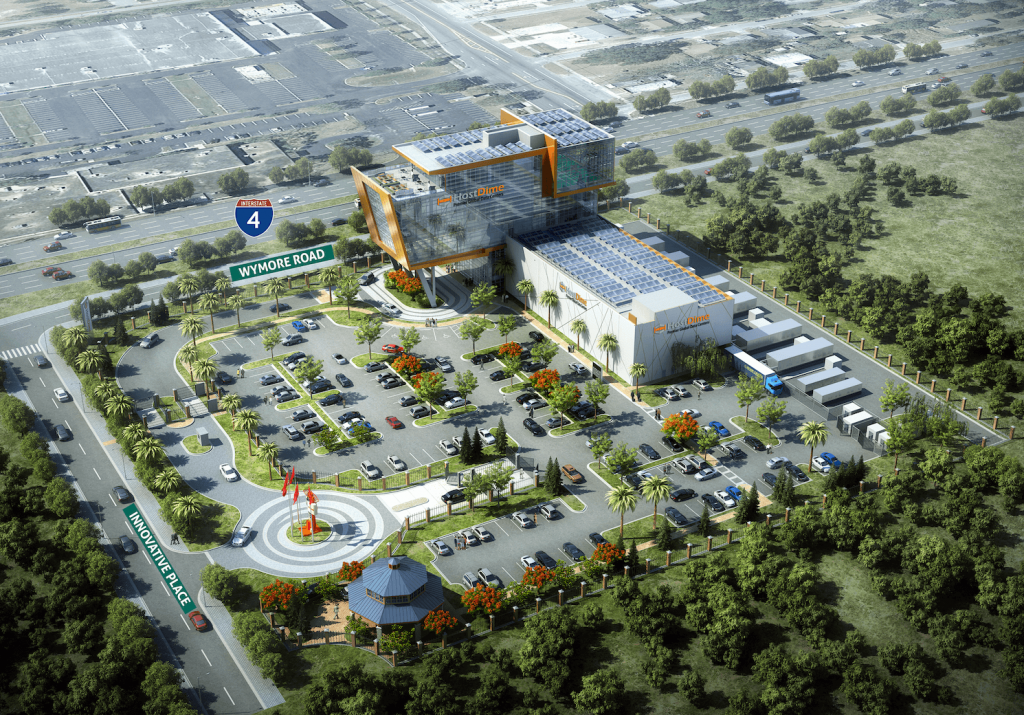 Power
Expanding on the highest Tier IV electrical and mechanical designs, HostDime did a unique, three-tier electrical power design that will allow the facility to sustain two consecutive system failures and still be operational, making the standard N+1 redundancy a thing of the past. At its peak, the facility will have over 12 megawatts of electric power capacity from Duke Energy. Backup generators will connect to external fuel tanks of reserve fuel to run two weeks at 80% load without any commercial power available. At full capacity, the facility is designed to support 5MW of fully redundant power. Rooftops will feature solar panels in keeping with HostDime's green initiatives; up to 35% of the facility will be powered by the sun, with the ability to go 100% solar with offsite solar farms that HostDime is currently exploring. Lastly, HostDime will be installing 1 Tesla Supercharger on-site with the ability to juice any visitor or staffs car up to 80% in 15 minutes or less, and also seven Level 2 chargers for an array of electric vehicles in the market, free of charge.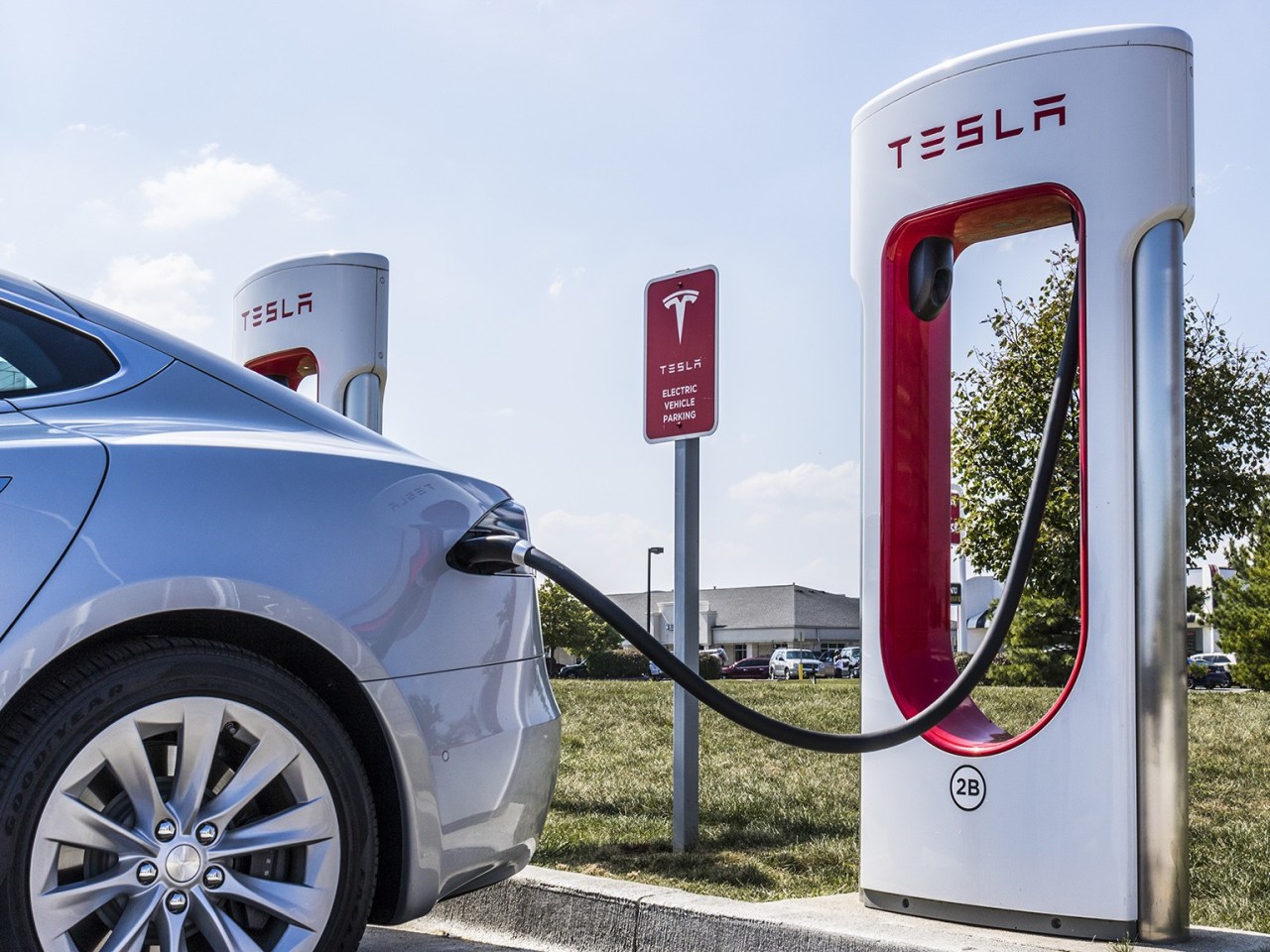 Security
In addition, HostDime will utilize the latest technology in security and access control for the facility itself, including touch-less facial recognition access control, over one hundred 360 degree security cameras throughout the building and site, man-trap doors, and car-trap access to enter and leave the facility to prevent tailgating. The full perimeter of the site will be gated with an 8 foot tall system along with 24/7 on-site armed security personnel monitoring the facility. HostDime will be using camera-equipped programmed drones for automated exterior monitoring of the facility campus perimeter.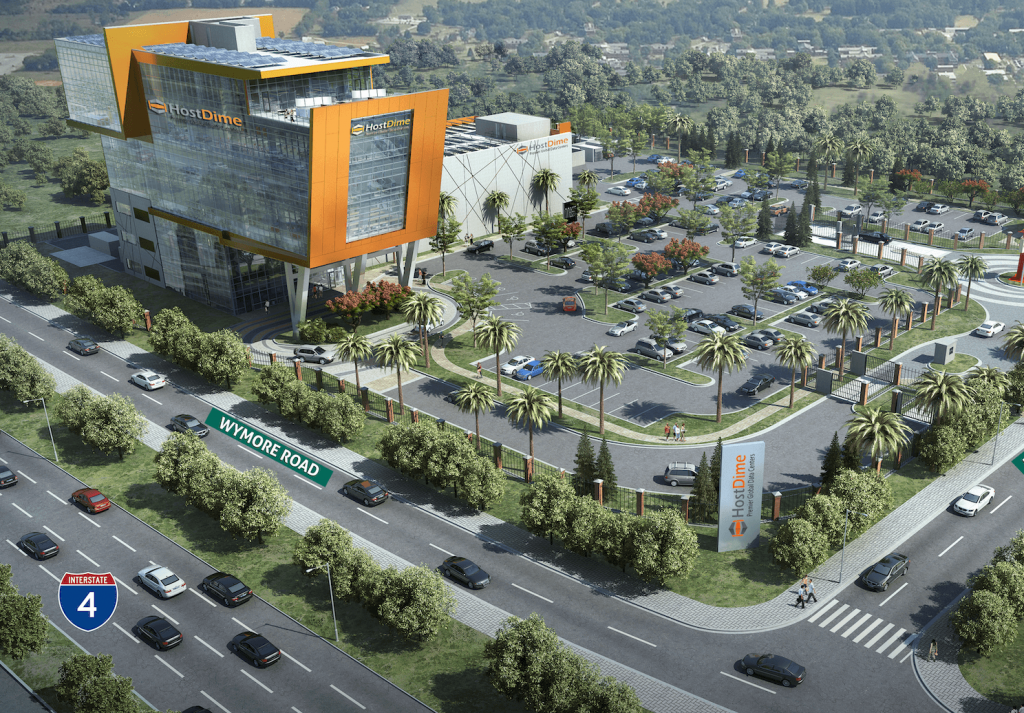 Services
Clients will be able to purchase an array of existing HostDime services such as cloud servers, bare metal servers, colocation services, and tap into our tier of managed services. HostDime can also serve up private cloud requirements for enterprises and interconnect with any of the major public cloud providers to adopt hybrid clouds. To facilitate these hybrid cloud initiatives, HostDime continues to expand its portfolio of services with the Hardware-as-a-Service model where clients can offload all that capital spent on hardware, turning it into OpEx instead of CapEx, leaving those tedious hardware refresh workloads to HostDime. The ability to couple any of these services with internal HostDime managed services is what makes HostDime so unique in this industry.
"Back in 2003 when HostDime was a 'startup', many people would ask us, 'Why are we building data centers in Orlando?,' and I would reply 'Why not?'. Fast forward to today and Central Florida is seen as a major technology epicenter in the Southeastern United States. This facility will be a major peering connection for companies to connect in a fast growing Central Florida region. The caliber and uniqueness of this facility can only be found in major metro areas such as New York or Los Angeles. Even then, the facilities are outdated, retrofitted, and never built for modern day connectivity or consumption. We are taking a unique approach with this facility to be a marriage of client hospitality and data center infrastructure services that are purpose-built. You will be able to step into this facility and never think about having your services elsewhere again with all the client amenities we are offering." – Manny Vivar, CEO and VP of Global Operations.
The new HostDime facility will be less than half a mile from the current Orlando data center. HostDime's focus for the new facility is to keep up with current growth and the desire to expand its client amenities, while building upon 15+ years of experience. You don't see many purpose-built facilities like this being built often. Once the facility is finished in Q1 2023, all new HostDime clients will be placed in the new facility. The 100,000 square-foot structure will be developed, fully owned, operated, and occupied by HostDime. This iconic building will be a beacon for growth in the Florida business community and for HostDime's entire global client base for many years to come. It will certainly be an iconic landmark in the Orlando Skyline.
The Current Orlando Data Center
HostDime's current Orlando data center will be a fully operational site for years to come. Both existing and new facilities will be functioning concurrently for the foreseeable future. When the new facility is ready, current clients may elect to move there. HostDime will do everything in our power to ensure a smooth transition with a ring of dark fiber between both facilities. This move is not mandatory, rather an option for clients in the first few years. There will be an abundance of dark fiber installed to connect both facilities to ensure both are "hot" from a network perspective. This ensures minimal downtime during a transition that is less then 0.5 miles away. Once the new facility is up and running, all new clients will be deployed there.
For more information, and for any questions you may have, don't hesitate to reach out to HostDime's local Orlando team!
HostDime.com, Inc. is a global data center infrastructure provider offering an array of cloud products from bare metal servers to colocation services that cater to a range of clients, from entry to enterprise-level operations. Since 2003, HostDime has built data centers with humble beginnings in Florida. HostDime designed purpose-built and privately-owned data centers in Florida, USA as well as Mexico, Colombia and Brazil, and operates data centers in partner facilities in Hong Kong, India, the United Kingdom, and the Netherlands.
HostDime.com, Inc. currently has over 350 employees globally. Consistently ranked as one of the most reputable global data center providers, HostDime has 15+ years of experience and 25,000+ active clients.