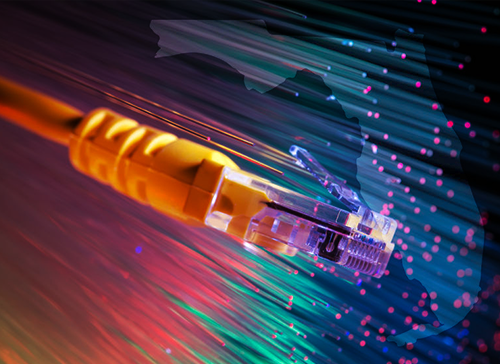 What is the Florida LambdaRail?
The Florida LambdaRail is an independent fiber optic network that deploys over 1,540 miles of dark fiber with a 100 Gbps backbone capacity covering the entire state of Florida.
This broadband service delivery network enables Florida's higher education institutions and their partners to collaborate, connect, utilize, and develop new innovative applications and services in support of scientific research and education. Boy do we need their help now more than ever while we deal with this global pandemic.
This fiber direct connects to 12 universities, including our very own UCF, as well as various national and international networks, like Miami's AMPath International Exchange Point and the Internet2's network infrastructure via Atlanta. Here's a map of everything the LambdaRail touches: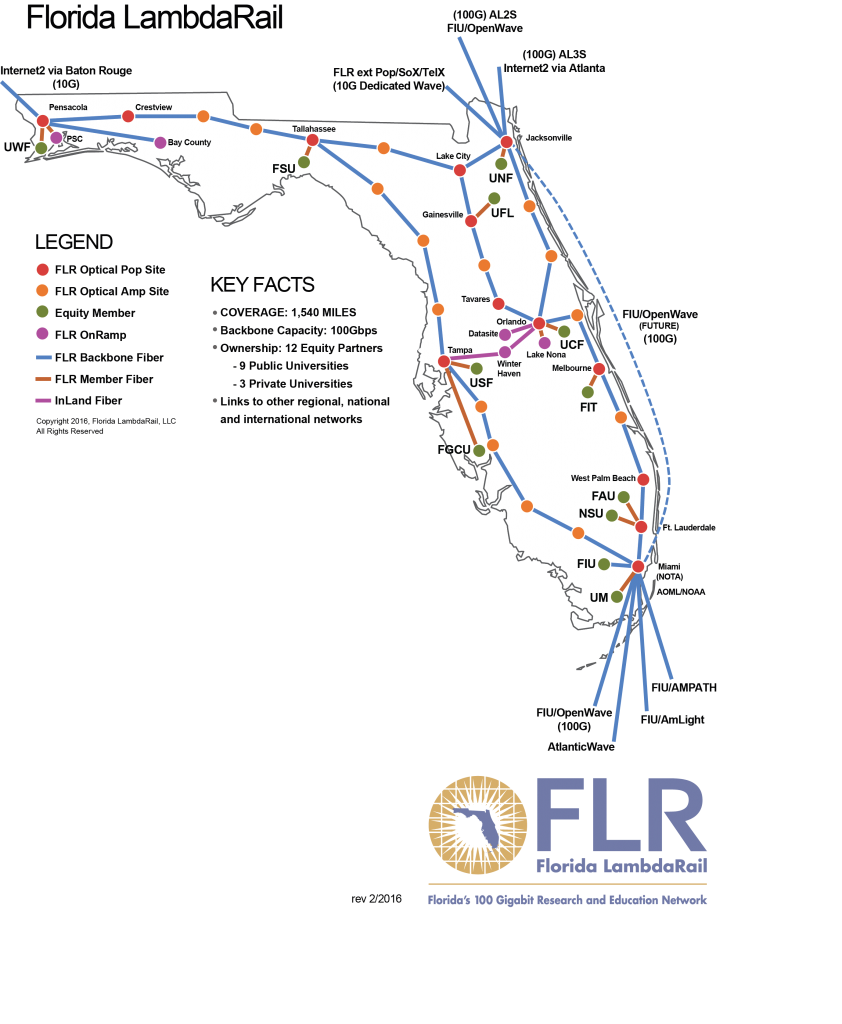 Each partner is provided a primary 10 Gbps and a secondary 1 Gbps connection to the MPLS backbone. This highly scalable 100 Gbps broadband network provides a 100-fold increase in data transfer capabilities, meeting whatever needs the institutions require. This especially comes in handy for colleges wanting to collaborate on research and do it affordably.
How the LambdaRail Helps Florida Colleges Fight Coronavirus
Once Covid-19 hit Florida, the state's universities and colleges moved their operations online in an impressively short amount of time. FLR's robust data network was ready to handle the needed increase in bandwidth. The FLR was essential to keeping college and university operations up and running with no downtime.
At the same time facility and students were working and learning remotely, innovation was happening on and off campus. Here's just a sampling of what has been accomplished in just a few months:

University of Central Florida: Student researchers at UCF are trying to help manage the spread of Coronavirus via cough drops. The team was awarded $200,000 by the National Science Foundation to see about reducing COVID-19 transmission by making saliva heavier to help sneeze and cough particles fall out of your mouth inside of float. This would be accomplished by popping in a lozenge or candy before going into the grocery store, work, etc.

University of South Florida: Aside from the College of Engineering making 10,000 face shields for Tampa General Hospital, USF Health created 3D printed nasal swabs to test for COVID-19. USF Health researchers in the Departments of Radiology and Infectious Diseases created 24 hour and 3 day testing to help hospital shortages. These 3D printed swabs performed equally to standard swabs used for coronavirus testing.

University of Florida: A chemical engineering professor at UF's Herbert Wertheim College of Engineering, with help from grad students, created a successful rapid home test that uses a strip similar to a pregnancy test to give a quick visual indicator of the presence of Coronavirus. The goal is that this test can be done at home in under 30 minutes, so no need to go to a health care facility. This test would help with early detection for those with an active infection, so they would self-isolate and help stop the spread.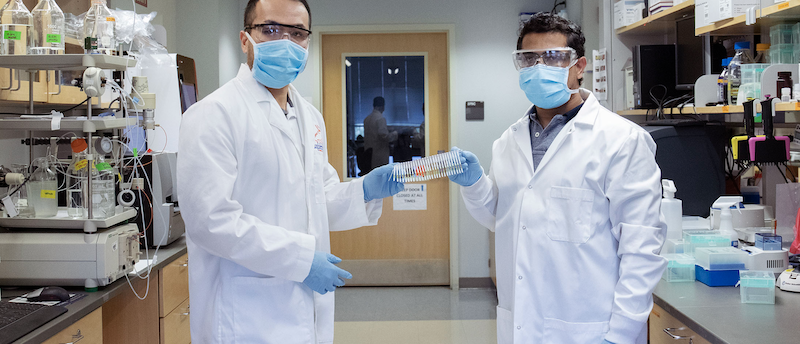 Florida State University: Florida State University's Office of Research allocated $400,000 to fund 26 different projects from over 20 different departments that address questions related to COVID-19. Many of the funded proposals involve medical research, but there are also projects that examine how this will affect Florida life, like how the pandemic will affect people's decisions about evacuating during a hurricane. Other projects include exploring possible therapies, the development of tracking tools, and research on how the pandemic has affected mental health.
HostDime's Direct Connect to Florida LambdaRail
HostDime's Orlando data center has installed a direct connect into the Florida LambdaRail's Orlando POP that will allow a direct connect into the FLR through a simple cross connect.
Most of these universities and institutions currently run hybrid cloud models or are looking into a switch to hybrid cloud. Whether this be a combination of on-premise and public cloud or a shift to completely on-cloud, HostDime can offer affordable cloud services to educational institutions seeking to migrate to the cloud.
Many enterprises today are leveraging the cloud and colocation products to decommission the need to run costly (in ongoing management and heavy Capex upkeep) on-premise micro data centers. Instead, they can rely on HostDime's highly available and mission critical ready data center infrastructure. Not only can non-profit and for-profit universities leverage this, but also government agencies, hospitals, museums, libraries, and research facilities.

There's several advantages to a direct connect to HostDime's data center network if you are a member of the FLR.
Many institutions are realizing they are overspending on major cloud providers. HostDime's cloud services are more cost-effective through a hybrid cloud model (Colocation, Bare-Metal Servers, Private Cloud, Public Cloud).
Local Data Center infrastructure: many public cloud providers are not connect locally to the FLR, while HostDime's Orlando Data Center is, significantly decreasing latency.
FLR members who connect to HostDime's network via a cross connect can leverage our robust and highly redundant IPv4 / IPv6 network to connect to our high performance network AS33182
HostDime's Central Florida facility isn't prone to the risks that come with being in South Florida.
HostDime has relationships with all major hardware vendors and in many cases can handle management and warranty of any hardware for FLR members at wholesale rates.

Our LambdaRail direct connect option is simple. Try any of our many data center products or services and we'll perform a direct connect to the FLR for a low added monthly cost of $350/month + $500 one-time setup fee.
HostDime connecting with the FLR is a match made in heaven for Florida educational, governmental, and research institutions. For more information, open a ticket and we can set you up with a tour of our Orlando data center.
Jared Smith is HostDime's SEO and Content Strategist.