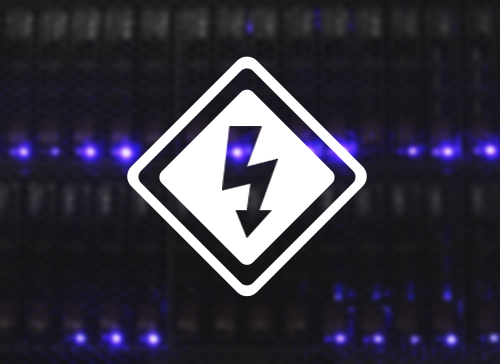 HostDime often gets inquiries from perspective colocation clients about what voltage power will be supplied to server racks. While 110V-120V are commonly used in the industry, HostDime has long evolved to supply 208V voltage by default. The many benefits will be outlined in this article.
Most electronic hardware including computing servers come equipped with power supplies that have the ability to support 110-240V voltage input already. Take a look at the power supply on your hardware label or any home appliance. An example below: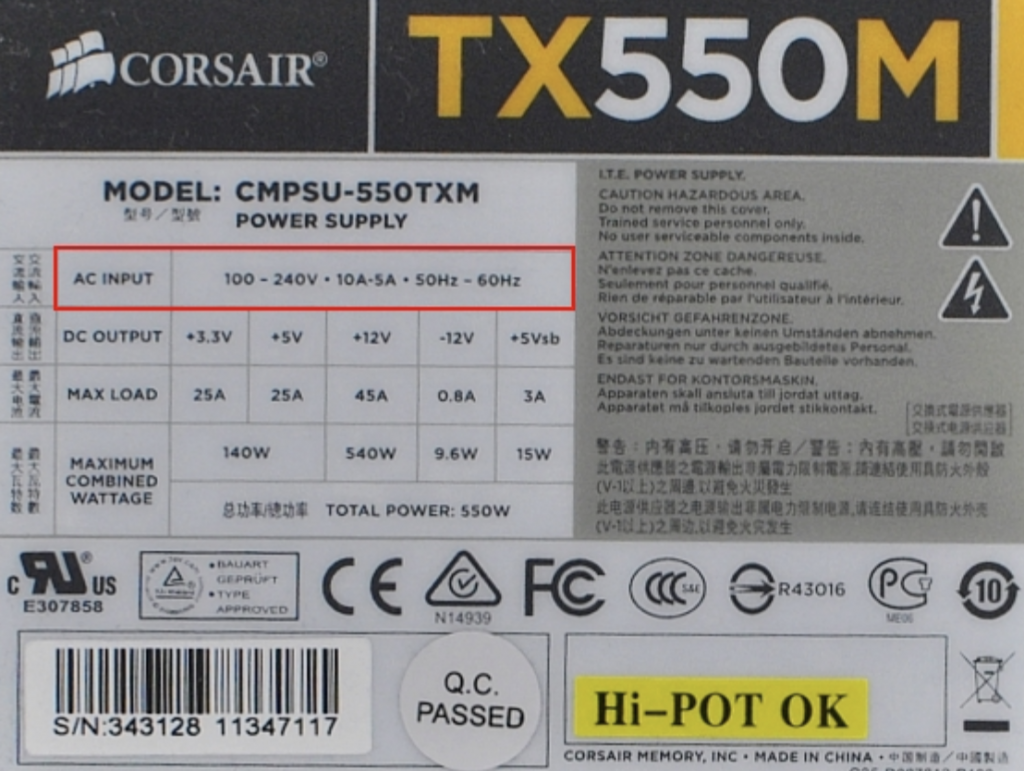 While there is seldom difference between 110V, 115V, and 120V, 208V and 240V are more efficient. Large pedestal and rack mount servers normally use 208V. Here's why.
208 Volt Power is Best for Server Racks
Efficiency: There's a 1% to 3% improvement in power supply efficiency with increased voltage, which will save between $4 and $31 annually per server in electrical cost. This occurs because the more current that wires and transformers conduct in order to power hardware, the hotter the components get. That additional heat must be cooled by an AC system, furthering the amount of electricity required to support a server. The less heat produced by components, the less cooling is required, resulting in less power consumed.

Capacity: The main difference between 120V and 208V is that 208V circuits have more power and density, therefore requiring less PDU's needed in the rack. For example, here's the two most common circuits at 80% total power:
15A at 120V circuit has capacity for 1.8kW at 80%, equaling 1.44kW
30A at 208V circuit has capacity for 6.24kW at 80%, equaling 5kW
30A at 208V is more robust by 3.6kW, while also being more power efficient.

Environmentally Friendly: 208V requires fewer power whips, ideal in a raised floor datacenter. Less whips means less circuits to manage, equating to better airflow. Improved airflow increases server life and lowers the cost of cooling the equipment. Data centers are looking at all possible ways to become more "green". 208V continues this trend as servers draw less current and therefore less heat at 208V than 110V. By getting all HostDime clients running these green setups, increased efficiency occurs in both power and cooling. This lowers our operating costs, enabling us to offer even more affordable server configurations to our end users.

Scalability: Lastly, HostDime provides our clients 30A at 208V by default, with soft limits in place so clients can upgrade their power usage on the fly without downtime or have to change hardware.

Contact our team for more information on how to make your machines run more efficient.
Jared Smith is HostDime's SEO and Content Strategist.