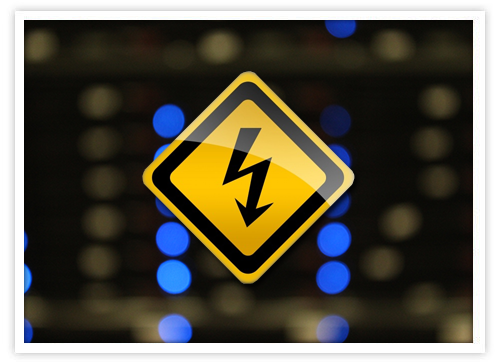 HostDime often gets inquiries from clients about the difference between 208 volt versus 110 and 120 Volt input. While there is seldom difference between 110, 115, and 120 Volts, 208 and 240 Volt are more efficient. This article will explain how server voltages relate to energy efficiency.
Most servers are shipped to the United States with 110V or 120V plugs, but the servers are created to accept any type of voltage, like 208V plugs. Large pedestal and rack mount servers normally use 208V.
Take a look at the following figure by HP on Power Supply Efficiency, which is a measure of how much power is lost between a server's power supply input and output.
Power Supply Efficiency vs Input Voltage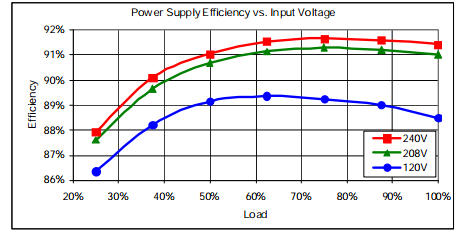 There's a one to three percent improvement in power supply efficiency with the increased voltage, which will save between $4 and $31 annually per server in electrical cost.
This occurs because the more current that wires and transformers conduct in order to power hardware, the hotter the components get. Then that additional heat must be cooled by an air conditioning system, furthering the amount of electricity required to support a server. The less heat produced by components, the less cooling is required resulting in less power consumed.
208V requires fewer power whips, which is ideal in a raised floor datacenter. Less whips means less circuits to manage, equating to better airflow due to reduced clutter. Improved airflow increases server life and lowers the cost of cooling the equipment.
Datacenters are looking at all possible ways to become more "green", like what HostDime did recently with hot aisle containment. 208V continues this trend as servers draw less current and therefore less heat at 208V than 110V.
By getting all HostDime clients running these "green" setups, this allows increased efficiency in both power and cooling. This lowers HostDime's operating costs, therefore enabling us to offer even more affordable fully managed servers to our end users.
One last advantage of 208V inputs is the twist-lock plug, which lessens the change of coming dislodged and shutting down servers.
There is not yet an universal Uninterruptible Power Supply (UPS) that exists that has all combinations of voltage. Usually the 208V will power your UPS, while the 110V can be used to test workstations, switches, and monitors in your server room.
Check out the following table to see the level of power required.
Voltage Options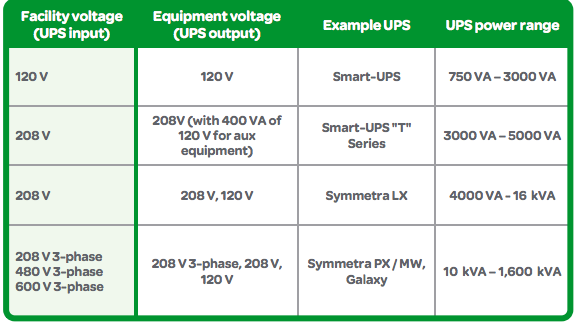 Contact HostDime's Dedicated Servers team now to learn how clients can make their colocation services more efficient by converting from 110V to 208V. (All shared and leased servers are currently running at 208V, while 110V is the current default for colocation, but 208V is available upon request, at a possible additional charge depending on total consumption requirement.)
Use Code "hd208vpower" to receive a recurring 20.8% off monthly discount for new Dedicated Server orders.
Follow HostDime for News, Tutorials, Contests, and Specials
This article took information from the APC white paper "Efficiency and Other Benefits of 208 Volt Over 120 Volt Input for IT Equipment" by Neil Rasmussen and the E-Zine article "Advantages of 208V Versus 110V Power in Server Racks" by PDUs Direct Director of Sales Jim Scherr.
This post was written by HostDime's Content Marketer Jared Smith.