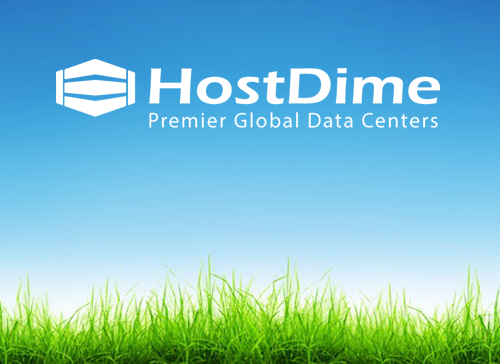 Happy Earth Day from your friends at HostDime!
For over a decade, we have been committed to making our data centers as environmentally friendly as possible thanks to increased energy efficiency.
It is essential for HostDime to constantly examine the infrastructure and layout of our facilities to optimize its performance. Read on for an inside look into our green data center initiatives that include cleaner generators, roof solar panels, hot aisle containment and 100% electronic equipment recycling and data overwriting.
New Clean Air Generators
Our latest venture into going green involves implementing new Tier 4 generators in our upcoming 88,000 square foot Orlando data center.
It's estimated that these generators will produce over 90% less Nitrogen Oxide and over 90% less particulate matter (PM) compared to older Tier generators. These super clean air generators certified by the EPA will meet the high standards for hazardous air pollutants and will help our surrounding environment.
Solar Power
The rooftops on our new data center and headquarters will feature high-density solar panels; up to 25% of the facility will be powered by the sun.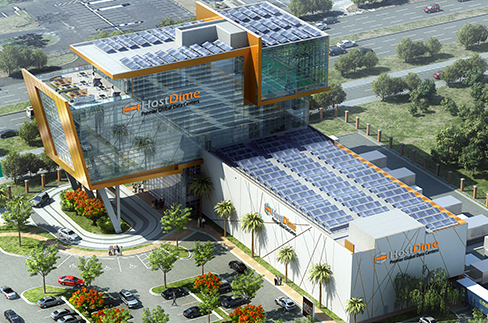 Aisle Containment Solution
Containment of hot and cold aisles and funneling hot air from cabinets is intended to prevent the mixing of cool and exhaust air in the server room. Mixing these two air flows will increase refrigeration and energy costs.
HostDime created a passive cooling containment zone that maximized operating efficiencies by routing hot air directly to the unit, which would increase its cooling capacity and therefore require less energy.
After the aisle containment installation, we were able to completely shut down two different 30 ton CRAC units. Upon shutdown, the data center continued to run on all cylinders, like maintaining a uniform air temperature, eliminating hot spots, and delivering the appropriate cubic feet per minute (CFM) per cabinet.
Containing the heat energy generated by the equipment provided a clear return path for it to go directly back to the remaining CRAC units. Voilà, no more wasted energy.
Repurposing Servers
Servers often get re-purposed throughout their life cycle. In the beginning, a fast machine would take care of the heavy workload and later be used as for testing.
Year one consists of application hosting, year two handles backup, development, and testing, and then after year three the server technology may be outdated, and is ready to be recycled and replaced.
100% Electronic Equipment Recycling
When we can no longer find use for the machines, HostDime turns to Orlando Recycles, who properly recycles and then re-markets all the reusable electronic equipment taken from our Orlando data center.
Orlando Recycles also realizes that your sensitive data is important and should never be compromised. That's why they will also do a "one pass data overwrite" with a pattern of meaningless information. This ensures no electron microscope or similar tool has a chance at seeing anything meaningful on your old equipment. This overwrite is on top of HostDime already wiping the data clean after a client cancels their server.
For any questions you may have regarding our green initiatives, don't hesitate to contact our team!
HostDime.com, Inc is a global data center infrastructure provider offering an array of cloud products from managed hosting servers to colocation services that cater to a range of clients, from entry-level to enterprise-level operations. HostDime owns and operates infrastructure and networks in seven countries, with its flagship facility in Florida, USA. Currently with a client base of more than 50,000, HostDime is one of the most reputable data center companies in the world.
Jared Smith is HostDime's Content Strategist.