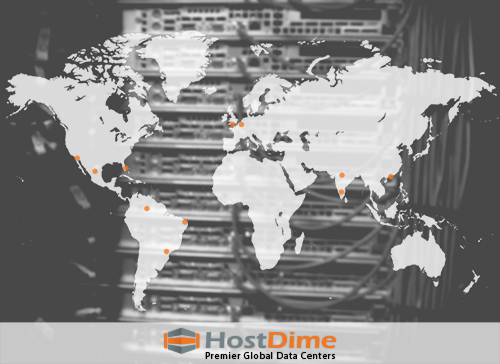 Global expansion is central to HostDime's business model. 15 years ago, HostDime consisted of 1 server; now, we are a worldwide data center and infrastructure company located in eight countries worldwide, with more on the way.
The key for this successful globalization is employing locals who understand the culture and language of their region. HostDime brings our expertise to these countries and provides consumers the tools and services required to bring their ideas online.
Your website visitors should receive the fastest response times possible. Host your site in the target location of your audience. Use HostDime's speed test to see which facility is right for you!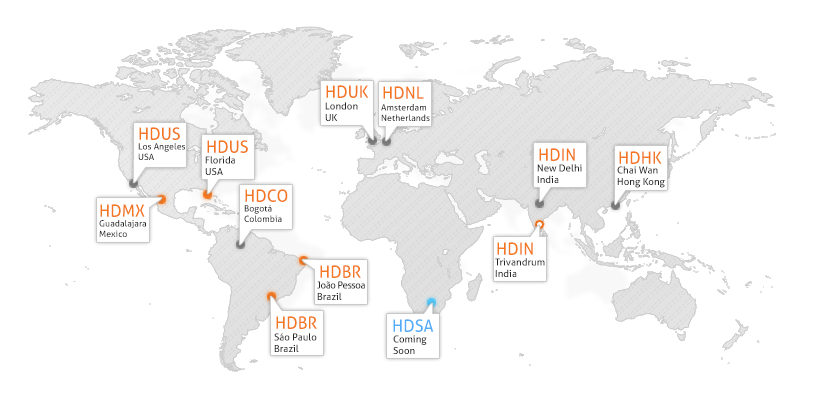 HostDime USA

| Servers Start at $199
In 2002, the founding HostDime engineers designed a facility, now 25,000 square feet with over 6000 servers, that was created with the highest levels of uptime standards in mind.
HostDime's new data center headquarters will house over 130 employees in HostDime's support, sales, creative design, marketing, and management teams, be fully operational around the clock, and will feature three floors of data center server space.
HostDime Brazil, our first international location outside of the United States, was created in 2006 and has quickly become a main infrastructure provider in Brazil. We currently operate two data centers in Joao Pessoa and Sao Paulo, with another one the way next month.
We are currently running a discounted Brazil managed dedicated server special available for a limited time only!
HostDime Mexico was inaugurated in 2008, located in Guadalajara, Mexico's second largest city. The 10,000 square foot Mexico facilities are fully equipped with powerful generators, UPS systems, top-notch security, and fire suppression systems. The data center was created with "green energy" efficiency thanks to proprietary aerodynamic designs. These multiple PODs adapt to house our many product offerings including Dedicated Servers and VPS Servers.
HostDime United Kingdom is our first branch in Europe, situated in Maidstone. HostDime's Mainstone data center has multiple high-level bandwidth providers and offers various advantages over other European hosts, which includes our own IP range.
HostDime Colombia launched in 2008 with a sales and support office in Ibague and data center in Bogota in 2015. This was our fourth international venture and our second in South America. HostDime Colombia's network has two redundant connections from Colombian telecommunications operator Claro and leading bandwidth provider Level 3 to deliver scalable solutions to our customers.
HostDime is one of the very first US based companies to expand into the Indian data center market. HD India was born in 2009 with a state-of-the-art, privately-owned data center network located in New Delhi and an office in Trivandrum. HostDime recently invested heavily into upgrading infrastructure in India to boost performance and reliability.
HostDime Netherlands was established in 2012 in the city of Rotterdam and is one of HostDime's newest ventures. Rotterdam is the largest port in Europe and is the foundation of the Dutch economy. The HostDime Netherlands network consists of three main providers: Level 3, Cogent, and AMS-IX Peering VLAN.
HostDime Hong Kong was established in 2012 in the city of Chai Wan. Chai Wan is one of the busiest commercial areas in Hong Kong and a major hub of foreign and Chinese cultural institutions. The HostDime Hong Kong network consists of two main providers: NTT Communications and PCCW Global.
Jared Smith is HostDime's Content Strategist.