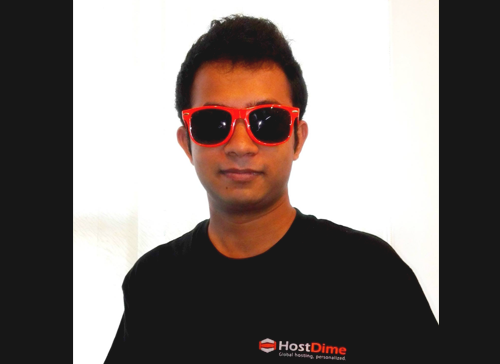 Jobair Alam Bipul is a 24 year old entrepreneur who was interested in technology and how websites worked at an early age. Before Bipul's 20th birthday, he created a hosting provider called HostMight. Now you may not have heard of HostMight yet, but it's a very familiar name to business owners in Bangladesh.
After five years of hard work, patience, and word of mouth, HostMight has become a one-stop hosting shop for local clients in Bangladesh and international clients abroad, providing domain names, shared and reseller hosting, and managed VPS and dedicated servers.
Bipul picked the right time to jump into web servers, as hosting is booming and one of Bangladesh's fastest industries. E-commerce was never anything to brag about in Bangladesh, but that changed with two big developments in 2013. That year, Bangladesh hosted their first e-commerce festival. While just 30 organizations were on hand to show their products, over 80,000 people showed up.
Also in 2013, Bangladesh Bank gave permission to buy products and services online using international credit cards. This essential part of modern day e-commerce has helped young entrepreneurs like Bipul share their services with the world. What started as a late entry into the e-commerce sector has now seen giant growth in just two years, with unlimited potential on the horizon.
HostMight also has unlimited potential, as it has quickly accumulated over 2000 clients on 6000 domains and hosting accounts. This was accomplished thanks to HostMight's partnership with HostDime.
HostMight uses HostDime dedicated servers and its network to empower Bangladesh clients. Bipul's set-up includes multiple HostDime enterprise grade bare-metal dedicated servers, with Raid10 arrays and backup drives on all servers, ensuring data protection for all clients. HostDime's powerfully optimized and DDOS-protected network reaches global clients lightning fast.
"HostDime has contributed a lot behind the growth of HostMight. HostDime helps us not only on superior customer service, but also guides us on developing our business" – Jobair Alam Bipul, creator of HostMight
Bipul is not stopping anytime soon, as HostMight will introduce WordPress Managed Hosting services to its clients in the next few months.
HostDime doesn't see clients, rather partners helping each other to accomplish our goals together. Take a look at a few other company case studies. If you would like your business featured, please write to vikki.f@hostdime.com.
This article was written by HostDime Content Strategist Jared Smith.