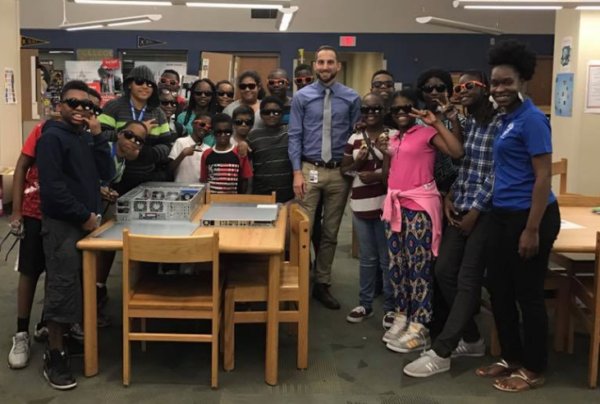 HostDime aims for local youth outreach the likes of which has never been seen in our industry. Meeting and educating young, technology-minded students is one of our most rewarding and reciprocal endeavors.
Last time, we invited some students to see our data center up close. This time, we went to the students; HostDime's VP of USA Operations Dennis Henry visited Robinswood Middle School to meet the students in the S.W.A.G. (Students Who Admire Greatness) Club.
The purpose of the S.W.A.G club is to build student self-esteem and confidence through active engagement in Science, Technology, Engineering, and Mathematics (STEM) and other related career activities. This organization provides students with the development of positive relationships with their peers and other professionals in the fields of interest and the opportunity to build professional relationships with individuals in the specific fields of STEM. – SWAG club founder Candace Finley of Robinswood Middle School.
The students seemed to appreciate the visit.
"The kids can't stop talking about Mr. Henry. On behalf of the S.W.A.G club, we thank you and your wife for taking your time to come out and speak to us. Don't be surprised if they come to apply for a job when they are ready. You have planted the confidence in their hearts!" – Candace Finley
The future is bright with clubs and teachers like this pushing students towards learning about new technologies, growing their worldview, and developing moral character skills.
HostDime and STEM
STEM is curriculum based on the idea of educating students in four specific disciplines — Science, Technology, Engineering and Mathematics — in an interdisciplinary and applied approach.
HostDime's upcoming headquarters and data center right outside Orlando in Eatonville aims to be heavy engaged in the local STEM community.
"When we designed this facility, we kept the local education system and community in mind. We are creating a 'how-it-works' space in the facility so young students can be exposed to the behind-the-scenes of how a data center works and how it powers the cloud. We strongly believe this will ignite the curiosity of young students in the wide area of technology that is vital to the STEM agenda. We certainly want to do our part in opening our facility up to these students and the educational community." – Manny Vivar, VP of Global Operations.
HostDime plans to provide scholarships, programs, and STEM training for Eatonville students and residents upon completion of the facility.
Jared Smith is HostDime's Content Strategist.