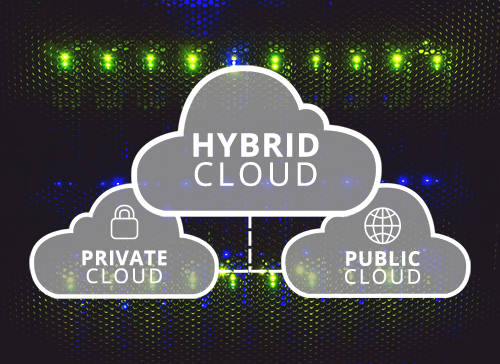 Earlier this week, VansonBourne and Nutanix released their Enterprise Cloud Index Report which specifically looks at the retail industry and its plan for adopting the cloud. Over 2,650 IT pros were surveyed about their cloud priorities and which model best fit their operations.
87.5% of those polled identified hybrid cloud as the ideal IT operating model. Let's get into why.
Why Hybrid Cloud and Why Now?
Before we dive in, here's the quick explanation of the differences between public cloud, private cloud, and hybrid cloud.

PUBLIC CLOUD: This is infrastructure featuring a large amount of servers, being used by many different businesses. These are Infrastructure-as-a-service (IaaS) and Platform-as-a-Service (PaaS) offerings from cloud service providers. What is often the case, as it is with HostDime's cloud, is the client pays only per usage for the CPU, RAM and disk space.
PRIVATE CLOUD: This is infrastructure in a data center (on-site or third party) that runs only your data, designed to your needs. This private network is dedicated only to your organization. Colocation falls into the private cloud family; the enterprise would purchase their own servers and equipment which would reside in their personal rack space in a data center.
HYBRID CLOUD: This is a co-existence of public cloud and private cloud environments. Hybrid combines on-premises or colocation servers with public clouds so that data and applications can move between the two clouds for increased agility, security, and cost-effectiveness.

Hybrid cloud seems to be the talk of the town lately. According to a new GlobalData report, "hybrid cloud" received the highest percentage (48%) of Twitter mentions among the discussions of cloud computing experts during the 3rd Quarter of 2019.
It appears the beginning of this decade will continue to see the ongoing migration from on-premise data centers to hybrid solutions. Why is this? Because of agility and security specifically.

AGILITY: 54.3% of the respondents in the Nutanix poll listed the top factor in deciding the best cloud environment for each application was the ability to accelerate IT deployments. You need flexibility in this age of multichannel selling across many platforms. For instance, you can run certain applications in the private cloud but then shift to the public cloud when you need to quickly gain additional capacity. Put your workloads across various clouds and see what works best, and then expand to a specific cloud when needed.
SECURITY: 63.6% polled said security had a huge influence on their future cloud deployments, with 32% pinpointing hybrid cloud as the most secure. Data privacy regulations like GDPR are forcing enterprises to comply like never before. Enterprises don't want what happened to Capital One to happen to them. Social Security and bank account numbers from over 100 million people was hosted on AWS public cloud platform and it was hacked, causing one of the biggest data breaches to ever hit a financial service company. Hybrid clouds limit this potential exposure of data.

Enterprises need to identify the correct allocation of resources across the cloud, colocation facilities, and/or their own on-premises data center. The hybrid cloud model offers the flexibility and security to achieve this.
Hybrid Cloud Colocation Solutions from HostDime
HostDime's CEO Manny Vivar recently discussed the evolution of the cloud and the current trends in our industry, specifically businesses adopting the hybrid approach. The livestream video starts at 3:10:
We help many large enterprises craft a hybrid solution of cloud and colocation to meet their needs and save them money. A hybrid approach can save your enterprise a hefty chunk of change versus scaling only in the public cloud. Open a ticket with our local sales team to create your own customizable hybrid cloud set-up.
Jared Smith is HostDime's SEO and Content Strategist.