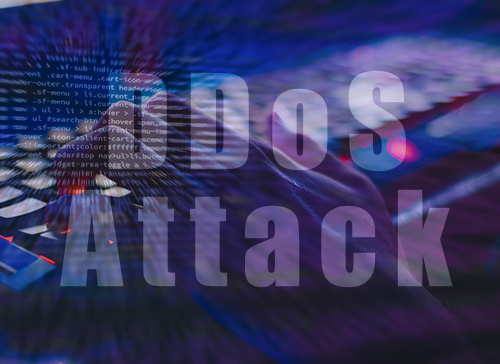 HostDime's secure network is among the most DDoS protected in the infrastructure industry. That's because we offer three types of DDoS protection: NETSCOUT's local inline mitigation, a cloud-based traffic scrubbing service, and a combination of the two with our hybrid protection.
With NETSCOUT (former Arbor Networks), their appliance sits within our facility for inline protection. When the NETSCOUT appliance detects irregular traffic, our team moves the affected subnet and begins filtering. With our Cloud Scrubbing service, ALL traffic gets filtered through one of our various GRE tunnels. Our Hybrid DDoS is unique for its performance based, "always on" protection. Read on for a more in-depth look at the intricacies of each service.
HostDime offers premium hardware-based DDoS monitoring and mitigation, backed by the market leader in network security. Most hosting providers offer reverse proxy DDoS detection. The problem with this is your traffic goes to a third party, is cleaned, then re-routed back to your host.
Our DDoS protection is different because it's inline, or actually within the data center. We take both your affected and unaffected traffic, filter out the bad stuff, and leave only legitimate traffic flowing to and from your server. Once a server is placed behind our DDoS protection hardware, it learns "normal" traffic patterns so it can identity bad traffic in the future. Therefore end users notice no added latency, even when active mitigation is taking place.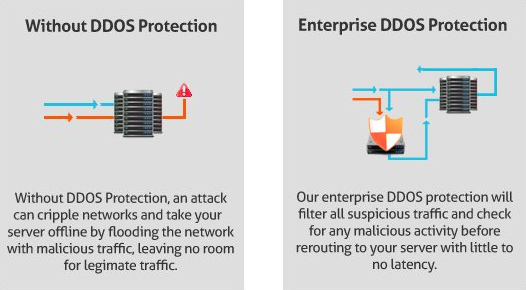 HostDime's DDoS Cloud Scrubbing is a IP routing service where all traffic is examined and filtered, then the cleaned traffic is forwarded to our enterprise network via our Generic Routing Encapsulation (GRE) tunnels. This security cloud is a private point-to-point link between network nodes, and acts as our safety net if a large DDoS attack occurs. Your whole critical infrastructure is safe with this protection.
Here is a visual depicting how HostDime's global security cloud delivers clean traffic to a visitor accessing a DDoS affected website.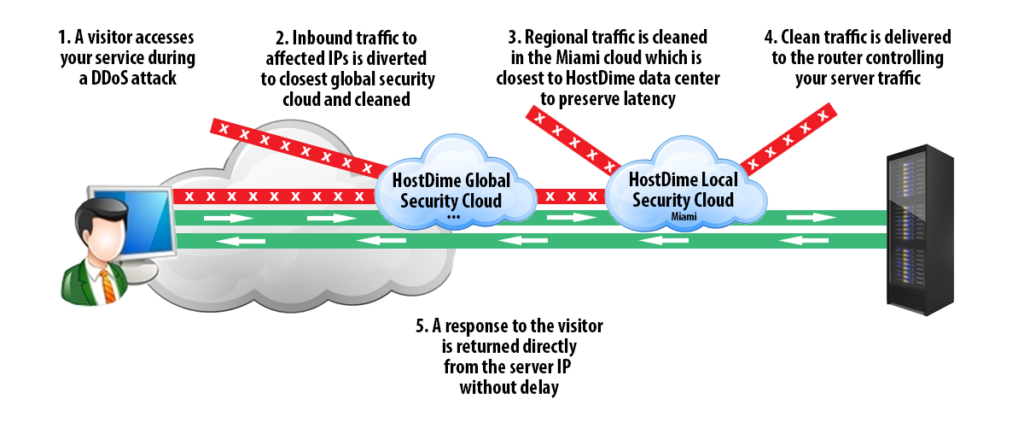 All IP addresses routed through our scrubbing centers are protected against DDoS attacks. The always active service uses network sensor devices to immediately detect suspicious patterns. Traffic toward that IP is then redirected for mitigation in our security cloud. Redirection stops minutes after the attack ends. HostDime's DDoS protected GRE tunnels can clean an attack up to 100Gbps; that's an impressive amount of scrubbing power.
Lastly, HostDime's Hybrid DDoS Protection gives clients the best of both worlds with a performance based option with "always on" protection. This unique set-up combines the inline DDoS protection appliance with the DDoS cloud filtering service. This protection detects and acts immediately against all sorts of large and complex attacks. When disruption occurs, clean traffic still gets through thanks to the cloud scrubbing. One difference between this service and the cloud scrubber is added latency when in protection mode.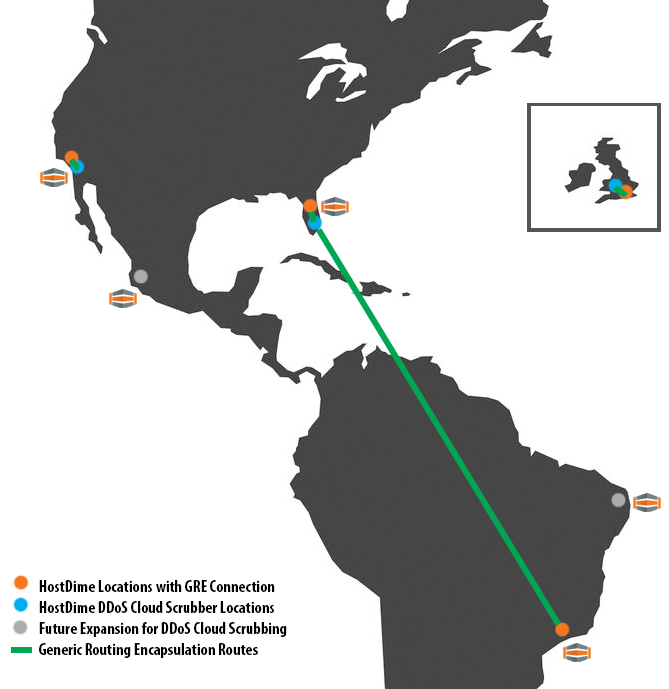 What HostDime DDoS Service is Right for You?
The following chart spells out the differences between the three DDoS protection services. Whichever you choose, enjoy peace of mind knowing your business will have superior uptime, uninterrupted data center access, and relief from network security threats.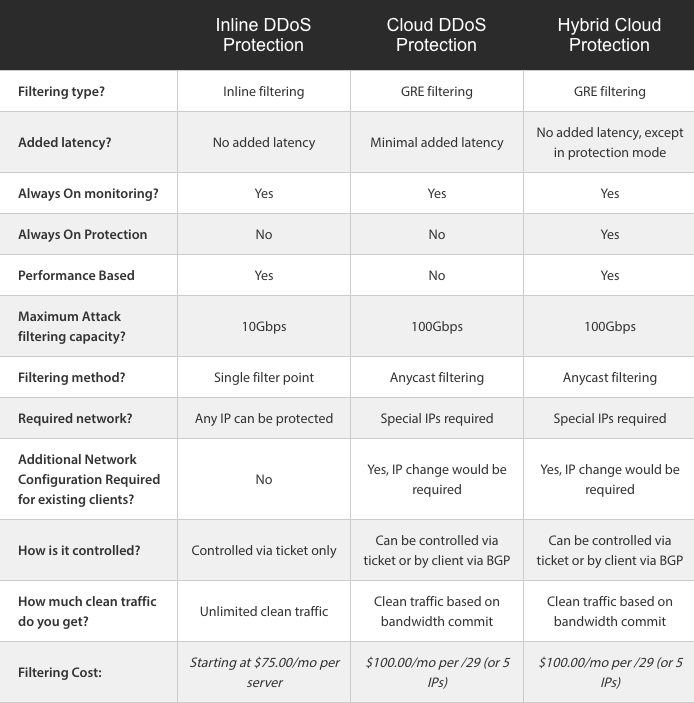 Protect your enterprise up to 100Gbps for $75 a month per /29 or 5 usable IPs in the United States. International prices may vary; currently, only dedicated server and colocation clients can take advantage of these additional DDoS protection services.
What are you waiting for? Contact us now to get started!
Jared Smith is HostDime's Content & SEO Strategist.