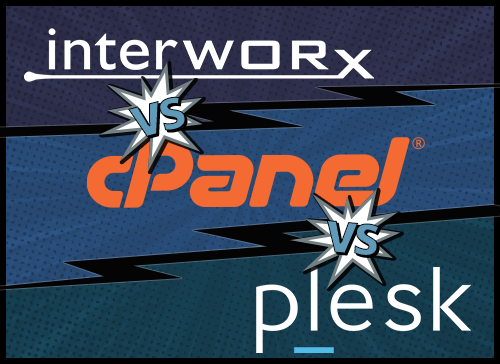 cPanel's recent price increase has reignited the debate over which hosting control panel provides the best bang for your buck. Look no further as we dive into the pros and cons of the three top control panel options: cPanel, Plesk, and InterWorx. You can't go wrong with either of these three control panels, so long as you understand their strengths and weaknesses. After that, we'll do some quick compare and contrast so you can choose the control panel best suited for your operations.
InterWorx Pros and Cons
Pros:
Inexpensive.
Offers a single license type that supports all features.
Full clustering (multi-server) support.
Robust language and branding support for administrative, reseller, and end user control panel interfaces.
There can be multiple server administration accounts with all or limited features.
End users can create multiple control panel access accounts with all or limited features.
End users can schedule account backups.
Cons:
Does not work with Cloud Linux, Ubuntu, Debian or Windows Server.
No UI for adding/removing Apache/PHP modules.
Does not support NodeJS, Ruby on Rails, server-side Java, Docker or DNSSEC.
Doesn't support quite as many third-party add-on products as cPanel or Plesk.
cPanel Pros and Cons
Pros:
Currently the most popular Linux server control panel.
Supports a wide variety of third party add-on products.
Can handle nearly all server administration tasks via GUI.
Robust branding support for the end user control panel.
Support for NodeJS, Ruby on Rails, server-side Java, git version control, and DNSSEC.
Cons:
Expensive for most people due to per account licensing. HostDime offers an EXCLUSIVE flat-rate account license when purchased with a server.
Some license types do not permit access to all features or may place a hard limit on the number of accounts.
No official unlimited account license available from cPanel, Inc.
No Windows Server, Ubuntu or Debian support.
No Docker support.
The server administration and reseller interface is only available in English.
Limited branding support for the administrative and reseller interfaces.
Limited clustering (multi-server) support.
cPanel and WHM often contain advertisements for other products and services related to cPanel
cPanel and Plesk are owned by the same parent company.
Plesk Pros and Cons
Pros:
Supports a wide variety of server operating systems.
Standard server license is less expensive than cPanel.
Second most popular control panel behind cPanel.
Robust service support for NodeJS, Ruby on Rails, Python, git version control, Docker, Nginx, ASP.NET, MSSQL (last 2 Windows Server only).
End users can schedule regular backups.
Cons:
Full server license more expensive than InterWorx and some features require additional purchases.
Some license types may not have access to all features or may limit the number of accounts.
If you need support for more than one UI language, there is an additional cost.
Many features require additional purchase. This can make a Plesk license much more expensive than other control panels.
Advertisements appear everywhere for features Plesk tries to upsell to administrators and end users.
Plesk and cPanel are owned by the same parent company.
InterWorx vs cPanel vs Plesk
Let's compare and contrast the various control panels features they support.

Platform Support: InterWorx and cPanel support Linux and CentOS, with cPanel also supporting Cloud Linux. Plesk supports all these and additionally Ubuntu, Debian, and Windows Server. Plesk is the best choice if you have servers running various operating systems.
Winner: Plesk

Services Offered: While all 3 offer the major services like email, FTP, DNS, MySQL, and PHP, cPanel is superior for its support for NodeJS, Ruby on Rails, server-side Java, git version control, and DNSSEC. Plesk offers many of these features too, but you'll have to pay for additional add-on feature packs.
Winner: cPanel

System Admin Features: If you want to distribute work across lots of servers all managed by one control panel, InterWorx reigns supreme. InterWorx developers have paid a ton of attention to cluster support, while cPanel's cluster management is DNS only. Plesk does not support service clustering at all, but will allow you to manage multiple Plesk servers from a central location. InterWorx also leads the way in customized branding and multiple language support. cPanel offers a few more system administration tasks, like working with Apache and PHP modules available in the UI, but only supports American English in WHM. While Plesk supports multiple languages, you have to pay for each additional language you want to add, so this can get expensive if you have a diverse client base.
Winner: InterWorx

End User Features: InterWorx's ability to allow end users to easily create additional SiteWorx logins with all or a limited subset of features sets them apart from cPanel and Plesk. This is especially convenient if your clients have web developers or people who need to manage email only. cPanel doesn't permit multiple user logins for a single account. Plesk does, but the end user can only select from user roles that the server admin has defined.
Winner: InterWorx

Overall Cost: InterWorx is the least expensive to license and doesn't have complicated licensing options like the other control panels. Conversely, cPanel can become very expensive due to their complicated per-account licensing scheme, unless you purchase a license from HostDime with your server. Plesk basic licensing isn't as complicated as cPanel, but there are a bunch of "feature packs" sold separately that can make Plesk very expensive. If you purchase your server with Plesk from HostDime, we'll include the Plesk Power Pack for no additional charge.
Winner: InterWorx

While the "winner" is InterWorx, everyone's situation is different. InterWorx may work best for those with a Linux server looking to add end users and save some cash. cPanel is still the most popular choice in our industry, especially for those who never want to interact with the command line, but the increased price is turning off some. Lastly, if you are a developer who needs a specialized service like Docker, or require a control panel for Ubuntu, Debian, or Windows Server, Plesk is right up your alley.

The choice can only be made by you, and if you need more information, head to our Knowledge Base comparison article, which goes more in-depth on system admin and end-user features.

HostDime Offers cPanel, Plesk, and InterWorx Data Migrations
Do you already have a control panel and looking to make a switch?
Let our team of experts handle your migration from your current host to your new customizable HostDime server. As a leading managed provider for almost 2 decades, HostDime has handled thousands of migrations from external hosts, as well as internally between servers.
We offer data migrations for the following types of environments:
cPanel to cPanel
Plesk to Plesk
InterWorx to InterWorx
cPanel to Plesk
cPanel to InterWorx
Rest easy knowing you're trusting your migration to the most capable and experienced team in the industry. Read on for more information on our data migrations and we're happily available to chat.
This article was edited from a resource over at the HostDime Knowledge Base, written by Aric P.