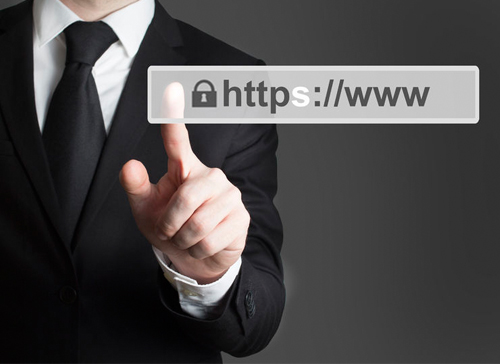 Back in in August 2014, just over a year ago, Google announced that HTTPs was now considered to be a search engine ranking factor. Being the curious, experimental, technical type, I decided to go ahead and move my WordPress blog over to HTTPs from HTTP and make it a secure site. I didn't know at the time that this would be a pretty large undertaking, with a lot of steps involved in moving the site to HTTPs. Having practiced organic SEO (Search Engine Optimization) since 1996, I know a lot about moving sites. But moving my own website was an interesting experience. So, here's how I did it, what was involved, and, of course, the results. Was it worth moving? You bet!
I've been hosting my personal blog, at BillHartzer.com, at HostDime for many years now, and the rare times when I had a server issue or website issue that I couldn't handle myself, I naturally turned to the awesome support team at HostDime. And this definitely was a case where I need their help. I had never installed an SSL certificate on a server, and I wasn't ready to learn how to do it. I've heard it's pretty technical in nature, and my time is better spent elsewhere doing other tasks. So, I opened a support ticket with HostDime and asked them about installing an SSL certificate. Fairly quickly they had the certificate order set up with Sales, and was able to start installing it. I believe it took about a day from start to finish to get everything completed. That part of moving to HTTPs was pretty painless.
The next step, though, was to deal with my own website, and make sure that there weren't any issues with it. While the site technically worked when you type in my web address at https://www.billhartzer.com/ I quickly realized that I had a lot of work to do to get it all working properly for "SEO".
I used a tool called Screaming Frog SEO Spider to crawl my own website, starting at the site's home page (the HTTPs version of the site's home page). I quickly found that all of the internal pages and internal URLs (like external .CSS and .js files) were all pointing to HTTP and not the HTTPs version of the site. They all needed to change to HTTPs. Consequently, if you visit an HTTPs web page and there are elements on that page like images and other files that are HTTP, there's a good chance that you will get a warning popup in your web browser.
The last thing I wanted was to have browser warnings pop up when visitors came to my site. So, all of the references to HTTP on my site had to be fixed to point to HTTPs. And by the way, there are over 1,000 blog posts on my site that I've written in the past 15 years. So, I spent the better part of a weekend sitting on my couch with my laptop, fixing internal issues on the site.
One tool that saved me a lot of time was the "search and replace" plugin in WordPress. I installed that plugin and was able to search for this:
http://www.billhartzer.com/
and replace it with this:
https://www.billhartzer.com/
So, the end result was that every place where HTTP was mentioned it was replaced with HTTPs, saving me a lot of time. I didn't have to manually change all of the internal links on the site and all of the image file URLs to HTTPs manually. There's no way I could have done it without that particular WordPress plugin. Keep in mind that you'll want to back up your website before you make these types of changes, as problems can occur.
Another issue you'll want to take care of is redirecting the old URLs to the new ones. Typically, in the .htaccess file (one of the back-end server files), you'll be able to redirect all of the HTTP requests for pages on the site and redirect them to the HTTPs version. Make sure you use a 301 Permanent Redirect for these redirects. I was able to open up a support ticket at HostDime and they set up the redirects fairly quickly for me.
There are some other issues you'll want to make sure you do, as well:
Verify your site in Google Search Console and Bing Webmaster Tools. Verify all the various versions (http://www.domain.com, https://www.domain.com, http://domain.com and https://domain.com) and notify them of the change of location.
Watch the webmaster tools for crawl errors to make sure there aren't any issues you missed.
Edit your WordPress settings to the new URL change (in the General WordPress settings)
Edit Google Analytics so it has the new location.
Watch Google Analytics for any traffic changes that might be due to the change of location.
Analyze your site's links and start to notify site owners who are linking to you that you've updated your site's address to HTTPs. Start with the most powerful sites, first.
Update your social media profiles so they have the new address.
Update your company's letterhead, email signature, business cards, etc. with the new location.
A year after moving to HTTPs, I can tell you that I'm very happy I moved. As an SEO expert, I needed to personally go through all of the steps involved in moving so I could see first-hand how to move. I am now able to advise others on how to move properly without a change in search engine rankings or traffic.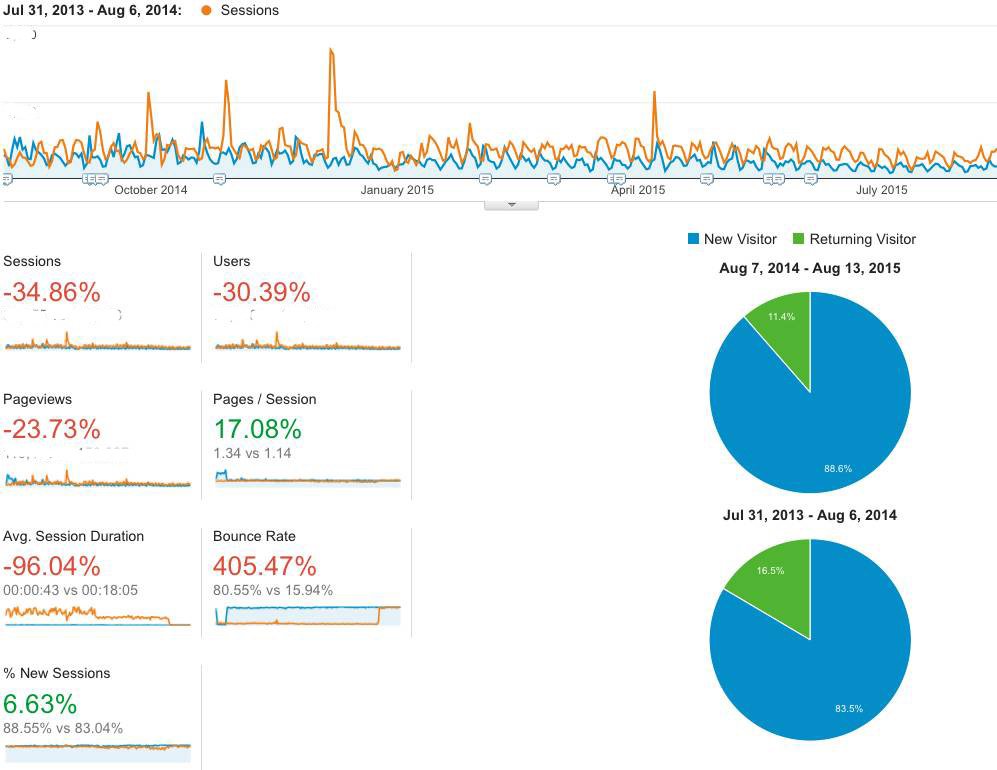 Speaking of traffic to the site, when I moved to HTTPs I never experienced any problem with traffic. In fact, moving to HTTPs helped traffic overall, and I ended up seeing visitors spend more time on the site. They now view more pages of the site. Is that because they trust the site more? Perhaps.
Looking at my site's traffic over the past year, since the move to HTTPs, pages per session and new sessions are up. While overall traffic is down a little bit year over year, I attribute that to posting less due to family issues and my travel schedule the first part of this year. But overall, I'm seeing positive results: visitors are viewing more page on the site. Would I move to HTTPs again? Sure I would, and I even recommend that every site move to HTTPs. There are only positive benefits from moving, I don't see a downside to it.
Bill Hartzer is a Senior Strategist for SEO Consultant Globe Runner. Follow him on Twitter.
HostDime.com, Inc is a global data center infrastructure provider offering an array of cloud products from managed hosting servers to colocation services that cater to a range of clients, from entry-level to enterprise-level operations. HostDime owns and operates infrastructure and networks in seven countries, with its flagship facility in Florida, USA. Currently with a client base of more than 50,000, HostDime is one of the most reputable data center companies in the world.