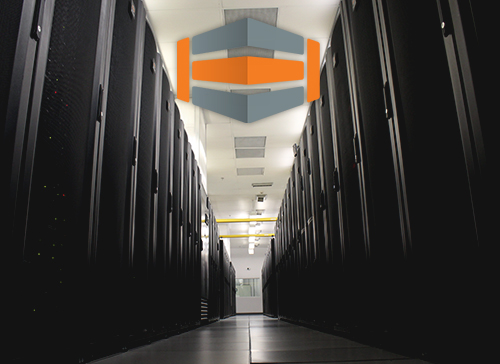 HostDime's managed dedicated servers, designed for medium to large enterprises, feature a wide array of customizable options from starter solutions to multi-tiered clusters.
Starting today, HostDime's dedicated server line gets even better with a line fully comprised of new v3 Haswell-based Xeon CPUs, including the Dodeca (12!!!) core CPUs.
Haswell is the codename for a processor microarchitecture created by Intel. The Haswell architecture is specifically designed to optimize power savings and performance benefits. Let's go under the hood and dive into the details of these product offerings.
E3-1200s v3 series "Haswell-WS"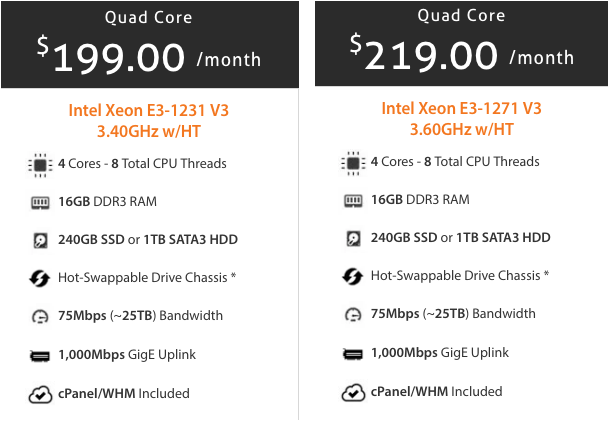 Introduced in May 2013, the Xeon E3-1200s v3 is the first Xeon series based on the Haswell microarchitecture. The main benefit of the new microarchitecture is better power efficiency.
These offerings are quad core. Each CPU "core" is a separate central processing unit; this is the part that does the heavy lifting. Additional CPUs allow multiple actions at once. Phrases like "dual core" and "quad core" refer to the number of cores a CPU has. Web browsing and caching are faster and more responsive with multiple cores.
E5-1600/2600s v3 series "Haswell-EP"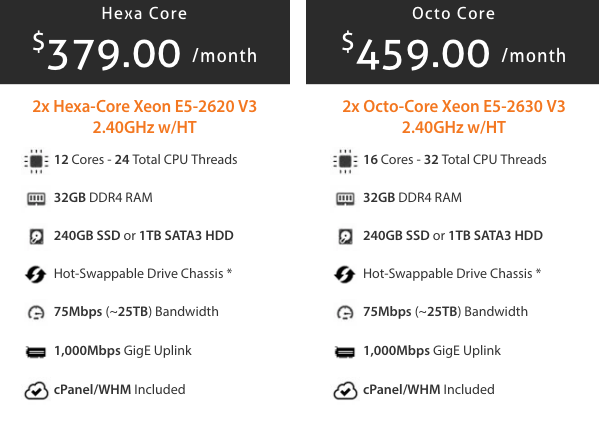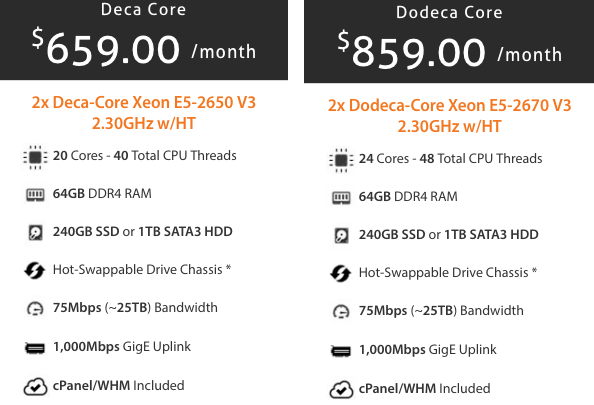 Introduced in September 2014, the Xeon E5-1600s v3 and Xeon E5-2600s v3 series are among the most power efficient processors known to man. There is a higher core count and a large last-level cache size.
These 2x Xeon processors double the amount of cores thanks to "hyperthreading", which is an Intel-created technology that enables multi-threaded software applications to execute threads parallel on a single multi-core processor instead of processing threads linearly. Therefore 2x octo-core has 32 total CPU threads, deca-core has 40, and dodeca-core has 48.
Take a look at what's new with in "Haswell-EP" (picture from Intel):
As you can see, some of the new features include a wider core, higher cache bandwidth, and an improved front-end and memory controller.
These new processors are sure to give your server a boost in performance. As always, special custom server configurations are available. Contact us now to get started. Our skilled build technicians assemble hundreds of servers each and every month at the DimeNOC Data Center in Orlando, Florida.
Jared Smith is HostDime's Content Strategist.
HostDime.com, Inc is a global data center infrastructure provider offering an array of cloud products from managed hosting servers to colocation services that cater to a range of clients, from entry-level to enterprise-level operations. HostDime owns and operates infrastructure and networks in seven countries, with its flagship facility in Florida, USA. Currently with a client base of more than 50,000, HostDime is one of the most reputable data center companies in the world.